Our pal Matt sent us over another wooden Kickstarter watch, and I think it's worth talking about.  Yeah, a wood watch isn't anything new now – but Original Grain is mixing in metal to add some nice heft to the pieces.  Read on for Matt's take on the project.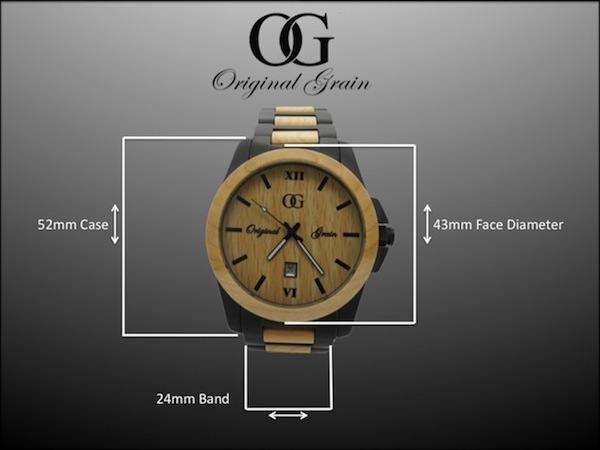 Unlike the Big Faced Woody Watch highlighted a month ago (article), this Kickstarter Project (link) blends wood and stainless steel to create an attractive watch the walks the line between the novelty of an all wood watch and the functionality of a quartz daily wearer.
The movement inside is decent, a Miyota quartz, and the dimensions are on the large side but not outrageous compared with most modern watches.  As with the Big Face Woody, the face itself is a nice sized, which is sometimes sacrificed with wooden watches.
The styling is fairly generic, but that also means that it should keep from feeling dated or feel like a novelty purchase.  I like the mix of metal and wood, so there is some added durability in the case and bracelet over all wood designs, and you still get lots of character with the dual tone color schemes and the grain of the wood.
Looking at the prototypes in the video, the build quality looks excellent and there are some very nice detail touches, like the etched screw down case back, the butterfly clasp, and presentation box.  The funding threshold for this watch has already been reached, so you are making a real commitment if you fund the project.
The lowest price tier is already sold out, but you should be able to get one of these for under $100 if you act relatively soon, and for $109 through the end of the campaign.  Or, pick up all three variations for $250.