Last month we brought you word of a few different dive watches that incorporated a GMT complication.  So, you know, my radar was immediately pinging like crazy.  We've been able to spend some time with one of those watches – the Alpina Seastrong Diver – and today we'll take you through what we think of the watch.
Alpina Seastrong Diver Watch AL-247 Movement
One of the first questions that came up in our Slack channel was around that AL-247 movement, and how it handled the GMT complication.  For GMT purists (and frequent travelers), it's worth noting that the watch doesn't quick-set on the hour hand.  Actually, that's been rarer in the ones that I've reviewed.  By quick-set, I mean that the hour hand is independently set and moves in one-hour chunks (handy for quickly adjusting the time when you arrive at your destination).  Here, we've got the more common (again, in my experience) method of setting the time (as you would on any other watch) and then adjusting the GMT hand independently.
Alpina Seastrong Diver Watch – Setting Time
The other thing to note, specifically around the GMT hand of the Alpina Seastrong Diver, is how it's set.  Most folks who spend time with GMT watches are used to the hand moving around in solid one-hour segments.  For whatever reason (and there was another quartz movement that did this as well), the GMT moves just like any other hand.  No clicks/stop points, just move it to where you want.  On one hand, those tracking the off-hour timezones (such as in India) are in luck, as you can set it how you want.  For those who want an accurate read on standard time zones, though, you'll need to make sure to set the GMT hand on the hour, for the accuracy.
Alpina Seastrong Diver – Colors
Outside of the GMT hand, the Alpina Seastrong Diver feels very much like, well, an Alpina dive watch.  By that I mean that the case profile is very familiar, legibility is kept high, and it's just overall competent.  On one hand, that might sound a little boring.  
Where the particular Alpina Seastrong Diver that we were loaned shines is in the use of colors.  This is most evident by the dive bezel.  Normally, I am not a fan of aluminum inserts, but here, with a matte finish, it's great.  The orange is a great contrast to the dark blue of the dial (also in a matte finish), and all that matte on top is another contrast to the polished "argent chrome" that the case is finished in.  That was another surprise.  Normally, I don't like a full-polish case, but the darker finish doesn't show the smudges of life near as much, and helps keep things from being way too reflective.
Indices
Back on the dial of the Alpina Seastrong Diver, you've got some nicely filled indices (I dig the big triangle at 12), and the hands – though half-skeletonized) – pop out against the dial between the lume insert and polished finish.  In short, this is a great instant-read sort of watch, day or night.  And would you look at that – we've got a dark date wheel set in a dark dial, keeping the date there for when you need it, and allowing it to blend in when you don't.
Strap
In our preview article I was curious about the stock strap of the Alpina Seastrong Diver as well, as it wasn't the seatbelt-style ones that I'm so enamored with from the brand.  Here, you've got a rubber strap (perfect for swimming and the outdoors) with a texture imprinted on it that allows it to pass (from a distance) as a textile strap.  What's a bit odd here are the diamond cutouts for the buckle tang to pass through.  This is a tight fit, and once in place, the buckle doesn't want to fold back into place like it would, say, on a leather strap.  Instead, I found myself slipping a finger under the strap and pulling out to get the buckle to set into place.  Just felt like an odd miss from Alpina, who normally has things well-sorted in the design.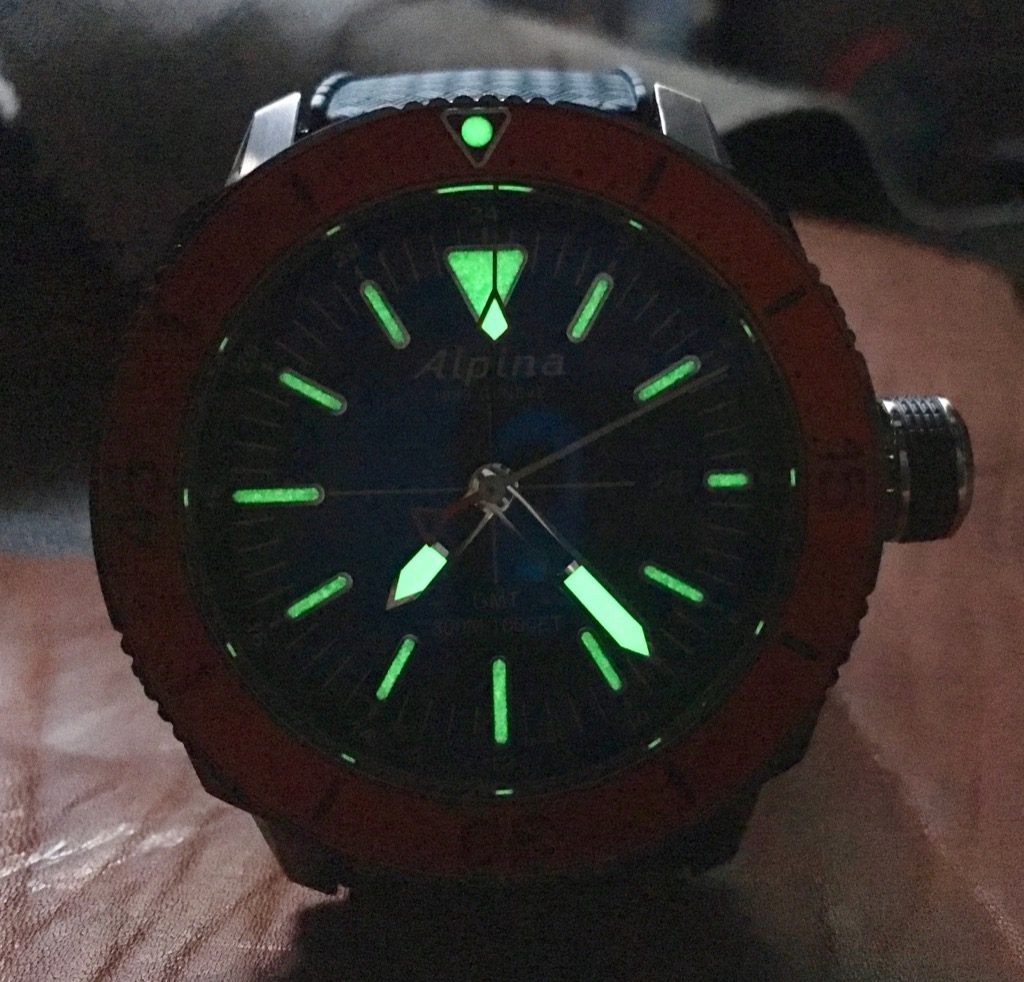 Price
All in all, I did like the Alpina Seastrong Diver.  While I did not camp with it, I still think it would be a great watch for the outdoors. You've got the robustness of a dive watch, along with the traveling capability that the GMT hand introduces.  While the Alpina Seastrong Diver is perhaps not my favorite from their catalog, it's definitely one that I did not mind having on the wrist.  As before, you can pick up your own for between $795 and $995 depending on the finish and color combination that catches your eye.  alpinawatches.com
Review Summary
Brand & Model: Alpina Seastrong Diver

Price:  $795 – $995

Who's it for? You want a solid everyday watch that you can easily head to the woods or the airport with

Would I wear it? Yeah, I certainly would.

What I'd change: Wouldn't mind seeing how a matte finish on that case looked (still in the darker tone).

The best thing about it:  While I expected it to be the GMT complication, it was actually the use of color and the matte finishes
About the Author / Author Expertise
Patrick Kansa
A big data developer and leader with a penchant for gadgets, books, watches and beverages. You can find my work on WristWatchReview. If you're on Twitter and/or Instagram, you'll find me there as @PatrickWatches.