Ok, dear reader – it's time for me to dive back into the world of GMT watch reviews.  As you can see from that article title, we're diving back into the catalog of Christopher Ward.  It's not my first time looking at their watches, nor the first time with their C60 Trident lineup.  The very first watch I reviewed from them was a C60 Trident, and remains favorably in my memories.  So, how does this latest iteration, the Christopher Ward C60 Trident Pro GMT fare?  Read on and see!
For starters, this review was a bit delayed in the works.  When I started my search of various GMT watches out there, Christopher Ward was one of my first stops, as I feel they have a good mix of style, affordability, and technical chops.  As it turns out, they were just about to release a new version of the Christopher Ward C60 Trident Pro GMT, so I need to be patient and bide my time, awaiting the package to cross the Atlantic.
What arrived is a watch that is very much a watch related to the first C60 Trident I reviewed.  Yes, the main call-out of the Christopher Ward C60 Trident Pro GMT is of course the GMT complication that comes courtesy of the ETA 2893-2 movement.  But it is still a dive watch, through and through.  It carries a 600m WR rating (courtesy of it's steel case, sapphire crystal, and screw-down crown), comes on a rubber strap, and has diver bezel hash marks between 1 and 3 o'clock.  Those are two sticking points with me for the watch.
First, that bezel.  Realistically, mixing those timing marks with the GMT scale on the ceramic (yup, it's ceramic) bezel does nothing for the watch.  It's not terribly useful for diving (unless you're tracking something for 15 minutes I suppose), and it just causes some mental math when figuring out where on the GMT scale you are.  Better yet would be to go fully with the GMT scale.  Sure, it recalls the dive watch lineage, but it's not necessary, since I doubt many serious divers are going to rely on a GMT watch alongside their dive computers.  Let alone one where the bezel is not lumed either.
Second, let's talk that strap.  Again, in the context of a dive watch, or a sort of "ready for anything" sport watch, a rubber strap could make sense.  To me, though, it really feels like Christoper Ward is trying to take the Trident Pro GMT a bit more upscale – the ceramic bezel is high gloss, and the top surfaces of the case are polished, as are the handset and indice surrounds on the dial.  Pair that to a black dial, and you have a watch that is ready to be a bit more formal.  The rubber strap here just feels incongruous.  While it would raise the price, I feel a bracelet would be the better option.  Or, for that matter, even the Bond NATO I had in on that first Trident Loaner would be a better match here.  Though, I suppose you could sort the strap thing in the aftermarket pretty easily.
If do you go the nylon route, make sure it's not a flimsy one, as you will want something sturdy to secure the 140g (yup, those diver roots coming through again) Christopher Ward C60 Trident Pro GMT onto your wrist.  You might think that weight and case size (43mm) would make for an uncomfortable fit, but at least on my wrist, that was not the case.  It stood off (at the lugs) a touch more than I might like, but wearing it around the office (and even with a suit on occasion) it was not an undue burden on the wrist.  However, if you are not used to heavier watches, then your experience will certainly differ.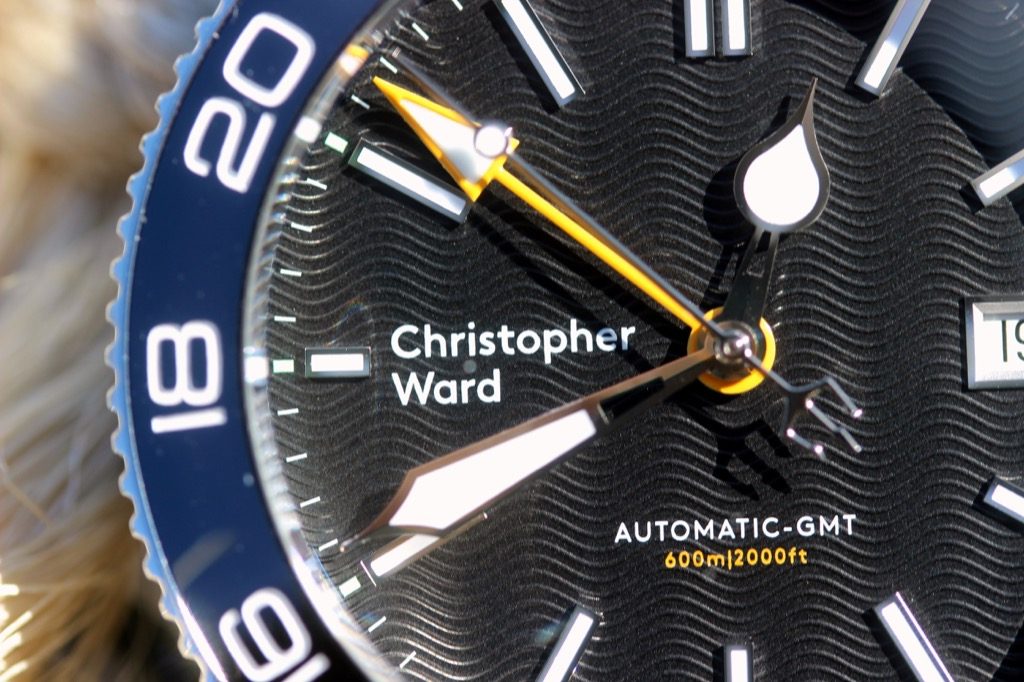 Speaking of differ, the Christopher Ward C60 Trident Pro GMT is the first watch I've had in from the brand since they changed their logos.  This is certainly a divisive choice, a certainly makes a line in the sand for the brand between their older stuff and the current generation.  For me, I think it's ok.  The logo does not strike any chords for me, but it doe not offend me either.  It's subtle (though not quite a subtle as the lettering down at 6 o'clock), and leaves a vast empty space at the top of the dial.  The better to see the wave-style guilloche pattern on the dial, which I am still quite a fan of.  It provides texture, as well as clues to the fact the watch is intended to handle the water.
I went into this review of the Christopher Ward C60 Trident Pro GMT with fond memories of that first C60 Trident I looked at – though I am fully cognizant those memories are viewed through rose-colored glasses.  This current watch certainly comes from the same family line, and should be an eminently capable watch for those who pick one up.  For me, the over-emphasis on the water capabilities (the diver marks on the bezel, the rubber strap, and the additional case thickness that the 600m WR brings) detracts from the watch, and causes a contradiction that isn't needed.
A dressy diver with a GMT complication is an odd duck, indeed.  Then again, perhaps I'm a bit of a purist in that regard, measuring things against the mark that the Michelsen Arctic Explorer sets for me.  In the end, I do feel that the Christopher Ward C60 Trident Pro GMT is a good watch (albeit with some mixed design choices) with a solidly affordable price point considering the materials, construction, and movement.    christopherward.com 
Review Summary
Brand & Model: Christopher Ward C60 Trident Pro GMT 600
Price: $995
Who's it for?  You want something dressier and with a GMT complication, but you're not quite ready to give up your dive watch addiction
Would I wear it?  Sure, but not regularly.
What I'd change: The bezel.  Lose the diver marks from 1 to 3 (replacing with the appropriate numerals), and get some lume fill on those numerals.
The best thing about it: Though I did not call them out in the review, I still do rather like the handset CW uses on the Trident line – unique and recognizable, yet still quite legible.
Technical Specs from Christopher Ward
Case

?Diameter: 43mm
?Height: 13.70mm
?Case weight: 105g
?Material: 316L Stainless steel
?Lug to Lug: 51.5mm

Movement

?Calibre: ETA 2893-2
?Vibrations: 28,800 per hour (4Hz)
?Timing tolerance: +20/-20 seconds per day
21 jewel self-winding elabore-grade mechanical movement
?42 hour power reserve

?3.4mm anti-reflective sapphire crystal
Unidirectional zirconia ceramic bezel
?Water resistance: 60 ATM (600 metres)
?Dial Colour: Black
?Lume: SuperLuminova SLN-T-C1
?Strap width: 22mm