It's been some time since we've had Arnold & Son on our pages, but it's safe to say that all of their creations are firmly in the "For Your Consideration" category. Their latest – the Arnold & Son Double Tourbillon Jade – ups their horology game with the use of some semi-precious materials.
Well, and precious materials as well: the Arnold & Son Double Tourbillon Jade comes in either white or red gold (one of each metal). Where the semi-precious materials come in are on the dial (which is made of green jade) and the subdials (which are white opal). These are elegant touches that, while elevating the dial, don't distract from the fact that you've got not only dual tourbillons, but also a dual time display (which also explains the dual crowns).
I find it interesting that the two hours/minutes displays on the Arnold & Son Double Tourbillon Jade are totally independent of each other (while still be driven by a single movement). While a majority of the world are in sync with each other and only differ in the number of hours between them, there are countries and regions (for instance, India which is GMT+5:30) where the minutes differ as well. So, whatever your scenario, you can track the precise second time zone that you want to.
While I might prefer just having a GMT hand (and give up the minutes flexibility) there is no denying just how absolutely symmetrical the Arnold & Son Double Tourbillon Jade is. Top to bottom, left to right, all is balanced. The crowns being on a raked angle throws that off a touch, but it does help keep them from digging into your wrist, so we'll allow it.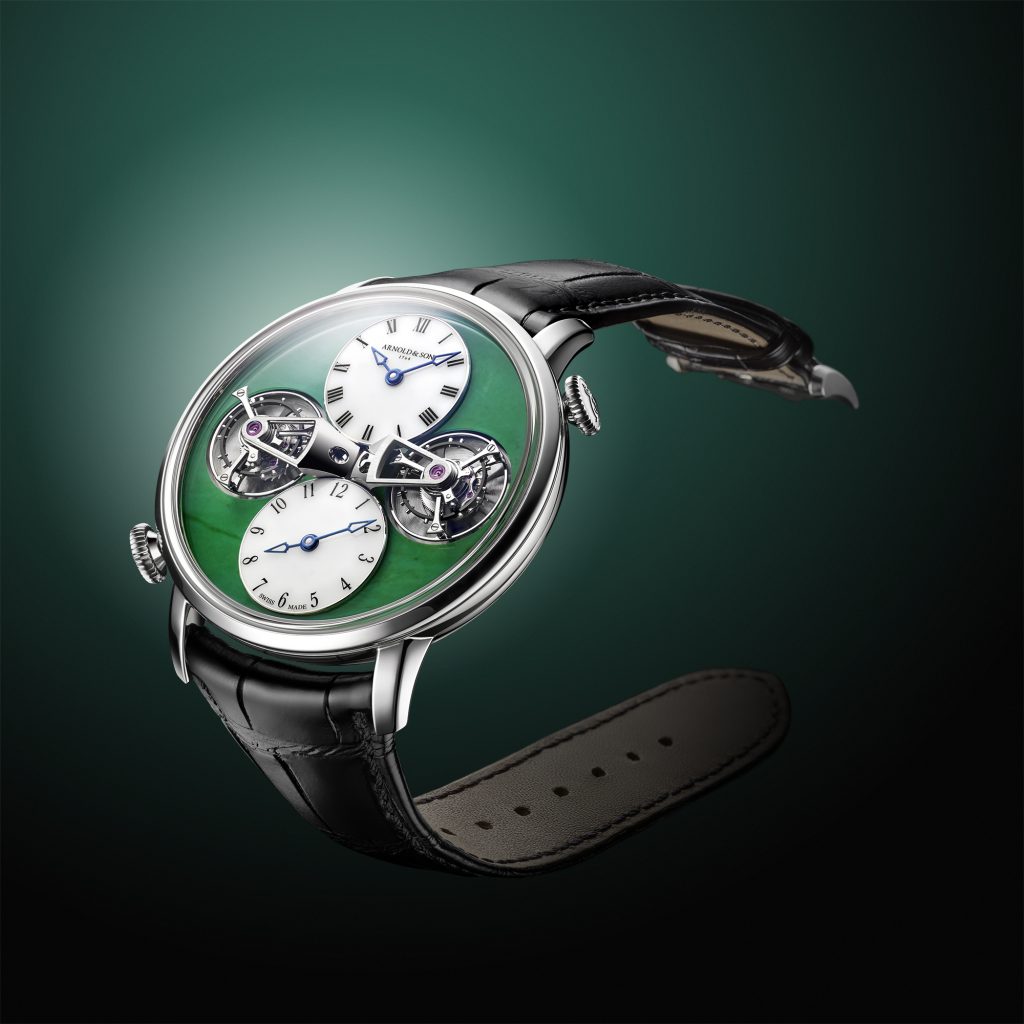 If you want to get the Arnold & Son Double Tourbillon Jade for yourself, I suggest you get talking with your dealer (or the brand) but quick, as there are only two of these watches being made. One is in white gold, and one is in red gold. No matter the gold hue you go for, it'll run you CHF 198,000 (approx $215,000), so have your crypto wallet in order. arnoldandson.com
Tech Specs from Arnold & Son