That's right friends – time to buckle up and lock away your wallet. We're diving into the high-end side of things, and looking at a watch that will definitely have you thinking about how to save up for it. Greubel Forsey has had some very interesting approaches to GMT complications before, and now their latest is ready to supplant them all. Meet the Greubel Forsey GMT Balancier Convexe.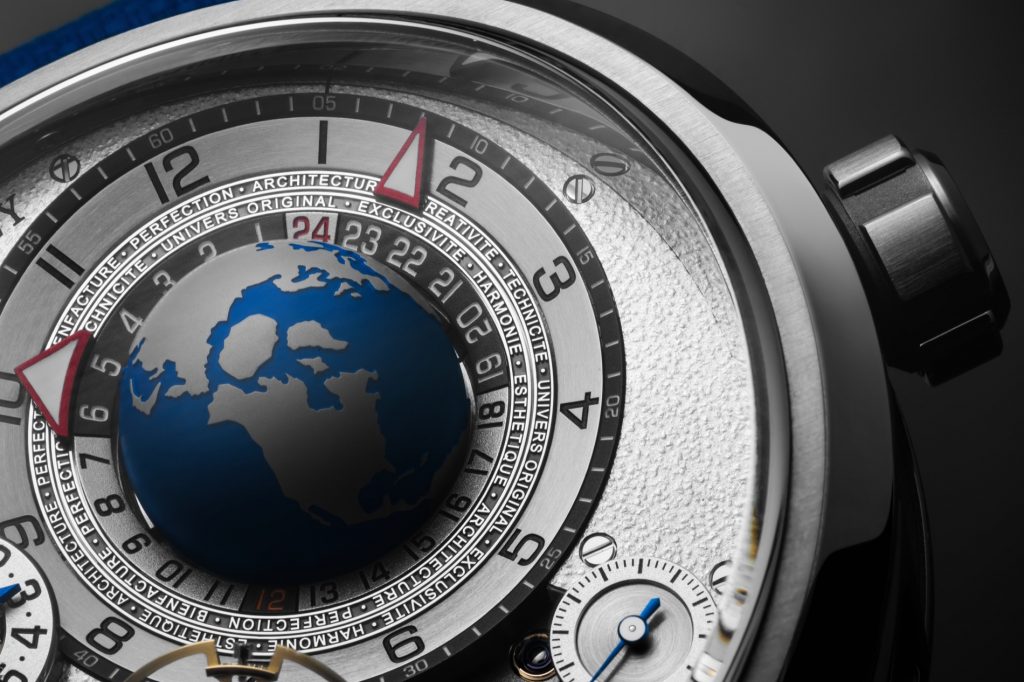 The obvious eye-catcher on the Greubel Forsey GMT Balancier Convexe is the globe in the upper portion of the dial, with three layers of time-keeping around it. As the world turns, you've got UTC world time displayed (the inner ring) and local time (hours and minutes) in the next two rings. So, off the bat, we've got a world time watch. Want to track a second time zone, and not just figure out which world city is the one you want? Well, you can track that second timezone with the subdial that's at the 9 o'clock position. If that's not enough, you flip the watch over, and you see the world cities again, indicating the 24 time zones.
So, right off the bat, we've got a lot going on, both in terms of watchmaking and engineering, as well as the aesthetics of how it's all presented. To up the ante even further, you've got a satellite looking like it might crash into the world. Here, it's actually the balance wheel of the movement, kicked up at 30° for a bit more visual interest. Sure, there may be a watchmaking reason for it, but I'm all about the visual interest here.
For all of the technical expertise that goes into creating a watch like this, it still looks to be a very usable and functional watch, the sort of piece that you'd be wanting to wear regularly. And that's great, because watches are tools that are meant to be used. Here, rather than being artistry for artistry-sake, it elevates things to make for a sublime presentation. If you want to pick up one of the 22 they'll be making over the next three years (for a total of 66), you'll need to bring $400,000 for the watch on a rubber strap, or $445,000 on a titanium bracelet. greubelforsey.com
Tech Specs from Greubel Forsey
Movement

Movement dimensions

Overall diameter: 38.80mm
Thickness : 13.41mm

Number of parts

Movement: 423 parts
Escapement platform: 59 parts

Number of jewels

42
Olived-domed jewels in gold chatons

Chronometric power reserve: 72 hours
Barrels: Two coaxial series-coupled fast-rotating barrels (1 turn in 3.2 hours), equipped with a fixed mainspring-bridle
Balance wheel: In-house variable-inertia with 6 gold mean-time screws (12.60mm diameter)
Frequency: 21'600 vibrations/hour
Balance spring

Phillips terminal curve
Geneva-style stud

Bridges and main plates

Titanium
Frosted, polished bevelling and countersinks, straight-grained flanks

Escapement platform

Inclined at a 30° angle
Flat black polished steel, polished bevelling and countersinks, straightgrained flanks
Polished steel pillars
Flat black polished and barrel polished steel balance wheel bridge

Gearing

Involute circle profile
Inclined gear with profiled teeth on fourth wheel

Displays

Hours and minutes
Small seconds
2nd time zone GMT
Rotating globe with universal time
Day-and-night
24 time zones universal time
Summer time, winter time

Exterior

Case

Titanium with curved sapphire crystal
Three-dimensional, variable geometry-shaped bezel, hand-polished with hand-finished straight graining
Profiled lugs, screwed fixing
Transparent back with curved and high domed synthetic sapphire crystal
Engraved GMT pusher
Titanium security screws
Raised engraving "GMT" and "Greubel Forsey"

Case dimensions

Caseband diameter: 43.50mm
Bezel diameter: 46.50mm
Case height : 13.75 mm
Height on synthetic sapphire crystals : 17.40 mm

Water resistance of the case: Water-resistant 10 atm – 100 m – 328 ft (standard NIHS 92-20/SN ISO 22810:2010)
Crown: Titanium, polished, frosted and straight-grained, with GF logo
Dial side

Terrestrial globe in titanium, relief-engraved continents, ocean blue treatment
Day-and-night UTC indicator in titanium, engraved and lacquered
GMT indicator in gold
Amphitheatre hour-ring with engraved and lacquered minute-circle
Small seconds indicator in gold

Movement side

Synthetic sapphire disc displaying city names surrounded by 2 rings (UTC and summer time) engraved and lacquered, hand matt lapped
Gold "summer time" plate with limitation number, raised engraving, hand matt lapped

Hands

Hours and minutes with Super-LumiNova, red triangles
2nd time zone GMT indicator, blue triangle
Small seconds in polished blued steel, flat black polished head

Strap and clasp

Non-animal material, rubber with text in relief, titanium folding clasp, engraved GF logo
On demand: 3-row metal bracelet in titanium, folding clasp with integrated fine adjustment, engraved GF logo