Just when you think you have seen just about all there is to see with Kickstarter watches, you have surprises like the Pheidippides Watches Porthole come along and rock your preconceived notions.  These days, you really have to do a lot to differentiate yourself (and your brand), as cost simply is not enough.  To that end, I think the Pheidippides Watches Porthole performs admirably.
Why is that?  Well, just take a look at the case shape of the Pheidippides Watches Porthole.  Go ahead, the photo is right there, we'll wait for you.  Made of bronze, the 42mm case is all curves, with nary a sharp edge to be seen. Well, at least until you get to the sides of the lugs.  Even the crown is rounded off, which seems pretty rare these days.
The whole concept of rounded edges (and the porthole theme) carries over to the blue lacquered dial of the Pheidippides Watches Porthole.  For the hour indices, you have raised pips that call to mind the rivets of a porthole, except that these are filled with lume.  Spinning over those you have polished steel hands with a corresponding cutout at the end of the hand to align with the pip (at least for the minute hand).  One might wonder about the lumed indices and the polished handset though, right?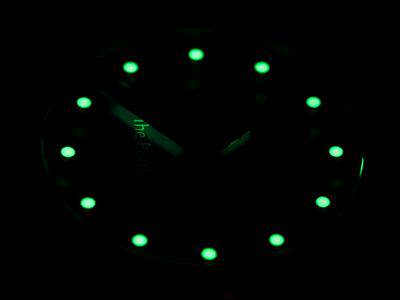 Not to worry!  The lume is applied to the underside of the handset of the Pheidippides Watches Porthole.  While this means you may not have the easiest time reading the handset in the dark, you should be able to pick it out via the luminous backlighting (for lack of another term) that has been built in.  It's a clever solution, and certainly gives a different look to things.  It also makes me think again about how cool it would be to have tritium tubes on the underside of a handset…
There is a lot going on here with the design of the Pheidippides Watches Porthole, and I rather like just about all of it. The one sort of surprise to the whole watch is the movement; in this case, it's the STP5-15.  This is a Swiss-made movement.  It is not that well-known of a quantity, which might be why the project is only at about 1/3rd funded with a few days to go (current pricing is starting around $839).  Frankly, that is a shame, as this is a particularly unique-looking watch that I hope to see made.  Who knows, it could still happen if the project doesn't fund, but I would not hold my breath.  If they do end up producing the Pheidippides Watches Porthole, we'll work to get one in for review.  pheidippides-watches.com
UPDATE:  The Kickstarter project was not successful, and is now currently active over on IndieGoGo.
Watch Overview
Brand & Model: Pheidippides Watches Porthole
Price: The currently lowest-available price is $839
Who we think it might be for: You like yourself a subtle nautical theme
Would I buy one for myself based on what I've seen?: I am cautiously intrigued
If I could make one design suggestion, it would be: Experiment with tritium backlighting on the hands, rather than just luminous paint
What spoke to me the most about this watch: The overall roundedness of the thing
Tech Specs from Pheidippides Watches
Polished bronze case and screw-in see-through back, 42mm in diameter and 12.3mm thick
Polished stainless steel movable lugs, stretched out lug-to-lug size is 55mm, 22mm wide
Blue lacquered dial
Polished nickel hands and hour markers filled with C5 Superluminova
Sapphire glasses top and bottom
Movement: STP5-15 by Swiss Technology Production, 44 hours reserve, 26 jewels
French brown genuine leather or black silicone strap, tapered, size 22/20mm
10 bar water resistance