One day while browsing the web to find bronze watches, I ran across a brand that I had never heard of, but with one attention-grabbing watch – the TC-9 Bronze Diver.  Before we get to the watch, a quick history lesson on what TC-9 signifies.  The Tropical Cyclone (TC) rating system is for measuring how strong a storm is.  In that scale, TC-9 means its time to batten down the hatches, and hold on to your hats.  
Toby Cearns – the man behind the TC-9 brand – chose this name to honor the role that Hong Kong and the nearby cities of Shenzen and Guangzou play in the micro brand watch world. Though I had not heard of them before, Tc-9 is not new to watches.  They started out as a full service watchmaker shop located in Basel, and more recently started producing their own watches. Currently, they have three models: TC-9 Pilot Watch, TC-9 1970's Bronze Diver, and the 1950's Divers Watch in Brass. I reached out to Toby and he was kind enough to send out the 1970's Bronze Diver for me to review.  This model is inspired by the Seiko 6105 diver from the 1970's. Let check it out.
The Dial
This is a simple 3-hander with the date at the 4 o'clock position. TC-9 offers dial colors in blue, green, and black; we looked at the blue sunburst dial.  The hour and minute hands are large and blunt and the seconds hand is a thin paddle type, running across large blocks for the hour markers.  All the elements of this dial bring out that original Seiko design. Topping it all off, you have an AR-coated sapphire crystal.
The Case
The case design looks exactly like the Seiko 6105 dive watches that were made from 1968 to 1977. The big difference with this watch is that bronze case, and what a nice look that is.  Measuring in at 44mm wide, 48mm lug to lug, and 13mm thick, this is by no means a small case, though it fits nicely on the wrist.
The crown is located at the 4 o'clock positions with flared crown guards that are a natural profusion on the case. Around back, you have a screw down case back with sapphire crystal showing the Seiko movement inside. Water resistance is a respectable 1000ft (editor's note:  quite surprising given that exhibition crystal) which covers all types of recreational diving and some commercial diving.  Then again, serious divers are going to be relying on a dive computer, not this bronze beauty.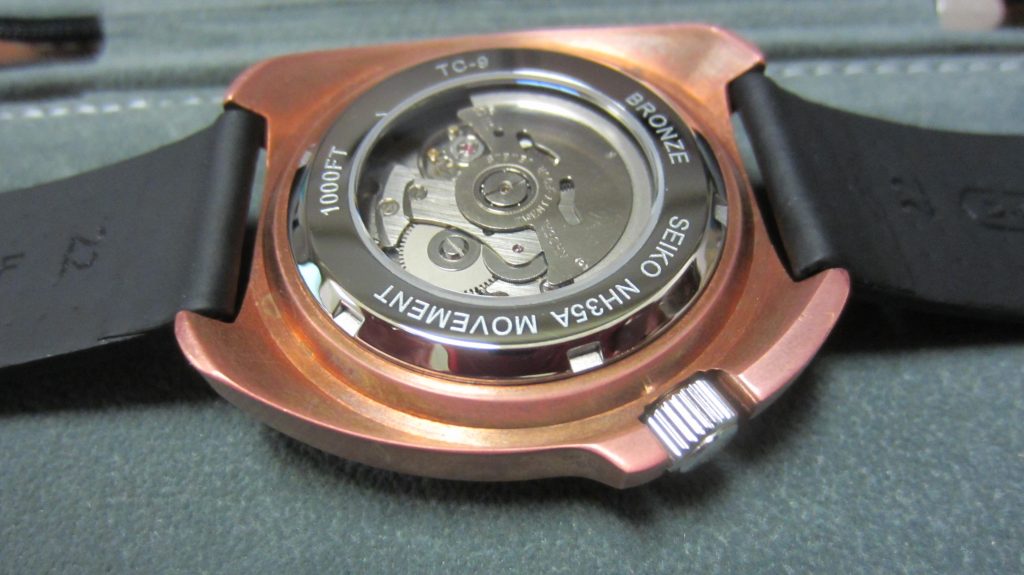 The Movement
This TC-9 comes with a Seiko NH35A Automatic movement, which could not be a better choice for a Seiko-inspired diver.  While it is a simple (read: undecorated) movement, there is still plenty to look at through the caseback.
The Bezel
When you order this watch you can choose from 3 different aluminum bezel inserts. You can choose from a decompression dive table, minute counter, or GMT. While not quite full-on custom, it's nice to have these choices. The bezel itself is a 120-click unidirectional bronze bezel.  As one would hope, it has nice, solid movement with little play.
The Lume
A lot of Superluminova paint was used to fill in those larger makers and hands. This resulted in a nice strong glow that lasts.  Night time or underwater legibility is no problem with this watch.
The Strap
This comes with a Di Modell waterproof leather strap, made in Germany. This strap has an almost rubbery feeling while still retaining the stiffness of leather. After a couple days of wear this strap conforms very well to the wrist and is very comfortable. Just a bummer that the buckle was not bronze as well…
Overall Impression
I have always liked the vintage Seiko divers, and many companies (Seiko included) still produce this style of case.  That said, this is the first time I've seen it in bronze, which results in a pretty cool vintage-inspired diver. Between the bronze case and choice of bezels, this TC-9 itself apart and is sure to get positive comments (something I can attest to).  Retail on this watch is $380; our loyal readers can net themselves a 25% discount with the code tropical9 at checkout. tc-9watches.mysimplestore.com
Review Summary
Brand and model: TC-9 1970's inspired Bronze Diver
Price: $380
Who's it for: Divers and desk divers
Would I wear it: Absolutely
What I'd change: Would like to see a bronze buckle on the strap.
The best thing about it: Its bronze
Tech Specs from TC-9
Materials: Solid bronze with stainless steel crwon.
Movement: Seiko NH35a Movement
Crystal: Sapphire Crystal front and back, AR Coated
Super lumed Dial and hands
Water Resistance: 1000 feet / 300 meters water resistant
Case: 44 mm wide
Strap: Di Modell German hand made strap. Calf leather but water proof vintage style divers strap with stainless steel buckle. And also free additional leather strap in Ox Blood Red.