Bulova built a curved-case for its curved movement and it holds your wrist like a rubber and steel hand cuff. The relatively new Bulova Curv is part of the recent additions to a lineup that continues to get my attention including its updated models of the Accutron and Moonwatch.
I continue to hope that Bulova will again rise to its every-man status it held when my dad wore his in the 50s. The Curv 5-handed quartz chronograph might have all the potential as it hums along at a super-accurate 262 kHz and promises to keep you on time and hold you tight while doing it.
The company's roots started in New York in the early 20th century when the brand became known for innovations in watch advertising (the first television ad) ) and technology (Its Accutron's tuning fork in the 60s).
Bulova has been through some changes though, and brand lovers might have had to adjust their expectations when Citizen Holdings bought the company in 2008. The Bulova buy was part of Citizen's overall strategy to grow its watch holdings by buying brands like Frederique Constant, Alpina, DeMonaco and Arnold & Son.
Regardless of Bulova's providence and prominence in the mid-priced watch market, my first impression of the Curv was an audible, "cool." The photos I saw online didn't do justice to the curved stainless steel case and the black metallization under the curved sapphire crystal. It felt like a smart watch or a watch from the TV show, The Colony.
My horological haughtiness toward quartz watches was challenged immediately, because this watch was different. I enjoyed how the design elements were executed starting with its sleek, low profile that hugs and holds the wrist.
It doesn't look or feel like it has a 44 mm case dimension, and its 10 mm height slips under the radar or your shirt sleeve with hardly any notice. Aerodynamic is a word that seems to fit. The case has a unique, bottle opener looking lug, although I did not test it on my favorite adult beverage in a bottle.
If you don't like the case shape of this model, give the other Curv's a chance. They come in all types of case finish, dial color and bracelet and leather details. The more vintage looking case designs feel more appropriate for the brand's heritage.
The curved sapphire crystal rests on top of the high-gloss black bezel adding barely a millimeter of additional height. It's an unobstructed view into the dial and offers a lot to look at when the lighting is perfect.
The dial is not as easy to read in the wild, however, since the brushed aluminum skeletonized hands sometime reflect the light that matches the black dial. Its dial depth starts at the outer chapter rings with each hour highlighted by a small blue-outlined luminescence square sitting on the outer most edge.
The high-gloss markers are at each hour except for the 6 and 12 o'clock, which hosts the tuning-fork logo and a bold, white Bulova. Each of these markers is applied to a semi-gloss ring that sits lower creating the depth in the dial. Its diagonal lines are almost parallel with the same lines on the strap.
Most of the dial real estate is taken by the three registers at 3, 6 and 9. The blue-handed register at 6 o'clock serves as the second hand and chronograph indicator.
In fact, this register was the most confusing part of the watch for me because I thought I pressed the chronograph button at 2 o'clock when I saw it ticking away and the start/stop button didn't reset it. I realized that it runs as a second hand if you leave alone for a bit. (Ok, I might get confused easily.)
The other two registers are pretty much decorative since their polished and skeletonized hands are almost invisible and too short to point at the small markers to measure minutes or hours. Keep this in mind when you're weighing this watch's form and its functions. I'm pretty clear on what drives me to love a watch and it's a balance of the design and complications. If you have a function that is decorative or poorly designed, I'm not crazy about it.
When it comes to accuracy of time, this watch is impressive. This ultra-high frequency quartz technology vibrates at 262 kHz which generally translates into greater accuracy over time. In this case, it is over eight times more accurate than a standard quartz movement which oscillates at a frequency approximately 32 kHz.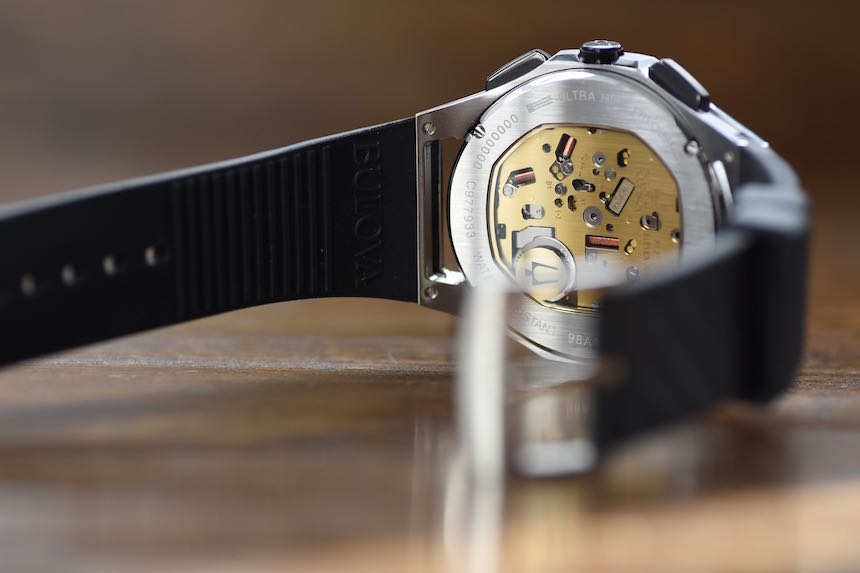 This talk about increased accuracy usually makes my eyes glaze over, since atomic-clock precision is not part of my daily life. Sure, I like to synchronize my watch to my iPhone when I rotate the next mechanical watch out of my box, but I'm not trying to synchronizing the nuclear launch codes for the Joint Chiefs.
One of the reasons I don't like quartz movements is replacing the battery. Bulova helps guys like me with this issue by enabling the pulled-out crown to stop the motor thereby using very little power. The quartz crystal still vibrates but with less energy draw. Bulova recommends that the crown could be left out to prolong the battery's life.
Bulova has thought about the battery in other ways, too. It hides the battery with a gold tuning fork logo on the display case-back. Why on earth would you want a display case back on a quartz watch? Bulova answers that question with a gold, graphical view into its heart. It's nothing fancy and not anything like a mechanical, but I guess that's why I like it.
The curve and rubber strap make a secure grip on my 7.5" wrist, but I don't wear many rubber straps. They leave me sweating and wincing when they pull my wrist hair. I had to play with this strap to get the right fit but once I did it rode along with me without another thought. The double strap holders are secure almost to a fault. The strap's end is not easy to insert or remove and the overall lug and strap design does not welcome a replacement.
More could be said about this watch, but it's the unique case design and movement accuracy that stands out. Although there's not much luminescence, this is a nice watch for those who enjoy a futuristic, high-tech look. I think the retail price might still be better suited in the $500 range even though it comes with a longer, 3-year warranty. Still, this is a high functioning, stylistic novelty for the Bulova collector at $799. bulova.com
Watch Overview
Brand & Model: Bulova Curv 98A161
Price: $799
Who we think it might be for: This is definitely for the Bulova watch lover and collector.
Would I buy one for myself based on what I've seen?: I wouldn't buy this model, but I would look at the vintage inspired versions of the Moonwatch or Accutron.
If I could make one design suggestion, it would be: Consider ways to enhance the legibility of the dial.
What spoke to me the most about this watch: The curves, the curves, the curves.
Specifications:
Brand Model: Bulova Curv 98A161
Movement (technology): NR20-Y1C UHF Quartz
Size of case diameter (mm):44mm
Height of case: 10 mm
Weight: 83g
Case material: 316L stainless steel
Case Back: Display, curved
Crown: Signed
Crystal/Glass material: Curved Sapphire
Water resistance (m/ft/atm): 30 meters
Strap/Bracelet material: EPDM Rubber 20mm
Illumination: Yes