Dual time complications are handy in the modern world, where we may be traveling, have loved ones in a different time zone, or need to work with colleagues across the country or even further afield.  One way to track two time zones is with a GMT hand, but most of those are 24 hour hands, which requires a bit of mental arithmetic.  Another way to do it is with dual dials, but those are tough to get aesthetically right.  The Helgray Hornet takes a third way, with an internally rotating bezel that provides a second chapter ring.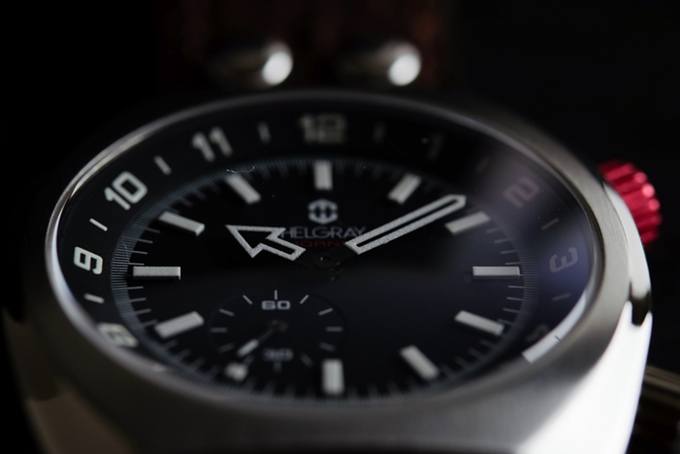 The Hornet is not the first watch to put a chapter ring on the bezel, and this approach may not appeal to everyone.  Putting the numbers that close to the indices, but allowing the numbered chapter ring to move out of alignment, may make reading the watch a bit more difficult.  Not having played with the watch, I can't say for sure one way or the other.  One visual cue on the dial I do really like is the off center small second hand.  This may have been a design necessity, since the crown is rotated an hour to 4:00, but I like the sub dial sitting there off at 7:00.  I also like the mixed handset styles, paired slightly in how they are boldly outlined in white lume, but differently shaped, and very readable.  I also like the red crown at 2:00 for the bezel.  There is something about me that likes a splash of bold color.
As I mentioned, I have not had time with this watch, but I have been able to check out Helgray's first watches after the Kickstarter campaign was closed.  They were attractive, well built, and comfortable.  They are not world beaters, but they are not priced like world beaters.  The watches are driven by a Miyota 1L45 quartz movement in a 42mm stainless steel case.  A nice addition, especially at the early bird price of $229 is a double domed sapphire crystal.  If you are not one of the first 200 backers, the price only jumps to $249.  At this price, it is not what I would call a steal, but the Helgray Hornet is an attractive watch from a up and coming watch maker, and the pricing is not out of line with the end product.  I will close with my customary crowd funded caveat, that you are backing the development of a project, not buying a retail product, so things may change and projects do crater.  Do your research on any crowd funded project.  helgray.com
Watch Overview
Brand & Model: Helgray Hornet
Price: $229 for the first 200, then $249
Who we think it might be for: Want to track two time zones using only two hands.
Would I buy one for myself based on what I've seen?: The look appeals to me, but I am not buying quartz watches these days, plus I already have a GMT.
If I could make one design suggestion, it would be: want that inner bezel to be uni-directional.
What spoke to me the most about this watch: The off center small seconds.
Tech Specs from Helgray
Movement: Miyota 1L45
Functions: Small second hand, inner rotating bezel
Case: Stainless steel
Crystal: Double domed sapphire crystal.
Water resistance: 100 meters
Lug width: 22mm
Straps: Leather strap with signed buckle.
Diameter: 42 mm
Case Height: 13 mm
Lume: Superluminova BGW9, application on hands, dial, and bezel