You know us here at WWR – we like to talk about what's happening on the affordable end of the spectrum, as there are a number of well-known sites out there that live solely in the rarified air of luxury watches. Still, we like to daydream just like anyone else, and that's why we've got those "For Your Consideration" articles that pop up now and again. And then, sometimes we get in touch with the right person, and we get to spend some time with one of these high-end watches. We did that recently a few different times. You can read about the first one here, and of course read on to see more about the Laurent Ferrier Classic Origin Blue.
I will admit – when I we were first approached about bringing in a loaner of the Laurent Ferrier Classic Origin Blue, I was hesitant. As a reviewer, you assume the risk on anything happening to watches that you have in your possession. Over time, my tolerance has increased to accomodate more watches, but this one was setting a new threshold for something I've actually put on my wrist (so as not to bury the lede, the price tag we're talking about is $33,500). Still, I couldn't turn down the chance, so it came to visit for a few days.
On paper, the Laurent Ferrier Classic Origin Blue is just about a perfect watch for me. My style of dress tends towards the more conservative (I'm in a suit at least once a week), so the very dressy style is a perfect fit for that. The 40mm titanium case is fully polished, and that's complemented by the white gold hands and indices on the dial. Set into that case is a gradient blue dial that, once combined with the polished accents, really put me in mind of a blueprint (blame that on several jobs back, I guess).
If I had one complaint with the Laurent Ferrier Classic Origin Blue (perhaps we'll call it a suggestion for improvement) it would deal with just how reflective the crystal on the watch is. In my experience, it was a master at catching and bouncing reflections at you. Which, in turn, could make it tricky to see those beautifully polished hands spinning over the dial. I won't say it happened every time, but on more than one occasion – over the few days I had the loaner in – I would have to readjust how I was holding my wrist to get a clear view of the time. Is it a deal breaker? Well, you'd have to decide that for yourself. For me, if I was putting this sort of coin down, I'd expect better AR coating on the crystal.
Around the back of the Laurent Ferrier Classic Origin Blue, you get a clear view of the manually-wound LF116.01 movement. While it can interesting to see a lot of a movement exposed, I've been finding myself leaning more towards these sorts of "obscured" movements where you can see portions of things (here, it's the balance wheel and part of the barrel), with plates taking up a larger portion of what you can see. To me, this speaks more towards a level of thought given to a movement being designed to be seen, rather than a caseback that has had a hole put in it, and you get what you get in terms of a view. Though manually-wound, you will not need to wind it each and every day. Why's that? It's got a pretty astounding 80-hour power reserve, meaning you can just wind it up when you put it on, and then it can hang out for a few days (say, over the weekend) and still be running at the right time when you pick it up next.
On the wrist, I found the Laurent Ferrier Classic Origin Blue to be a delight. The sizing and contours of the case fit my wrist perfectly, and the Nubuck strap was soft and easily conformed to the wrist. Aesthetically, the slimmer case, and combination of deep blues and polished silvery gleams of titanium and white gold was, again, delightful. It just hit so many of the right spots for me, I was glad I had the chance to spend some time with it.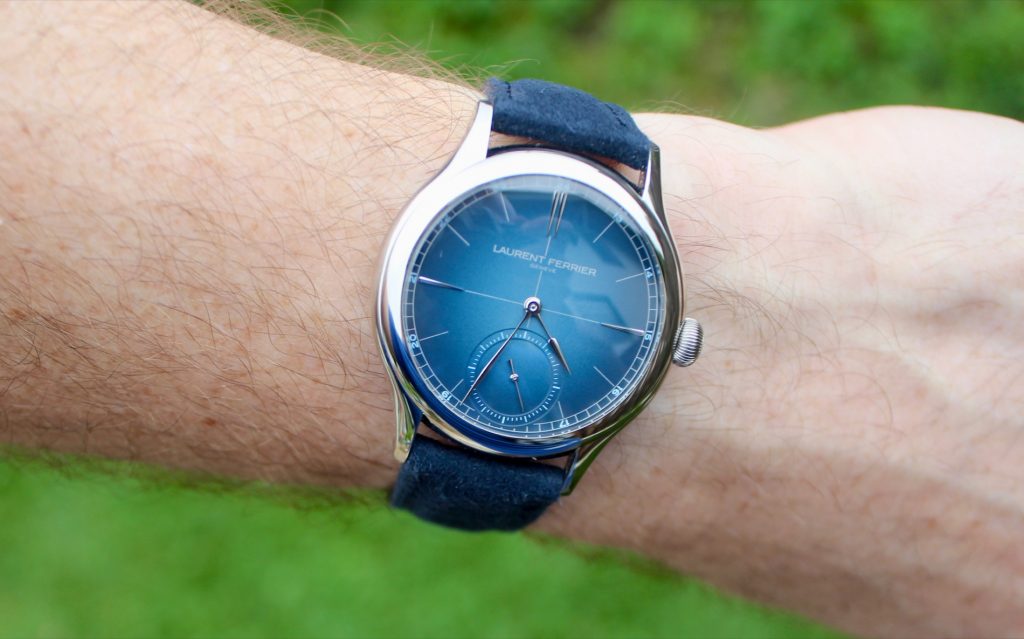 And sure, you can't help but to think of that pricetag on the Laurent Ferrier Classic Origin Blue. What really struck me about it, though, was that it did not scream "LOOK AT THIS LUXURY WATCH!" Yes, it's a well-constructed and -sorted watch. It has a subtle elegance to it that puts one in mind of a quiet confidence. Yes, those who know Laurent Ferrier would know what you have on the wrist, but for everyone else? They might think it's a nice-looking watch, but they wouldn't give it a second thought.
In other words, a watch like the Laurent Ferrier Classic Origin Blue is for someone who's arrived at a certain station in life who wants to recognize that with a watch that is a treat, but does not scream out that you're trying to look affluent via a golden statement piece on the wrist, if that makes sense. Both styles have their place, and to each their own. For me, I'll take quiet sophistication any day of the week. If you'd like to learn more about the watch, head on over to laurentferrier.ch
Tech Specs from Laurent Ferrier
Dial

Indications: Hours, minutes, small second at 6 o'clock
Material: Gradient blue opaline dial
Indices: Four drop-shaped, 18K white gold 210Pd 
Hour markers: Powder grey painted minute track and light blue numerals
Hour and minute hands: Assegai-shaped, 18K white gold 210Pd
Second hand: Baton-shaped, 18K white gold 210Pd

Case

Material: Grade 5 titanium 
Diameter: 40 mm
Thickness: 11.10 mm 

Movement

Features:

Caliber LF116.01
Manual winding
Swiss lever escapement
Balance screw

Diameter: 14''' = 31.60 mm
Thickness: 4.35 mm
Number of components: 150
Number of jewels: 21
Water resistance: 30
Frequency: 21,600 vph (3Hz) 
Power Reserve: 80 hours 

Strap

Material: Dark blue Nubuck leather, Alcantara lining
Buckle/Clasp: Pin buckle, grade 5 titanium