While I've been known to enjoy many a different comic book character, show, or movie, I've always leaned a bit more towards DC. While Batman is where I put the #1 tag, the whole of the Justice League has some interesting folks. Well, ok, Aquaman has always felt a little underwhelming, at least until we got Jason Momoa's interpretation of the character. While I'm not sure what sort of watch Arthur Curry would actually want or need, the Undone Aquaman does look like it could get the job done.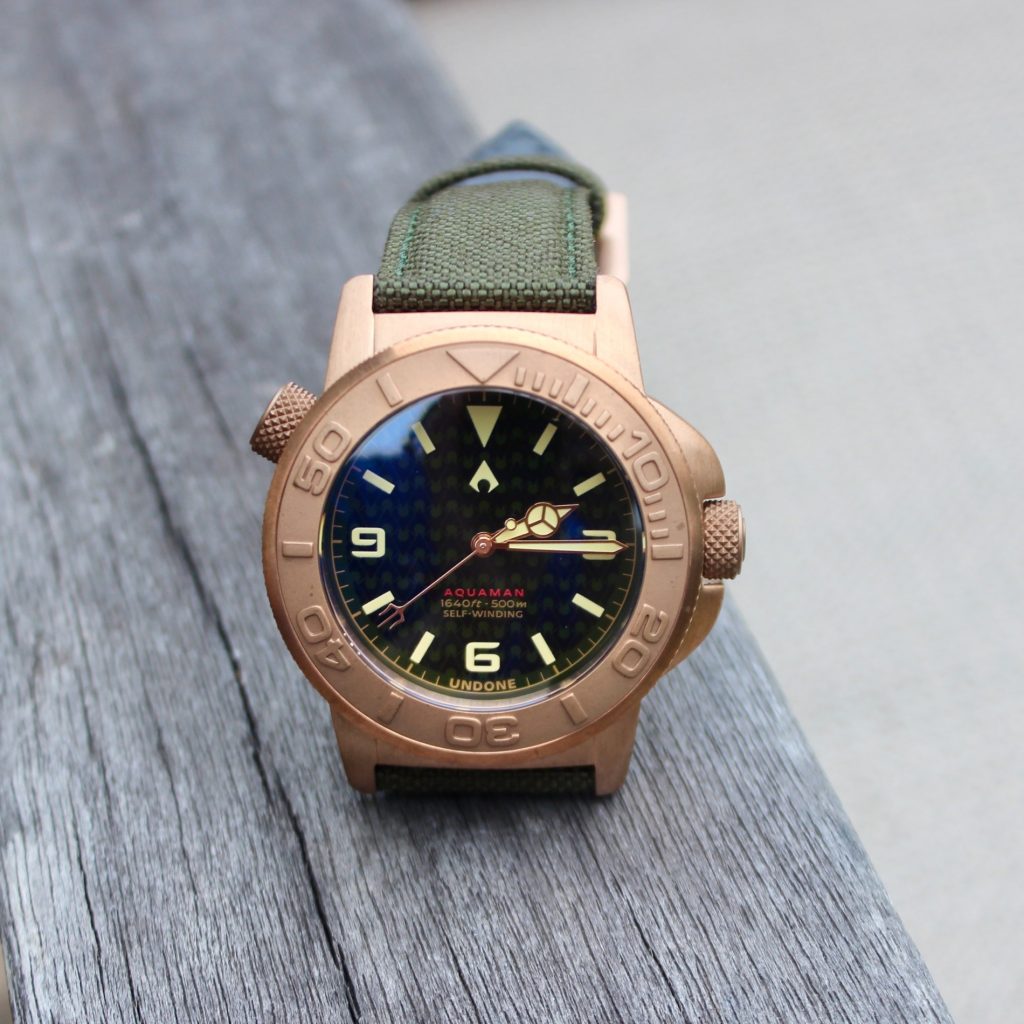 Well, ok, so long as he wasn't trying to hide his identity, that is. Secret identities are what superheroes are all about, but the Undone Aquaman would definitely give the game away. Up at the 12 o'clock position, you've got Aquaman's logo, his trident appears as the seconds hand, and then the text above 6 o'clock actually says "Aquaman". Hiding away, this watch is not. Want even more Aquaman? A closer look at the dial will show the logo repeating, calling to mind the scales of Aquaman's armor, and around back, the exhibition caseback very clearly tells you who this watch is in honor of.
As befitting a watch for the King of the Ocean, the Undone Aquaman is rated to a 500m water resistance rating, including a helium escape valve at the 10 o'clock location (for those curious, its manually engaged by unscrewing the crown there). Given the aquatic theme, it's really no surprise that that they've gone with bronze for the 43mm case, bezel, and crowns. For those worrying about your wrist turning green, well, the stainless steel caseback should help keep that from happening (it didn't become a problem over the course of wearing this watch for the review).
Now wearing the Undone Aquaman is definitely something you notice. Not unsurprisingly for a 500m dive watch, this one comes in at 137g even for being on the olive textile strap. With the thickness of the watch, it will rotate a bit on your wrist unless you've got a good fit with the strap (which has a bronze buckle). Then again, with the 22mm lugs, you could swap in a strap that gets you that better fit if you so desired.
To keep things legible, the Undone Aquaman has a crisp and fairly open 3-6-9 dial that has a generous bit of luminous paint on it. In other words, it's very easy to get the time at a glance. Should you need to time things, the bezel is not lumed, but the raised numerals (and marks under 15 minutes) are large and easy to pick out. So, whether you're under the water or just wandering around on land, this is a watch that gets it's job done – telling time, not giving you control of aquatic critters.
If you'd like to add the Undone Aquaman to your collection, it'll be easier than finding that first appearance comic book. To get one, you'll just need to bring $699 (and yes, that's a premium over their regular Aqua II lineup, but those are just in steel) on over to their site, and get your order in. Then, you'll be ready for when Aquaman (and apparently Batfleck) appear on the big screen in 2023. undone.com
Tech Specs from Undone
MATERIALS

Case – CuSn8 Bronze
Lens – Double Dome Sapphire Crystal

MOVEMENT: Japanese TMI NH35A Automatic Winding Mechanism
WARRANTY: 12 Month Warranty from purchase date
DIMENSIONS:

Case Width – 43mm excl. crown (47mm incl. crown)
Case Thickness – 17mm incl. crystal

WATER RESISTANCE: 50 ATM / 500 Meters