Calvin Ng has brought three watch models to fruition so far, and we thought it was time to ask, what is it about his history that makes watches his life's work?
WristWatchReview: What is your history with wristwatches?
Calvin Ng: Both my parents and my grandfather were in the watch OEM business. I have been visiting their factories since I was a child, and have always tried to gain an understanding of the business when I was growing up. This is the main spark that started my ultimate quest to build a brand myself.
WWR: Why is now the right time to become a watchmaker?
CN: With the advent of technology, it is easier than ever to reach to potential customers with current eCommerce and crowdfunding platforms, which provides a great way to engage in the community and to gain funds from supporters who shares the same passion as our team to turn an idea/ design into a product. Further, over the years I believe I have gained enough experience and support from key resources to take that leap into becoming a watchmaker.
WWR: Before you became a watchmaker, what was your intended career path in life? How did you come to watch making?
CN: I always wanted to become a commercial pilot prior to becoming a mechanical and manufacture engineer. However, being in manufacturing was very unrewarding and mechanical (pun intended). I started getting bored, and began to reflect on those times when I visited my parents factory. Those watches they used to make for other brands, then I asked myself why can't I apply some of my mechanical experience into creating watches that are unconventional yet affordable like all the big brands.
WWR: Why this watch?
CN: Our 3rd collection: COMMANDER, continues our signature aviation inspired watch, its dome shaped design is a show of heritage from our AIRSPEED model. However, whereas AIRSPEED is more a fashion/ jewelry watch for everyone, the COMMANDER was created to showcase the extension of our our design and manufacturing capability. And we would like to position the COMMANDER as our flagship model that shows our improvement as a watchmaker. It's a statement that we are making, which is as long as you're proven committed and dedicated to bring a unique and affordable watch to the market, people will accept it with open arms.
WWR: What's been the biggest manufacturing or engineering challenge you faced so far?
CN: The dome glass is the key features of COMMANDER and it's the most difficult part to make and to assemble. We have worked with many suppliers to develop a standardized processes to control the glass inner radius tolerance and also assembly fixtures to ensure quality level is up to par, which ultimately becomes a durable watch for all of our supporters.
WWR: Where do you think the industry is moving?
CN: As we carry more and more electronics that have more precise time keeping than a watch, the role of a traditional watch has gone beyond just keeping time. It is a statement/ jewelry and it's something different to allow everyone to reflect their personality in a subtle way.
WWR: Where do you fit within that future?
CN: We offer something that's unique from other traditional watches in the market. We challenge the unconventional designs and concepts from traditional watch manufacturing. I think by some of the feedback, many of the watch enthusiasts feel the same way. One good example of this is our AIRSPEED/ COMMANDER dome glass design is very innovative in the industry.
WWR: How do online communities play a part in that?
CN: Online communities play a very important role during our whole product development process. We have been very lucky to be able to find professionals and aficionados that support and share our vision, and offered valuable suggestions for us to continue to improve our design and to develop our brand.
WWR: What are you doing to develop a strong community feedback loop? How does that community feedback change the watch business?
CN: At the beginning our community was small, based on friends and family that are in the industry. Those were our initial community, as we expanded and introduced our new watches on Kickstarter our community grew. Now a day, we are very active on social media as well as making a conscious effort in engaging our community through emails. Overall, this feedback loop has been very inspiring, we like to take in all comments and feedback and try to incorporate those comments into our final design of the watch. Many times when you stare at something for too long you can become trapped in your mind, the community brings a fresh new perspective sometimes.
WWR: How do you define your ideal consumer? Who is it, in your mind, that wears your brand's watch?
CN: Both AIRSPEED and COMMANDER collection goes well with casual and formal outfit. We're targeting customers who enjoy something different on their wrist.
WWR: What is it that defines your watch? What characteristics are identifiably "YOUR BRAND"?
CN: Mechanical and Geometric shapes. Those are the key characteristic of our watches. Additionally, we like to challenge the boundary of traditional watch making, let it be case, materials, or overall aesthetics.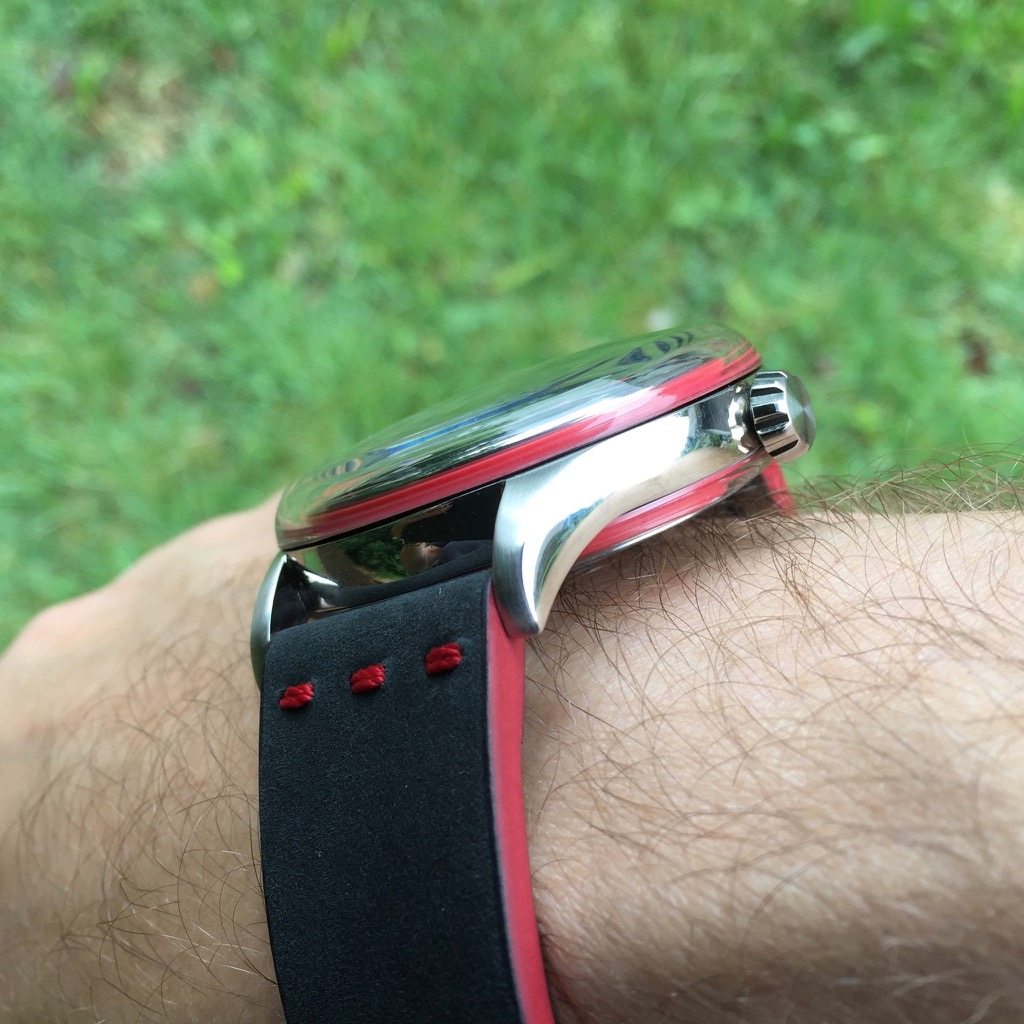 WWR: Along that line of questioning, What are your guiding principles when making design choices?
CN: We generally work from a design-first instead of cost-first type of approach. Our design always starts off with mechanical inspiration since we create almost exclusively mechanical watches, so we like to keep that common theme. These inspirations can come from motorcycle, aircraft components, jet engines, or to the little details of vintage regulator mechanical movements. You can see these mechanical influences in the three watches we have created thus far.
WWR: How do you think about design and its role in your life?
CN: I think that's a very difficult question to answer, because design is something that is very personal and ever evolving with every project and improvements we make. I think one of the best book I've ever read about design is named, "Design of Everyday Things". To me that's design, how design influence people in the way we perceive and interact with objects around us. Ultimately, it's about the users, and user experience and how that makes you feel.
WWR: What would the crowning lifetime achievement be for you and your brand as a company?
CN: We are not trying to be another mass-market brand. Ultimately, what we want to create is a brand that all watch enthusiasts and collectors can appreciate. I think the crowing lifetime achievement for us will come when we become a brand that these specific user group will recognize and support.
The CJR Commander is live on kickstarter, with three additional colorways available now – black, bronze, and white. Prices start at $449 USD.