French watch company Yema has just announced a planned Kickstarter for their latest creation, the Wristmaster Traveller Micro-rotor. The watch uses a manufacture movement and is super thin. It takes advantage of a smaller rotor size to reduce overall size and weight and will come in multiple colors.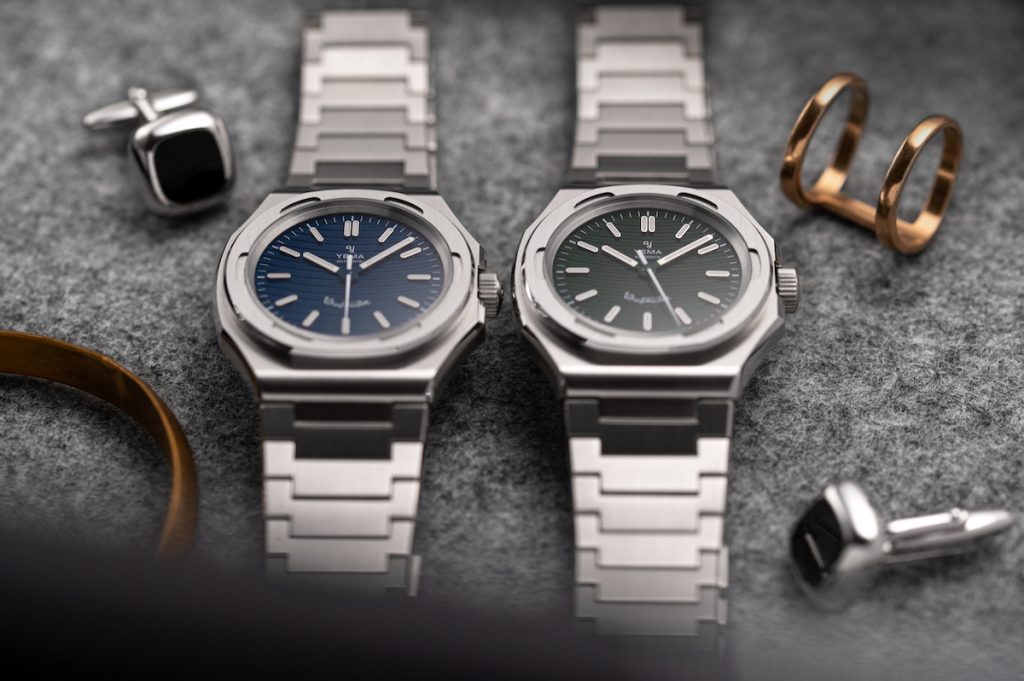 Yema writes:
Inspired by the emblematic 1960's YEMA Wristmaster timepieces, this unique model is equipped with the first ultra-thin micro-rotor French Manufacture caliber, which can be admired through a sapphire crystal exhibition case.
Designed as a luxury sports watch with integrated steel bracelet and water resistant to 100m thanks to a threaded screw-down crown, the Traveller Micro-Rotor Limited Edition is a rare and elegant high-end watchmaking timepiece at a fair price that works both on formal occasions as well as everyday wear.
What is a Yema Wristmaster?
limited to 1948 numbered pieces, and you can express a preference for which number you want
integrated bracelet and case that recalls Genta designs without copying any specific Royal Nautilus Offshore Vacheron
Movements are an in-house design, and are colored via atomic vapor deposition with a mix of matte and polished surfaces – black, blue, green, to match the dial.
Dials have a horizontal striped texture not dissimilar to a Nautilus, but with curved lines rather than straight
BGw9 blue lume
39mm diameter, 43mm lug to lug, 9.2 mm thin.
70 hours power reserve
1499 EUR (said to be a 50% discount on regular retail pricing)
The deal with integrated bracelets
An integrated bracelet is one where instead of using standard width lugs that will accept any bracelet, the bracelet is made to match only a specific watch case. In this case, the watch case has a positive part sticking out of the case that matches the center link of the bracelet, so the whole thing is made to match. The bracelet is said to taper from 24mm wide to 23, although I don't trust that number – 23mm is very wide for a bracelet clasp. The clasp on this watch is a double-butterfly arrangement that hides the clasp nicely when closed. Releasing the clasp are two buttons on either side.
The dial
The dials are blue, black, or green, and feature the raised horizontal stripes that are most commonly associated with the Patek Nautilus. Here, they're given a gentle curve or smile, which is a nice breakaway from being a direct copy.
The bezel
The rest of the watch isn't a direct copy of anything in particular. The bezel is most like some variant over overseas, although even there, it's not a clear copy. The bezel does not extend to the edge of the case, which is not a look I prefer – for my tastes, the bezel should reach the edges of the case, or else it looks like it's drowning in too large a case. Here, the case isn't too large, so the bezel is determined by how wide they wish to make it, and the dial diameter. They picked a smaller dial size, which means a smaller bezel if the width of the bezel is to remain as narrow as it is. The lesson is, proportions are difficult. A bigger dial would have made the whole thing wear even larger.
The in-house movement claim
A lot of brands have taken to claiming an in-house movement, one manufactured on-site in factories owned by the watch manufacturer. This is understood by watch nerds as a form of quality, that a brand is capable of designing and making their own movement. This is in contrast to much of the 20th century, where manufacturers contracted dials out to Singer, Beyeler, Stern or others, movements out to Aegler or ETA, or Felsa, and had their own technicians do the assembly.
One of the risks of making an in-house movement claim is, what happens if fans were to learn that it weren't true? The brand reputation would be damaged, because everyone would recall that in the same breath as the brand name. One of the other risks of making an in-house movement claim is, what if it were made in house, but became known to have a lot of faults or quality control issues?
The problem with anecdotal information is that there's no way of knowing how large or small a problem is. The manufacturer knows by how many warranty claims they get, all we know is that there are forums like reddit that show users have had some trouble with quality control on the basic 3 hand movement used in the Yema Navygraf watch.
The risk, and the reward
Yema has fantastic styling. The Navygraf, the Superman are excellent. This is interesting, and a good take on the integrated case without directly copying anyone in particular. Is a new in-house movement a risk? Possibly, although it does have a 3 year warranty. If a new Yema with some high class 1970s style is your kind of watch, this feels like a pretty good reward. It could be yours for 1499 EUR at kickstarter.com.
The watch has a certain Royal Oak look and includes an integral bracelet. It's a really handsome piece and the only downside is that it will cost about $1,500 when the Kickstarter launches. That said, it will cost about $3,000 at retail.
Pricing aside, Yema has been hitting it out of the park lately and I'm really excited by this new piece.