We here at WWR are big fans of what Zodiac has been producing. They've been hitting that sweet spot of vintage dive watch looks with clever hits of color. If you've like the direction that they've been heading, but weren't looking for another dive watch, then the just-released Zodiac Olympos could be what the doctor ordered.
While the Zodiac Olympos no doubt looks like a new vintage-style watch to many of us, it's actually a watch design from their back catalog. It was originally released in 1961, and apparently picked up the name "manta" due to it's uniquely-shaped case. Well, that case shape has been maintained, reinforcing the ties to the original.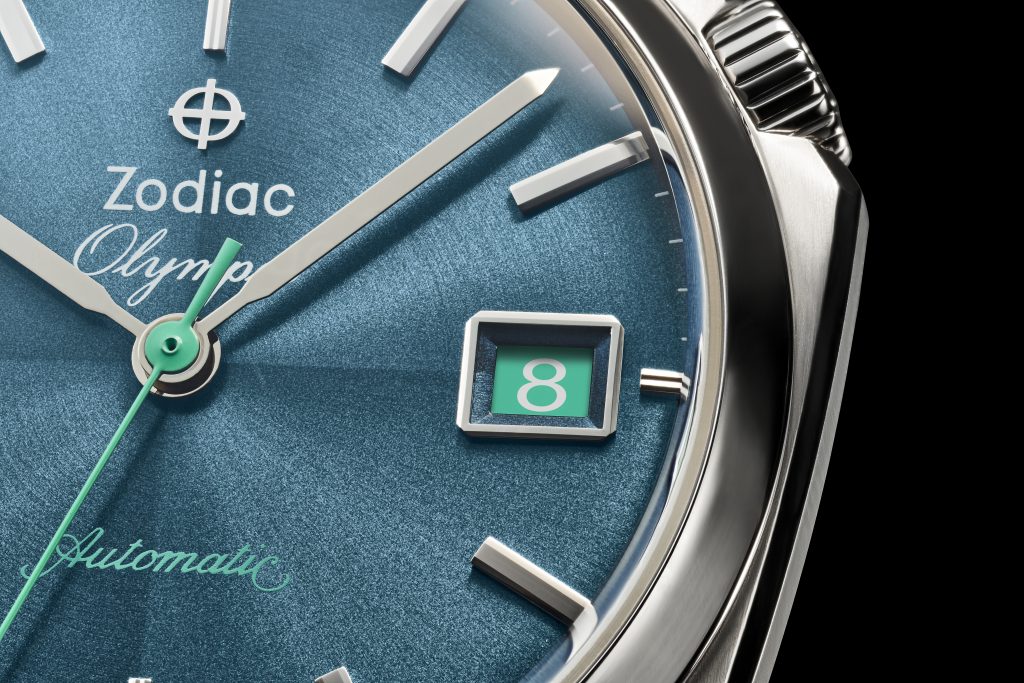 The great thing about nouveau vintage watches like the Zodiac Olympos is that you can get the look of the original while reaping all the benefits of modern materials and manufacturing. While the case comes in at an old-school 37mm (and just 10mm thick!) it's got a sapphire crystal that is AR coated that will put to shame what you'd have found 60 years ago. Through that crystal you have a crisp and clear look at the sector dial as it plays with the light. That dial is available in four colors (cream, black, gold, and blue), but the blue is our absolute favorite. Why? Because that Zodiac playfulness came through with a teal date window.
Tucked inside the diminuitive case of the Zodiac Olympos is the well-known STP1-11 movement. This is a movement we've seen in Zodiac watches before, and is equivalent to an SW200 or 2824 (more on that here). So, while it might not have as much recognition as the big names, or carry COSC certificates, it's definitely a movement that will get the job done with relative ease. Additionally, being so similar to the 2824, it should be fairly easy to find someone to service and maintain the watch over the years.
Now that we've seen Zodiac hit a different – and dressier – direction with their back catalog, we can't wait to see what else is going to be coming down the pipe. If you want to pick up a Zodiac Olympos for yourself, they're available for $795 – $895 directly from zodiacwatches.com
Tech Specs from Zodiac
Retail: $895
Case Size: 37mm
Case Thickness: 10mm
Lug Width: 19mm
Movement: STP1-11
5ATM
Sapphire crystal
AR coating