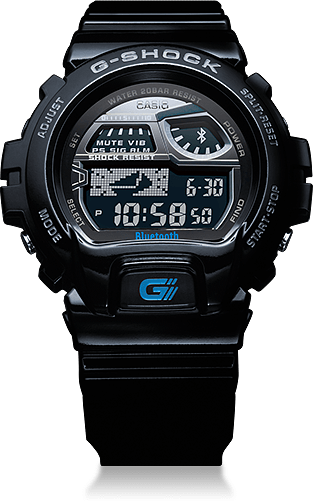 There have been all manner of watches that want to tie in to your phone, to varying success (both in design and usability).  Casio has introduced a new G-Shock that looks to overcome some of the shortcomings that other models have had.
First hurdle overcome?  The tech that the watch uses to connect.  This G-Shock (GB6900AA) relies on Bluetooth 4.0 to communicate to the phone (only the iPhone 4s and 5 currently have this).  This is an important step, as it's known as a "low-power" variant.  In turn, that should mean much longer battery life for the watch, as well as the phone.
Next up is the design of the watch itself.  Sometimes, we get caught up in these watch-linked phones looking like their own little sleek pieces of glass, just like the phone they tie to.  Here, Casio has a tried-and-true G-Shock layout (and robustness) that adds in a great bit of functionality (more on that next).  In short, this is a watch that looks like a watch, and just has some tech wizardy hiding in the display.
Now, for functions – this is great for the person who has their phone tucked away in a pocket, bag, or desk drawer:
Incoming call alert:  beep or vibration
Incoming mail alert (have to register the email account with the G-Shock app)
Phone finder:  push a button on the watch, and the phone emits a tone to help you locate it
Time adjustment:  the watch updates it's time information from what the phone is receiving from the network (handy for a traveler  I'd imagine)
Link loss:  the watch vibrates if you get to far away from the phone
If you like, there are videos of each of these functions you can check out here.  Outside of that, you get all of the great functionality and durability we've come to expect from the G-Shock lineup; you can see those details here.  At $180, I'd say it's an interesting value proposition, if you're someone who's permanently attached to their late-model iPhone.  For everyone else, you may want to look elsewhere (or wait and see if an Android app is released).