Admittedly, that famous Chubby Checker song is well before my time.  However, when I came across this new Fossil model, I couldn't help but to have it run through my head.
Not surprisingly, the model is part of their Twist collection.  Fossil over the years has had a decent representation of watches in their fashion/clothing collections, and they have come out with some very nice pieces (there may even be one or two in my own collection from early on).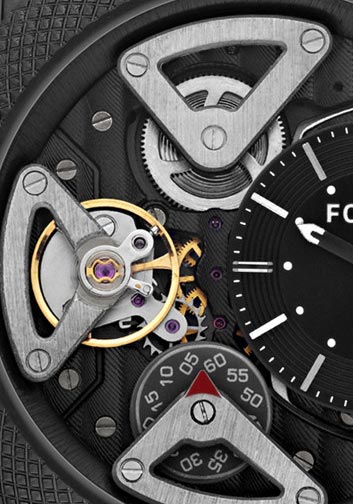 This latest one is a very sharp design.  Looking at it, you might think that the watch was an automatic – I know I did, at first.  Do a little bit of reading, however, and you quickly discover that this is actually a quartz-driven piece – the design just throws some mechanical touches in there for the look.
So, once I saw that, I had to turn to evaluating this strictly on the looks of the piece.  In that arena, this is presenting a rather unique look.  You've got a "dial within a dial" presentation occurring, as well as a seperate sub-seconds dial.  You of course have the mechanical-style balance wheel and mainspring as well (from some searching on YouTube, it appears the balance wheel will actually be in motion).  So, from a design perspective, it's an interesting one.
In the end, for me, this is much like the "faux chrono" dials – presentation should follow function (not imitate).  In other words, I'm not a fan.  However, if you're the sort of person who likes the look of a mechanical, but wants absolute quartz accuracy, than this is your model.  Pricing falls in right around the $185 mark, including over at Watchismo.