It certainly is not a secret that the GMT complication is one of my favorites. The types of watches that it will show up in are rather varied as well. They can be in the iconic Rolex models as well as show up in complicated aviation watches. Or, as we have today, pop up in what is essentially a dive watch: the Mühle-Glashütte Seebataillon GMT.
First, let's tackle what makes this a dive watch, though it is fairly apparent. The Seebataillon carries a 300m WR rating and a screw-down crown, and you've got a ratcheting bezel surrounding the sapphire crystal. Though, it should be noted, this is slightly different than other dive watches. First up, it is bi-directional, rather than unidirectional. Next, take a look at the scale on it. Most times, we see what is a "count up", or elapsed time, bezel. On the Seebataillon however, we have a countdown bezel. A minor change, and for us non-divers, it is really more of a stylistic thing.
The watch is also paired to a rubber strap, albeit one quite different than I've seen before. Along with a folding clasp and extension (rather than a thumbnail buckle), this strap features something I have only seen on metal bracelets before – attachment bridges that fill the lugs, giving a finished and contoured look to the watch.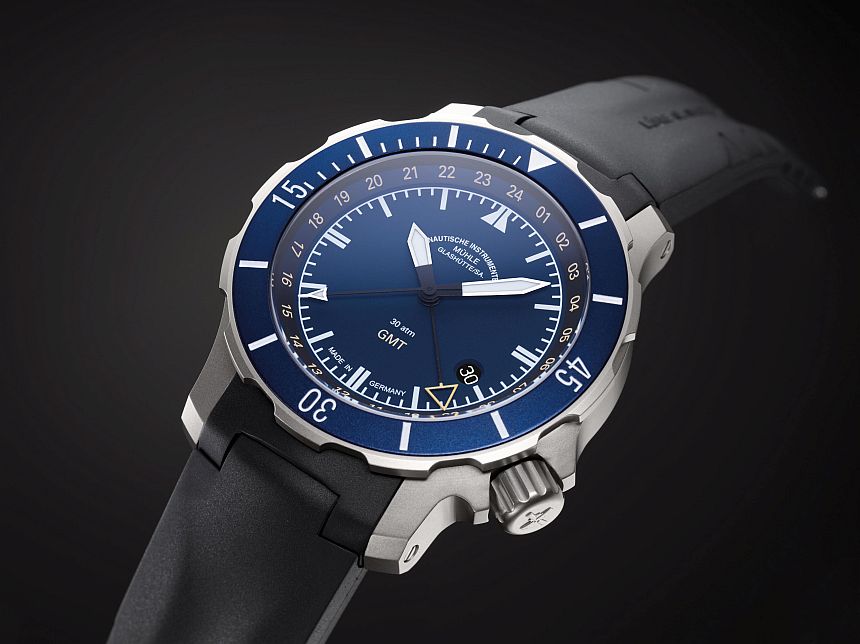 Tucked into the 44mm titanium case (which should be relatively light, especially given the 12.7mm thickness) we have an ETA 2893-2 automatic movement keeping the date, time, and GMT time accurate. Sure, the movement itself may not get you all hot and bothered, but it is a known high-quality selection. Mühle-Glashütte also applies some of their own finishing to the movement, as well as their own rotor.
Last, but certainly not least, I cannot help but to comment on the color palette here. The blue-black-white, set as it is in the matte finish of the case is, well, just about spot-on, at least for me. It allows the watch to have some sportiness to it, while still keeping things muted a bit to blend in well at the office.
In other words, this should be a great all-around sort of a watch, working quite nicely as you head in to the office, as well as being ready to head out into the weekend. While I certainly would not advocate having just one watch, necessarily, this does look like one that could fit the bill, covering a variety of use cases. You can pick up your own Mühle-Glashütte Seebataillon GMT for a price of $3,899. muehle-glashuette.de
Watch Overview
Brand & Model: Mühle-Glashütte Seebataillon GMT
Price: $3,899
Who we think it might be for: This is for the fellow who is looking for a diver more from the luxury end of the spectrum
Would I buy one for myself based on what I've seen?: Yes, I could see this being a rather compelling example
If I could make one design suggestion, it would be: I would be curious to see what pairing this to a titanium bracelet would do (both for looks and price)
What spoke to me the most about this watch: Frankly, it was the overall styling and coloration
Tech Specs from Mühle-Glashütte
Movement: ETA 2893-2, automatic; Mühle version with woodpecker neck regulation, own rotor and characteristic surface finishes. Second time zone/24-hr display. Stop-second. Fast date correction. 42-hr power reserve.
Case: Titanium with bidirectional bezel. 2.5 mm thick, domed and anti-glare sapphire crystal.Transparent case back. Screw-in crown. Ø 44.0 mm; H 12.7 mm. Water-resistant to 30 bars.
Strap: Rubber strap with stainless steel folding clasp and extension. Screwed strap attachment bridges.
Dial: Blue. Super LumiNova coated hands and indices.