Whenever a new watch brand hits the map here in the ol' US of A, I take notice.  While many of these turn out to be overly simplistic or a minimal rebrand of another model, the folks at Hexa have built up a rugged diver that has a unique case.
We were able to spend a nice bit of time with the K500 earlier in the month, and I think it's an interesting addition to the pantheon of small-make dive watches that are on the market.  While I realize the style isn't for everyone (in fact, it's not quite to my own tastes), this is a really nice build, and has a lot to offer.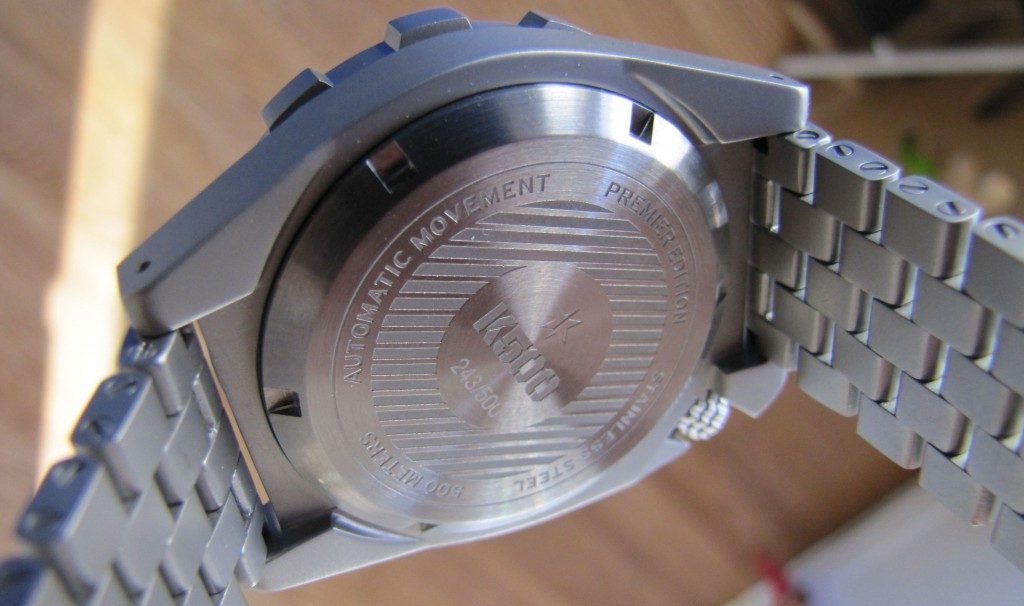 Rather than trying to  be clever listing out all the various specs the 7.4oz watch offers, I'm just going to rely on this graphic directly from Hexa:
The most striking (or perhaps polarizing) part of this watch design is, of course, the case.  The offset crown and integrated crown guard are certainly nothing new, and, for a watch of this size, nicely keeps the crown from digging into your wrist.
Inset in there, of course, you've got a very clean and easy-to-read dial – and that's day or night.  The lume on this watch is particularly nice – a benefit of having Lum-Tec involved in the process, I imagine (side note:  while a lumed seconds hand is not necessary in any definition, it is a sign of attention to detail that I appreciate).  The timing bezel is also rather easy to read – no excess of hash marks on there.
That bezel is also easy to turn, due to how grippy the it is with the geometry of the "teeth" – which makes up, in part, for the difficulties that integrated crown guard can cause when you're going to lock the crown in place.
Back to the bezel though, having that sort of grip is something I can only imagine would be helpful if you were wearing gloves on a dive – which is what this watch is intended for.  The 500m water resistance rating certainly indicates that, as does the built-in (6-position) ratcheting diver extension on the bracelet.
With the bracelet, you could swap in fixed ends on the case (we left it with the pivoting ends), or you could go for the vanilla-scented rubber strap (classic trappings there).  All of these come in the case, no upcharge, which is a nicety.
One last point I want to touch on is the movement. Here, the Seiko 6R15 is taking care of the relevant duties.  As usual, it performed flawlessly in our time with the watch, and I think it offers a good balance of value and performance.
In the end, it will be up to you if the styling clicks, and you are looking for a watch that's as home on land or in the waters.  If that's you, head on over here and get ready to put down at least $699 (other PVD finishes can raise the pricing to $738 or $799), plus shipping.
For an intial foray, I think this is a solid outing from Hexa, and I'm looking forward to seeing what comes from their workshop next.