That's beautiful – what is it, velvet?  Ah, one of the classic SNL lines, and yet it still applies to the watch we'll be taking a look at today from the folks at ToyWatch.
Don't worry, though, these aren't like those Lego watches you see – these are real timepieces.  ToyWatch has been around since 2006, and position themselves as anti-luxury (though, ironically,they're in a lot of high-end department stores).
So, why the product line name of Velvety? That's due to the finish of the silicone rubber that the bracelet and the 41mm case (well, the outer case) are made of.  I doesn't feel quite like velvet, but that's a good thing.  It's just got a pleasingly soft quality to it.
As to the styling, I'd call it a very classically styled three hander, that, if it were in simple steel, wouldn't garner much attention.  Through the silicone in there, and the generous use of color, and you've got something else.  And speaking of color?  You've got your choice of sixteen(!) with this line.
In ours, the dark blue and lime (ref VV09BL) worked quite nicely, though I do with the lime was indicative of lume.  As it is, just the hands are lumed.  Not the end of the world, but just wanted you to be aware.  The watch itself is powered by a quartz movement, and is set pretty simply with the crown on the side.
There are two other interesting aspects I wanted to point out; first, the clasp.  When locked in place (just a simple friction lock on the deployant buckle), it provides a smooth look and feel, much like yesterday's Xetum did.  And second, get a closer look at that dial – lots of patterns and surfaces in there to catch the eye.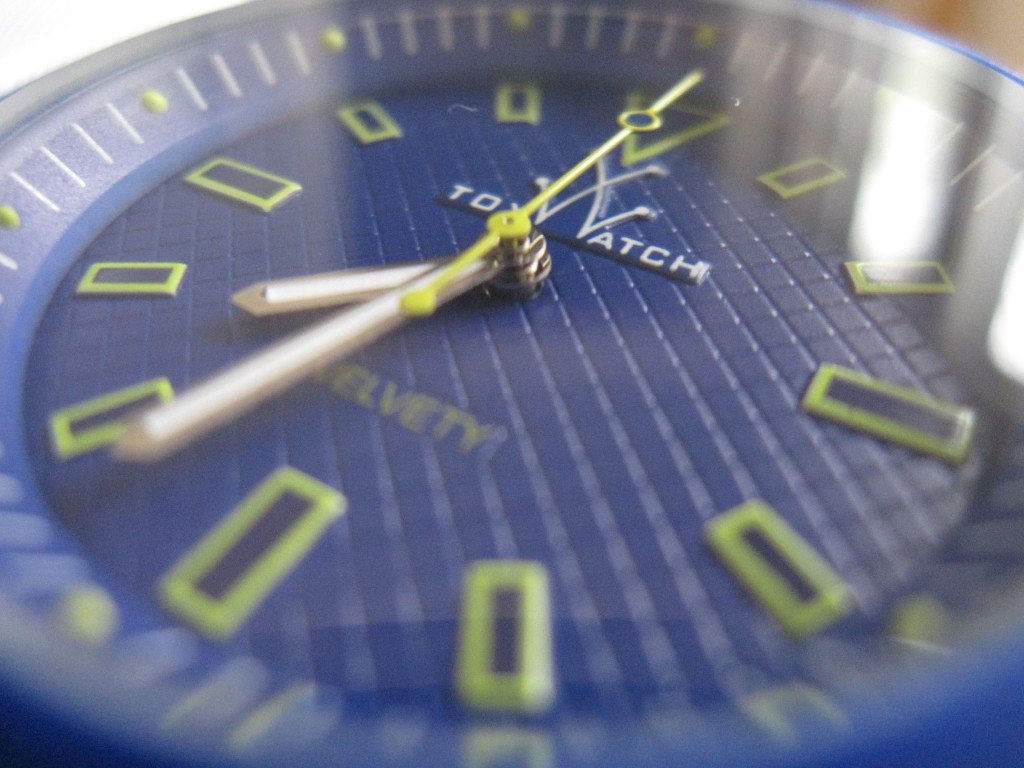 So, who's this watch for?  I'd say this, or just about any of ToyWatch's line, is for someone who wants a colorful watch with quartz reliability that isn't going to break the bank (this line retails for $225).