It is no secret that one way to really change up the feel of a watch is to swap out the strap.  I have changed one leather strap for another on some watches, and I have gone to nylon NATO as well, but I had not tried out a waxed cotton canvass product like the Suigeneric Straps.  Well, I may be late to the party, but I am here now.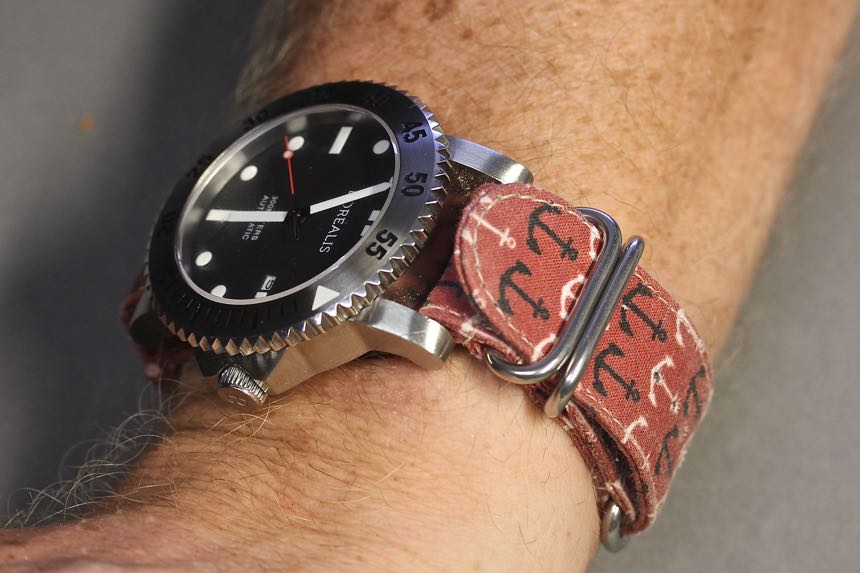 The brand was nice enough to send me an Anchor Monogram in burgundy, a strap that I figured would go great with one of the divers currently on rubber straps.  Honestly, my only complaint is that they don't make these straps in 24mm.  Now, I am not going to change out all my 18 to 22 mm straps, there are plenty of watches that should be on leather straps, but for a weekend watch or a more casual look, this is a great way to go.
I tried to match it to the Prometheus Piranha, but the colors did not work, so I ended up putting it on the Borealis Sea Diver.  The burgundy in the strap picks up the red second hand and the anchor motif works really well with the diver style.  Plus, when I did ear it, it tended to be on the weekends.  Now, this strap has turned a watch that I liked into my default weekender; the fabric is perfect for jeans and shorts (but please guys, no jeans shorts).
Since I live in Southern California, we get spring/summer weather all year round, so I didn't have to wait until it warms up, but there are other patterns and colors in the spring collection that would work even if you are landlocked and dreading a bit more winter.  The C60 Trident I recently reviewed would have looked great on the green striped version.  I could definitely see the American made Shinolas (the new Rambler perhaps) or Filsons on the American Flag strap.
Now, one thing to keep in mind is that this is going to be thicker than a nylon NATO strap, especially as shipped.  The material has two layers, and it is doubled up again under the watch.  If you wanted to trim it down, you could probably remove the the bottom strap, trimming it just under the keeper closest to the watch.  No, I am not going to pair the strap with a super thin watch, but not every strap is for every watch.
On the wrist, the strap is very comfortable.  It is thicker and stiffer than a nylon NATO strap, so it wears a bit more like a leather strap.  When I wear a thinner NATO, I need to keep the strap a little tighter so the watch does not rotate on my wrist, with the Suigeneric straps, is it not an issue.  The length is also right on for me.  I have had NATOs that are a bit longer, so I would need to trim the strap or fold it back on itself.  Here, the tail just wraps around and sits under both keepers.
All the straps in the spring collection are $35, with the exception of the sale straps that are $22 to $28.  If the spring collection is not doing it for you, there are plenty more designs to check out.  Straps are available in 18, 20 and 22mm.  The thinner straps especially would be great options to change out the look of a woman's watch (Mother's Day is coming up).  They are fun, well made, feel great, and not very expensive.  What is not to like?  suigeneric.com