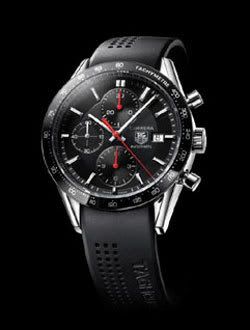 Rumor has it that Tag Heuer, makers of fancy watches, is releasing a cellphone designed by ModeLabs, a French company that designs phones companies MTV and Virgin Mobile. The phone will be made of stainless steel and take design cues from the other watches in the Tag line-up.
This appears to be a direct shot at Nokia's Vertu line, which means someone at LVMH, Heuer's parent company, must have woken up from a long nap and noticed that the times were a' changing.
The phone will probably look something like the Carrera over there, Heuer's flagship watch. I was personally never in love with their work — too many cheap looking quartz watches and too few cool looking monsters — but we shall see, won't we?
Tag Heuer To Release Cell Phone [Sybarites]