Thanks for popping in to the weekly feature we call, Watching the Web.  For those of who may be new to it, we have scoured the internet and found only the most interesting watch related news and posts available (OK, most interesting to me), and point you toward them.  We also get a chance to crow about the most popular posts on our own site as well.  This week, I found a good review of the Omega Seamaster Bullhead Rio 2016; a beautiful travel watch, the Jaeger-LeCoultre Duomètre Unique Travel Time; and a decade of watchmaking with Italian designer Giuliano Mazzuoli.  From our pages, there was the Swatch Sistem 51 Update review, a look at the Wingman Watches on Kickstarter, and the moVas Bronze Officer Watch.
There have been a couple of new bullhead chronos to hit the crowd funding market, and CT Scuderia makes a number of bullheads, but Omega has been doing it for a long time, and this year is releasing their Seamaster Bullhead Chronograph "Rio 2016," in anticipation of next year's Olympic Games.  Hodinkee has a nice write-up on the watch, as well as links to the history of the design from Omega.
Watches with a lot of complications can get very messy to read.  Reviewer Rob Nudds over at ABTW seems to be of two opinions on this watch, but I think the Jaeger-LeCoultre Duomètre Unique Travel Time is both a technical marvel and something that is straight forward in how it is read.  There are two completely independent time zone dials, with independent power sources, as well as a 24 hour GMT, all on the dial.
When I tell people that I write for a watch blog, and that we cover about a watch a day, they are frequently amazed that there are that many new watches to cover.  But if you know the business, you know that we barely scratch the surface.  Take Giuliano Mazzuoli, who's decade in the business is summarized over at Quill & Pad.  Before this article, I had never heard of him.  Now I am going to be comparing every tachometer inspired watch I see to the Contagiri watch above.
Our top article of the last week was a summary of the new models that Swatch put out in the Sistem 51 line, utilizing a new, machine built automatic movement.  With the rise of smartwatches, even with the less than stellar sales of the Apple Watch, the lower end of the watch market is getting decimated.  This make the Swatch Sistem 51 is an important recent development since the movement is cheaper and quicker to produce.
Another popular recent post was my look at the Wingman Watches Aviation Designs chronograph, currently funding on Kickstarter.  This is the first release from the brand, but the watch is being built by friends-of-the-site Smith & Bradley.
Finally, at least for the watch review, there is Patrick's hands on review of the moVas Bronze Officer watch.  This is a very limited edition (50 pieces), with a non-standard case material (bronze), and an automatic GMT movement, all for less that $1,000.  If this watch ticks off the right boxes for you, then you may want to figure out how to get on that early pre-order list.
Did you know that John Biggs' latest book, Marie Antionette's Watch, is available as an ebook for purchase through the net, or you can buy a paperback from Amazon.
It is ½ way through month, so there is time to get your entry in for our monthly give away.  You actually need to do two things this month to be entered into the drawing for Titan Edge.  Enter yourself though the contest widget, and make sure you post of comment on the original post that announced the giveaway.  You have to do both to have a valid entry!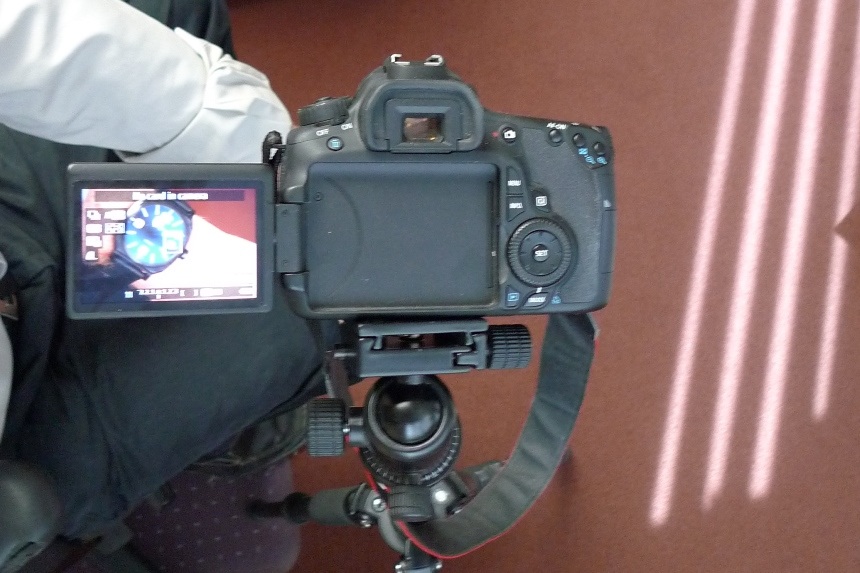 We also want to put the call out for wrist shots of our reader's favorite (or at least favorite of the moment) watches.  Put together an email of your wrist shot and tell us a little about the watch and why you love it.  If you happened to be introduced to it through our site (or won it through a give-away), even better.  Just make sure the image is a JPEG and at least 800 pixels wide.
With that, I will wrap up this edition of Watching the Web. As always, if there's something you think we should be covering, feel free to drop us a line. If you bring something up that we end up writing about, we'll be sure to tip our hats (electronically, if not literally) in your general direction.