Welcome to our weekly feature, Watching the Web, with this being our last installment of the month.  Here, we get to point out interesting watch related articles and reviews on other blogs and news sites, as well as brag about the articles that our readers were most interested in over the course of the last week or so.  Peering out across the World Wide Web, I have the Tag Heuer 2016 Mikrograph, a smartwatch from Polar, and a diver from Spinnaker.  From our site, we have a bit of a two'fer a new watch out of Estonia plus an interview with the man behind the watch, and a review of the Breitling Chronoliner Blacksteel.
I like a well designed bullhead, and the Tag Heuer Mikrograph 100th Anniversary watch for 2016 certainly fits that bill.  Wrist Review has a write up of the watch released to commemorate Tag's history in timing sporting events, with the world's 1st 1/100 second stopwatch from 100 years ago.  The black and white dial and typeface are both call backs to that historic design, yet are modern in the current presentation.
Over at A Blog to watch, our friends are taking a look at the Polar M600 Android Wear smartwatch.  If I am ever going to go fully into a smartwatch, it is going to be for something like this, which provides nice functionality while working out.  I am a bit of a weekend warrior, so I do appreciate the fitness aspects of the watch, and I can see some functionality in getting a snapshot of what is going on with my 'Droid without having to pull it out.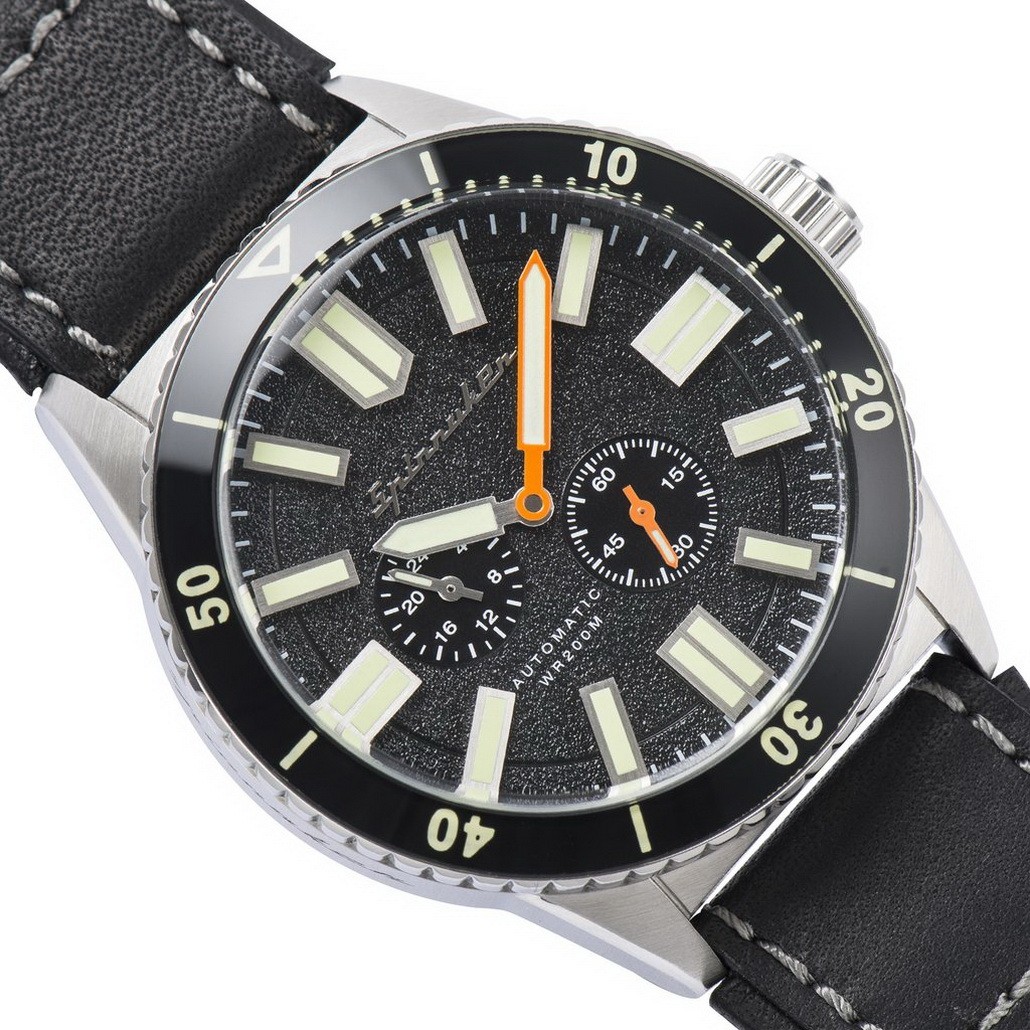 Lastly, Oceantime is taking a look at the Haas Diver from Spinnaker.  With a Miyota 9015 automatic movement, this diver is very affordable at $450.  I like the way the two subdials are not set in a symmetrical arrangement.  I don't think it would become my favorite diver, but it would certainly get time on the wrist.
Patrick claims our top spot with his look at the Estonia1918 Wõitleja.  I like hand wound movements, and this one boast a lovely Unitas movement out of Switzerland.  The watch itself pays homage to the armored trains that helped the nation gain its independence almost 100 years ago, so it is appropriate that it looks like it is built like an armored train.
Pairing up with the watch is Patrick interview with the watchmaker, coming in at our #2 slot.  The article is wide ranging, covering not just the founder's work on designing this watch, but also his background and ideas on where the watchmaking world is headed.
Finally, we have John's look at the Breitling Chronoliner Blacksteel with three time zones, for the restless world traveler.  O maybe you just need to watch your home time your local time and the market opening time in Tokyo.  Hey, I am not judging.  Regardless of your need for this function, it is a pretty sharp looking watch.
Did you know that John Biggs' book, Marie Antionette's Watch, is free to read with Kindle Unlimited, or you can buy a paperback from Amazon. Oh, and even if you don't have a Kindle, you can always read via their free apps or their cloud reader (check those out here
). The book is also now on Wattpad. You can even check out a snippet of the book.
Want to be more than just a visitor to our little corner of the internet? How about pledging some support for us over on Patreon. There are some compelling funding levels (including site redesigns and removing ads, and getting a copy of the Marie Antoinette book), but really, we just want to ensure we keep this lean ship running and the lights on. You can check out John's latest post right here. This is a fun thing we get to do on the side, and we want to keep bringing you the content that you have come to rely on from us, and work to make it even better.
We are now at the last weekend of the month, so this is your last reminder to enter our monthly give away. This month, we have a Klaus Kobec Taj Mahal. in order to win this dress watch, you have to follow our 2 step process, so head over to the contest page and get your entry started.
We also want to put the call out for wrist shots of our reader's favorite (or at least favorite of the moment) watches. Put together an email of your wrist shot and tell us a little about the watch and why you love it. If you happened to be introduced to it through our site (or won it through a give-away), even better. Just make sure the image is a JPEG and at least 800 pixels wide. And as always, if there's something you think we should be covering, feel free to drop us a line. If you bring something up that we end up writing about, we'll be sure to tip our hats (electronically, if not literally) in your general direction.