Is it half-way through February already (did you do your Valentine's day Shopping yet?), and time for our Saturday feature, Watching the Web.   Here, we look though some of the other watch-centric web sites and highlight a few that we think merit your attention.  We also get to show you what was most popular over the last week or so on our own site.  From the web at large, I wanted to highlight the Mühle-Glashütte 29er, a round up of watches celebrating the Year of the Monkey, and the Dievas MG-1.  From our articles, the Ventus Black Kite, John gift pick of he Seiko Automatic Deep Blue, and the Vortic Boston 48 were the most popular posts.
I ride a mountain bike with 29″ wheels, a 29er as it is commonly known.  So when I saw the A Blog To Watch article on the Mühle-Glashütte 29er Zeigerdatum, I was wondering what this watch had to do with the world of biking.  It actually refers to 29er class sailboats, performance 2-man dinghies with strict class design requirements that are raced world wide.  Which now makes sense, since this really pretty watch is perfect for the regatta.
The Lunar New Year recently passed us, and in accordance with Chinese tradition, we are now in the Year of the Monkey.   Not ones to let an event go by commemorated, the watch industry has a number of new watches just for this event.  A Timely Perspective has a run down of 7 Amazing Year of the Monkey watches.  My favorite is the Ulysse Nardin.
I am on the fence regarding the style of the Dievas MG-1, profiled by Ocean Time, but the materials definitely have me intrigued.   I like the color scheme, the hand set and the sandwich dial, but the vast empty bezel isn't doing anything for me.   But the technology, well: "each of its components including the case, bezel, inner cage, crown tube, crown and 20 other inner components have been CNC milled in Germany from a high strength German marine grade Superalloy that is 250% stronger, 400% more anti-magnetic and 500% more corrosion resistant compared to SS316L or Grade 5 Titanium."
The most popular post of the last week was our look at the Kickstarter campaign for the Ventus Blake Kite.  If you did not get a chance to back the project, the funding is now closed, but I would expect that with almost $70,000 raised, this will be a watch that will stick around for retail sale.  I was intrigued by the layered look of the carbon body, giving the watch a look almost like Damascus Steel.
Next up, was John's pick of the Seiko Automatic Deep Blue as his Valentine's Day pick.  It may be late to pick one up for the 14th, but keep this one in mind for Father's Day, graduations, the start of Daylight saving Time (what, you don't gift a watch for that?) or just to treat yourself.
Finally, there is the Vortic Boston 48, a custom watch that I was able to check out for a few days.  I like hand wound movements, and this was the first time I was able to try out a watch with a recycled vintage pocket watch movement.   I was impressed with the watch, and am looking forward to checking out future offerings from the brand.
Did you know that John Biggs' book, Marie Antionette's Watch, is free to read with Kindle Unlimited, or you can buy a paperback from Amazon.  Oh, and even if you don't have a Kindle, you can always read via their free apps or their cloud read (check those out here
).
Want to be more than just a visitor to our little corner of the internet?  How about pledging some support for us over on Patreon.  There are some compelling funding levels (including site redesigns and removing ads, and getting a copy of the Marie Antoinette book), but really, we just want to ensure we keep this lean ship running and the lights on.  You can check out John's post (and video) about it right here.  This is a fun thing we get to do on the side, and we want to keep bringing you the content that you have come to rely on from us, and work to make it even better.
We have had some support, and as a way to say thank you, and to get more of you to pledge, we have started an extra give-away open only to Paetron supporters.  If you do pledge your support, you will be in the running for a Smith & Bradley Springfield field watch.
We are now 1/2 way through the month, so you still have time to enter our regular give away, this month sponsored by Manchester Watch Works. MWW is giving one of you your choice of a Vergennes or Westminster Trench Watch.  Head over to the contest page and follow the instructions for the two-part entry process.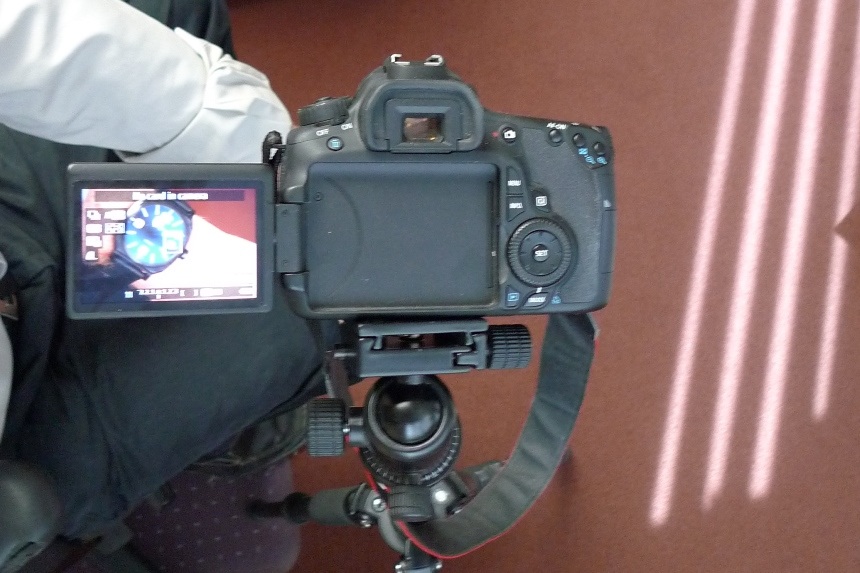 We also want to put the call out for wrist shots of our reader's favorite (or at least favorite of the moment) watches.  Put together an email of your wrist shot and tell us a little about the watch and why you love it.  If you happened to be introduced to it through our site (or won it through a give-away), even better.  Just make sure the image is a JPEG and at least 800 pixels wide.
With that, I will wrap up this edition of Watching the Web. As always, if there's something you think we should be covering, feel free to drop us a line. If you bring something up that we end up writing about, we'll be sure to tip our hats (electronically, if not literally) in your general direction.