Yes, that's right – it's time for our weekly wrapup series, Watching the Web.   Here, we look though some of the other watch-centric web sites and highlight a few that we think merit your attention.  We also get to show you what was most popular over the last week or so on our own site.  From the wide web, we have the Bovet Recital 18 Shooting Star, the new Seiko Prospex divers, and a Hoptroff review (which are few and far between).  From our articles, we have articles about the Ventus Black Kite, the new ManchesterWatchWorks Armada, and the Deep Blue Sea Quest that are top of the charts.
First up, we have a watch that somehow managed to make its way immediately on to my grail list, even though I had not paid much attention to the brand until the last month or so.  Regardless, Ariel over at ABTW got to spend some hands-on time with the Bovet Recital 18, and his photos make it look even better than I thought it was when I saw the press shots.  I might also suggest you check out this Instagram post to see part of the watch in action.  It may be a bit unusual, but this is one gorgeous, high-concept watch.
Going in a completely different direction, the crew over at Hodinkee is reviewing the latest Seiko Prospex divers.  While that Bovet is high-concept, these Seikos are very much the essence of practical daily (and dive) watches.  While I've never particularly found myself drawn to this line, I know there are plenty who will be excited by this new release.
Finally, we have this hands-on review of the Hoptroff Hotblack.  This is a watch we have written about before, but it can be quite helpful to get the perspective that a true hands-on can bring to the table. While the one we wrote about previously was for a single purpose, this one has a much different purpose – reminding you about anniversaries.  If you're the sort to misplace that mental note, this could be an invaluable addition to your watchbox.
The most popular post of the last week was – once again –  our look at the Kickstarter campaign for the Ventus Blake Kite.  If you did not get a chance to back the project, the funding is now closed, but we are expecting to see this watch hit retail sale at some point, given the tremendous funding levels hit.  Matt was intrigued by the layered look of the carbon body, and I agree that it gives the watch a look almost like Damascus Steel.
Next up, we have our overview on the latest watch from ManchesterWatchWorks, the new Armada.  While the previous incarnation was a solar-powered beastie, this one is mechanical through and through.  It has some interesting details to it, and funding is already at about 25%, with 41 days left to go.
Last, but certainly not least, we have one of the latest watches from Deep Blue, the Sea Quest Automatic Diver 1500m.  Now, I am generally not a fan of watches that want to put all the relevant specs into the model name, but I may have to make an exception, if just to see this sort of lume.  You can see what Ken had to say about the watch right here.
Did you know that John Biggs' book, Marie Antionette's Watch, is free to read with Kindle Unlimited, or you can buy a paperback from Amazon.  Oh, and even if you don't have a Kindle, you can always read via their free apps or their cloud read (check those out here
).
Want to be more than just a visitor to our little corner of the internet?  How about pledging some support for us over on Patreon.  There are some compelling funding levels (including site redesigns and removing ads, and getting a copy of the Marie Antoinette book), but really, we just want to ensure we keep this lean ship running and the lights on.  You can check out John's post (and video) about it right here.  This is a fun thing we get to do on the side, and we want to keep bringing you the content that you have come to rely on from us, and work to make it even better.
We have had some support, and as a way to say thank you, and to get more of you to pledge, we have started an extra give-away open only to Paetron supporters.  If you do pledge your support, you will be in the running for a Smith & Bradley Springfield field watch.
We are now 3/4 of the way through the month, so you still have time to enter our regular give away, this month sponsored by Manchester Watch Works. MWW is giving one of you your choice of a Vergennes or Westminster Trench Watch.  Head over to the contest page and follow the instructions for the two-part entry process.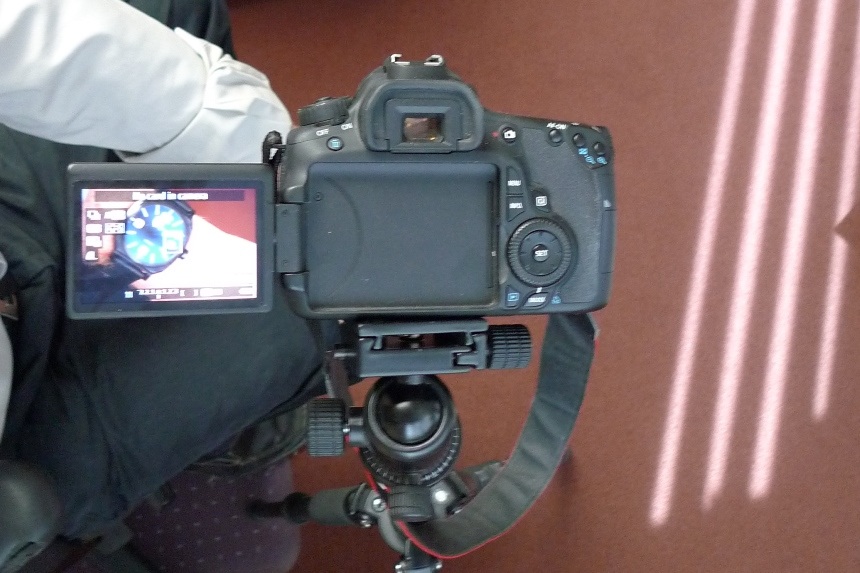 We also want to put the call out for wrist shots of our reader's favorite (or at least favorite of the moment) watches.  Put together an email of your wrist shot and tell us a little about the watch and why you love it.  If you happened to be introduced to it through our site (or won it through a give-away), even better.  Just make sure the image is a JPEG and at least 800 pixels wide.
With that, I will wrap up this edition of Watching the Web. As always, if there's something you think we should be covering, feel free to drop us a line. If you bring something up that we end up writing about, we'll be sure to tip our hats (electronically, if not literally) in your general direction.