I hope all our readers here in the US has enjoyed their Thanksgiving and there were no fired turkey disasters.   For our readers outside the US, I hope you had a lovely Thursday and Friday as well, and welcome to Watching the Web for November 28, 2015.  We take this time to highlight some interesting watch reviews and watch related posts from other sites, as well as highlight our own more popular posts of the last week or so.  This week, you can get your Freak on with Ulysse Nardine, Zenith pulls your chain, and the FTC clears the air.  From our own site, we have the 2015 Gift Guide, Lew & Huey's sale, and the Van Speyk Dutch Diver.
Wow.  Look at that beautiful Freak, the Ulysse Nardine FreakLab, to be precise.  Quill & Pad has a good review of the watch with a lot more images if you follow the link.  The watch itself has a flying tourbillon carriage with a good portion of the watch's gear train, balance and escapement, all hanging out there on the minute hand.  Wow.
I have a feeling this will be a hit with the cyclist out there.  Yes, that is a chain incorporated as part of the movement on the Zenith Academy Georges Favre_Jacot Titanium watch, reviewed by A Blog to Watch.   The chain mechanism is designed to provide a constant power output as the mainspring winds down.  A more detailed description of the mechanism is found in an older ABTW review of a sister watch.  But even without the technical details, this watch really is stunning.
Quick, is your "Made in the USA" watch really made in the USA?  Well, according to the Federal Trade Commission, to earn that designation, a watch bust me "'all or virtually all' made in the United States."  So if the watch is using a movement sourced from ashore, it must be designated as such.  Hodinkee has a good write up, along with some of the history to the issue as it related specifically to the Niall Luxury line of watches, but this should become the industry standard for claiming the "Made in the USA" designation.
I enjoy putting together the gift guides, so I am happy that this was the top post of the week.  The 2015 WWR Holiday Gift Guide starts with options under $100 and then starts to escalate in stages, identifying 3 or more products at each level.  At the very end, I listed what I would want to get for the holidays, just in case any of you readers are feeling generous.
Close on the heels of the gift guide was our notice about the Lew & Huey holiday sale.  I have been watching this brand since their first product on Kickstarter, and it is great to see the brand really mature and maintain their strong following.
Finally, we have Patrick's review of the Van Speyk Dutch Diver.  I don't preview Patrick's posts, but I did see the images he uploaded, and I was excited to read the article myself.  I really think this is an attractive watch.  I even added it to the gift guide as an alternate in the $300 – $500 range.  I like divers in general, but there is something about the grey on grey with the sandwich dial and clean lines that really appeals to me.
Did you know that John Biggs' latest book, Marie Antionette's Watch, is only 99 cents on the Kindle, or you can buy a paperback from Amazon.  Oh, and even if you don't have a Kindle, you can always read via their free apps or their cloud read (check those out here
).
We only have a few more days left in the month, so head over and enter our November watch giveaway.  This month, we are have the Newark Museum Watch from our friends over at Project Watches.
Also closing out is the Movember fundraiser.  I would still love to see any photos your 'stache and watch that we may be able to post on the site.  Who knows, there may be an unofficial give away to the best photo if we can get a few submissions.  If you are not directly involved in Movember activities, you can still check out the Movember Foundation and their efforts to promote prostate cancer awareness other men's health issues and raise funds.   Check out the details and get involved.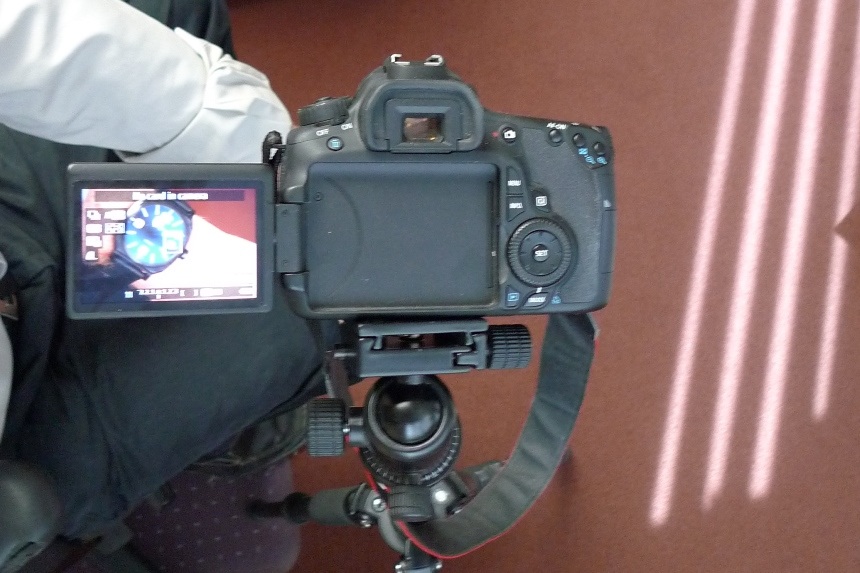 We also want to put the call out for wrist shots of our reader's favorite (or at least favorite of the moment) watches.  Put together an email of your wrist shot and tell us a little about the watch and why you love it.  If you happened to be introduced to it through our site (or won it through a give-away), even better.  Just make sure the image is a JPEG and at least 800 pixels wide.  The last two weeks have had reader wrist shots, so keep it guys (and gals).
With that, I will wrap up this edition of Watching the Web. As always, if there's something you think we should be covering, feel free to drop us a line. If you bring something up that we end up writing about, we'll be sure to tip our hats (electronically, if not literally) in your general direction.