Welcome to Watching the Web, our look around the watch related corners of the Internet.  Here, we point out interesting articles we come across, and also get to crow about the most popular articles on our site over the last week or so.  From the wider web, we have The Sartory-Billard RPM01, the Nomos Neomatik Nachtblau, and Bell & Ross Instrument de Mariner Collection.  On our own site, you made a pair of watch maker interviews popular, along with out review of the Willis Jud Carbon Fiber dial watch.
A Blog to Watch has a review of the Sartory-Billard RPM-01, a new French designed and built watch using a Swiss movement.  For me, the profile of the watch, with the parabolic bezel is a striking and attention-getting look.  The watch is also rather large looking, you if you like big watches, you might want to check it out.
Switching from a watch that I think is interesting but too large, we come to a brand I love, but find too small.  The Nomos Neomatik Nachtbau has a case in the mid-30mm range, which is really too small for me by modern standards, but it is such a lovely design.  Maybe one day they will get into the low 40s.  Hopefully, it will come out around the same time I am capable of affording one.
Lastly, OceanTime has a review of the Bell & Ross Instrument de Marine series of watches.  Bell & Ross is taking their iconic square case design and mating it was a dressy dial design.  Pick one up and you may be the only guy in the boardroom sporting one.
Our top post this week was Patrick's interview with Chris Vail of Lew & Huey and NTH.  Chris's watches took off on crowdfunding sites, mainly because he was producing good-looking watches with good value.  And he probably also did a good job marketing them on social media.  While I don't own any of his watches, I have had the chance to review them hands-on, and he makes a nice product.
Our second watchmaker interview that really caught folk's attention this week was with Ziv Nissomov, the fledgling designer behind the dress watch PureDial Square Legacy.
Our third most popular post was John's look at the affordable Willis Judd carbon fiber dial watch.  If you are looking for a dressy looking sports watch, or a sporty looking dress watch, you may want to check it out.
Did you know that John Biggs' book, Marie Antionette's Watch, is free to read with Kindle Unlimited, or you can buy a paperback from Amazon. Oh, and even if you don't have a Kindle, you can always read via their free apps or their cloud reader (check those out here
). The book is also now on Wattpad. You can even check out a snippet of the book.
Want to be more than just a visitor to our little corner of the internet? How about pledging some support for us over on Patreon. There are some compelling funding levels (including site redesigns and removing ads, and getting a copy of the Marie Antoinette book), but really, we just want to ensure we keep this lean ship running and the lights on. You can check out John's latest post right here. This is a fun thing we get to do on the side, and we want to keep bringing you the content that you have come to rely on from us, and work to make it even better.
Are we October already?  Wow, where is the year going.  So with the turning of the calendar page, we have a new give away, the Spinnaker Del Sol Chronograph.  It is a sporting looking solar-powered quartz watch.  There is a two-part entry process so head to the contest page and get started.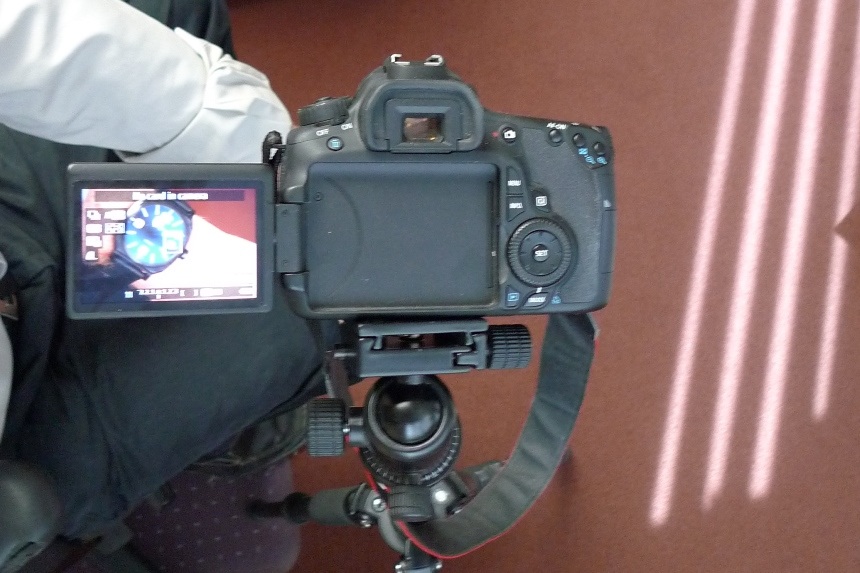 We also want to put the call out for wrist shots of our reader's favorite (or at least favorite of the moment) watches. Put together an email of your wrist shot and tell us a little about the watch and why you love it. If you happened to be introduced to it through our site (or won it through a give-away), even better. Just make sure the image is a JPEG and at least 800 pixels wide. And as always, if there's something you think we should be covering, feel free to drop us a line. If you bring something up that we end up writing about, we'll be sure to tip our hats (electronically, if not literally) in your general direction.