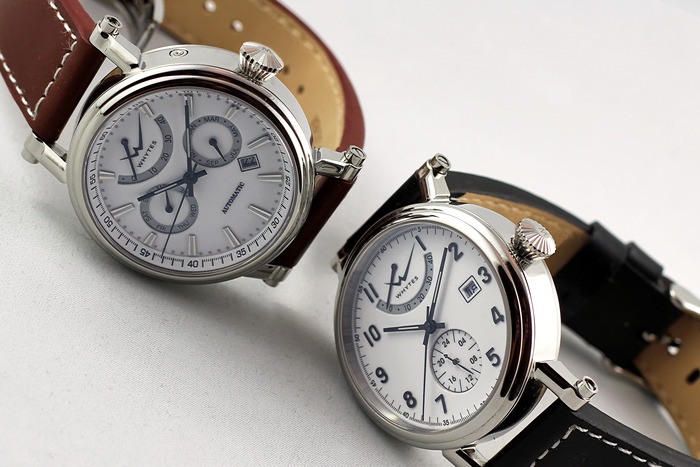 I enjoy a nice, slim, Bauhaus inspired, minimalist 3 hander as much as the next guy.  I have more than one in my assortment of watches, but I see them too often to have them really pique my interest most days.  What I do enjoy is seeing something different when it is well done, attractive and wearable.  I see these qualities when I look at the Whytes Watches Mk 1 models, the Pioneer and Discoverer, currently seeking funding on Kickstarter.
I feel like I need to put a disclaimer up with crowdfunded project from unknown sources (with a second or third dip, I am less wary), so please do your own investigation before financing a project in the development stage.  The company's facebook page has images of production samples and previous watches, though the company's actual web site looks to be in an the very early stage of development. What it do see in the images is a vintage inspired, yet clean and modern looking watch.  The 42mm stainless case houses a Miyota 9100 automatic movement, and the two versions utilize different complications.  The Pioneer has a 24 hour (non-GMT) sub dial at 6:00 and the Discoverer has eyes at 3:00 and 6:00 for day and month, respectively.  Both watches have a cream dial and lumed black hands, with a date window at 4:30 and a power reserve meter at 12:00.
The design to me is very reminiscent of the Detroit Watch Company's 1701 model, which I really liked.  There are enough differences in the watches where I could easily see someone favoring one over the other, but the overall look of the dial and the general proportions of the case really brought this watch to mind.  The creators are looking to raise $60,000 CAD through Kickstarter, and have about $11,000 CAD in pledges on day one of the campaign.  The Pioneer, which would be my choice between the two, is $425 CAD for the first 50, jumping to $475 for the next 75 units.  The Discoverer, with the day/month complications, starts at $495 CAD and goes to $545 CAD after the first 50 are sold out.  If you are intrigued by the look, check out the Whytes Watches MK 1 project page.  If you decide to jump in, I would love to have you comment on the post and let me know what tipped you over the edge. facebook.com/whyteswatches
Watch Overview
Brand & Model: Whytes Watches Mk 1 Pioneer and Discoverer
Price: $425 CAD to $545 CAD, depending on timing and model
Who we think it might be for: Fans of a more vintage look.
Would I buy one for myself based on what I've seen?: I like the look of the Pioneer quite a bit.
If I could make one design suggestion, it would be: Add a deployment clasp, especially at this price point..
What spoke to me the most about this watch: It presents an attractive alternate look against the minimalist watches that dominate Kickstarter.
Tech Specs from Whytes Watches

Movement: Mitota 9100
Functions: Power reserve and date, 24 hour dial on Pioneer, day and month subdials on Discoverer
Case: 316L stainless steel
Glass: Sapphire with AR
Water resistance:  100 meters
Lug width: Not specified
Straps: Black or brown calf's leather
Diameter : 42mm
Length: Not specified
Case height: Not specified
Weight of watch head: 110 grams with strap