You have probably noticed that Patrick and I both like dive watches.  Myself, I am a diver (though I am lucky to dive once a year); Patrick, I think he just likes the look.  But we both like Hexa Watches, which are hand assembled right here in the U S of A.  And right now, Hexa is running a contest where you could win a new Hexa Osprey, or you can just buy one with a $250 limited time discount.
Before I dive into the contest, I'll talk a bit about the watch, which I think is an attractive and straight forward dive watch.  The Hexa Osprey has a choice of two dials colors, black or blue, both with sunray finishes.  The watch is rated to 300 meters, which is more that enough for anyone who is not a technical or professional diver.  The case is 42 mm in diameter and 13.5 mm tall, a good size for a modern diver.  Tucked away inside the stainless case is a Miyota 9015 automatic movement, and the 120 click unidirectional movement has a ceramic insert.  Both the domed front crystal and the exhibition caseback are sapphire.  The watch carries a few of the chunkier angles that are prominent on the K500 and Q500, but overall, it looks like a standard, nice looking tool watch.
If you are looking to win the watch, Hexa has a contest page where you read a story, decipher the clues, and guess where in the world the Hexa Osprey can be found.  Each week, the story unveils a new chapter and drops off 5 possible locations, until only 5 remain.  You can only make one guess per email address, so be sure about your detective work.  I skimmed the first chapter, and it looks to be an amusing, modern story, but I really don't have time to get into this every week.  If you are like me, or are just not all that enamored with your chances (or guess), you can order one with a $250 discount, bringing the watch down to $699.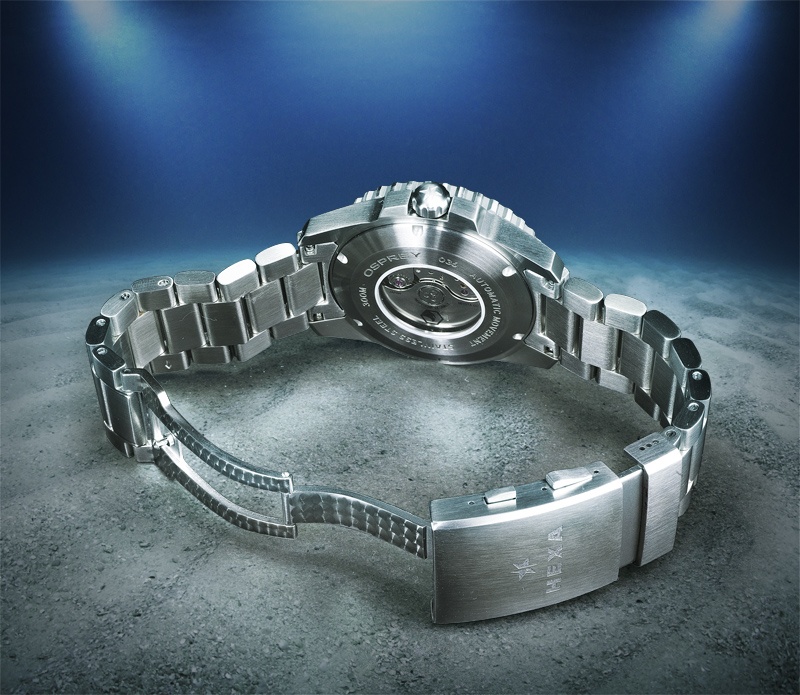 The standard bracelet looks to be both beefy and well made, with diver friendly features such as micro-adjustment and an expansion link, if you want to wear it over your wetsuit.  The rotors are customized a bit, and each watch is numbered, though not a limited edition.  The banner image shows the watch on some of the available additional straps, or you can pick up an aftermarket one for the 22mm lugs.  Overall, I think it is an attractive watch and reasonably priced, but not a real steal.  The ceramic bezel insert, the sunray dial and the US assembly do add some value, but I would have liked to see the date wheel customized to color match the dial.  hexawatches.com
Watch Overview
Brand & Model: Hexa Osprey
Price: $699 until the discount expires, then $949
Who we think it might be for: Someone who wants a beefy, but not overbuilt, diver.
Would I buy one for myself based on what I've seen?: Probably not.  I like it, but there is not enough to differentiate it from the crowd for me.
If I could make one design suggestion, it would be: Customize the date wheel to color match with the dial.
What spoke to me the most about this watch: I like divers.
Tech Specs from Hexa
Movement: Miyota 9015 Automatic
Functions: Three hander with 120 click unidirectional bezel
Case: Brushed stainless steel
Crystal: Slight domed sapphire crystal with sapphire exhibition caseback.
Water resistance: 300 meters
Lug width: 22mm
Straps: Stainless steel bracelet with optional leather and nylon straps.
Diameter: 42 mm
Case Height: 13.5 mm