We've had MARCH LA.B on our pages here before, and brought you a hands-on review of their AM2 Boss last year (link). Recently, we received word of a new model that they're introducing, and that's what we'll take a look at today.
The association between watches and cars is one that many have written about before, and I myself have traveled that road a few times in the last month. Sometimes the link is more tenuous, focusing on the characteristics of a watch and a car (link to article), or we may have something that's more of a branded effort – and that's what we have today.
March LA.B has taken their AM3 model (which carries a hefty does of vintage influence and styling), and created a limited edition (50 pieces worldwide) to commemorate the 50th anniversary of the Shelby Cobra. The most obvious ties to the Cobra are the logo which appears at the 9 o'clock position, and Carrol Shelby's signature appearing just above the hands in the 12 o'clock position. Around back, the Shelby name appears on the gold PVD caseback, as well as another Shelby logo on the exhibition crystal.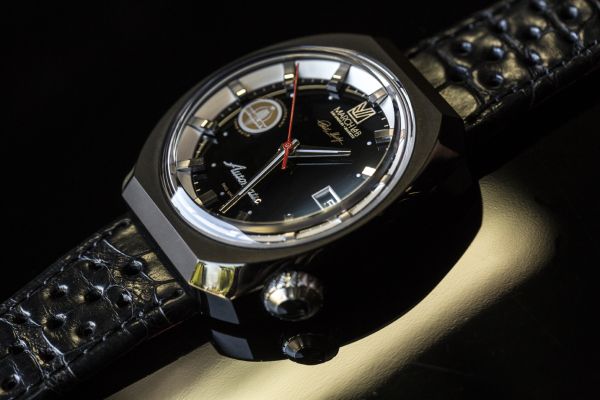 The watch itself is their familiar 38mm cushion-style case, with a black DLC finish that closely matches the black dial, as well as the black perforated strap (in a change from prior models, the lining on the strap is a red color, rather than green). This is evoke the interior of the Cobra – a nice touch, I think. Inside, you have an ETA 2892-A movement sweeping the second around the dial (as well as tracking time and date), and you have a sapphire crystal and locking crown coming together for a water resistance rating of 100 meters.
Pricing is just under $3,000. That's about triple the price of the "regular" AM3. Though, to a true Cobra aficionado, that's likely a small price to pay. If you're interested, the watch can be found over at Watchismo.  march-lab.com