Made In America.  That phrase has held a certain cachet for us here in the States, and when it comes to watches, you've got more options today than you did a decade or more ago.  However, it you want one that has a movementthat's made in the U.S., you're much harder pressed.
Of course, vintage is a good route to go – get steeped in the history, and keep something from hitting the recycler's smelting pot.  If you want to get something brand-spanking new, however, Roland Murphy, and his company, RGM, is where you need to head.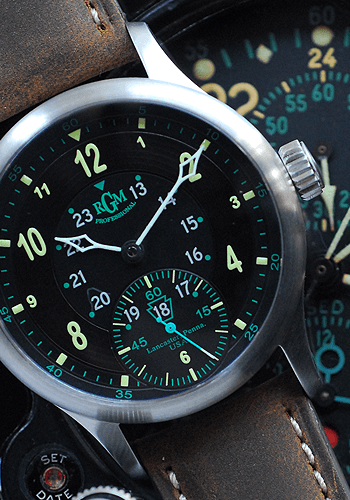 RGM has been in business for 20 years, and have a well-established presence in Pennsylvania – so you don't need to worry about the shop closing up right after your order goes in.  If you want to read some more on their history, head on over here.
Of the various models they have on offer, the #801A is my favorite I think.  This is in large part due to the American-made movement inside (RGM's Caliber 801; 18,000 vph and rather decorated), but the styling really grabbed my attention as well.  It has references to gauges (automotive or aviation, your pick) that really work well in watches.  Here, the color scheme plays in very cleanly as well.
The 42mm (on 10.5mm thick!) stainless steel case has sapphire crystals front and back; the dial has a bold sub-seconds display, and can have 12, 24, or 60 indices.  The dial itself is black, and the choice of white for the hands was a good one, to make them stand out.  Of course, lume on them will also assist.
In the end, this is a very clean watch.  It looks great on the brown straps they offer (deployant clasps available), but I think it could look just as at home on a black leather, or even a well-chosen NATO, strap.  You can head on over here and start thinking about what options you'd go for.  Just be sure you've got a spare $6400 in the bank for some American engineering that should stand the test of time.