The Meistersinger Salthora Meta X – a supremely stylish, thoughtful, and cool diver featuring an in-house complication, dive-proven durability, and ultimately a go anywhere, do anything timepiece for life. I've been wearing the Meta X for the past few weeks, and its quickly become my go-to everyday wear for work, play, and exploration. It's single hand showing minutes is clear and readable, and the hour display window at 12oclock is visible at a glance.
Heritage
Meistersinger has been making watches in the German city of Munster since 2001. Although a relatively new brand, they're deeply steeped in traditional techniques and culture. Founder Manfred Brassler drew inspiration from single-handed clocks from the ages in creating the Meistersinger single hand watch, appreciating the indication of the time to the nearest five minutes, but not much more. The single hand encourages a sense of calm and relaxation – a true luxury in our quick modern world.
Tower Clocks of the Middle Ages – the original one-handers. According to MeisterSinger;
The tower clocks of the Middle Ages also needed nothing more than a single hand: Visible from far away for the town's citizens and the rural population, they showed how the day progressed, when it was time to rest, or when to finish work in the evenings. They helped people to plan their time. It was only modern times and the advent of industrialization that made it necessary to think in terms of increasingly short time periods. The clocks were gradually fitted with minute and second hands, which made people aware of the constant passing of valuable time.
Initial Impressions
The Salthora Meta X comes packaged in an extremely cool clear rubber frame – suspended sandwiched between two pieces of clear rubber film, surrounded by a white frame. The frame sits inside another protective box, which also houses the certificate, warranty, manual, and Rituals of Time book. Opening the MetaX is an event, and the automatic movement is running as soon as its moved.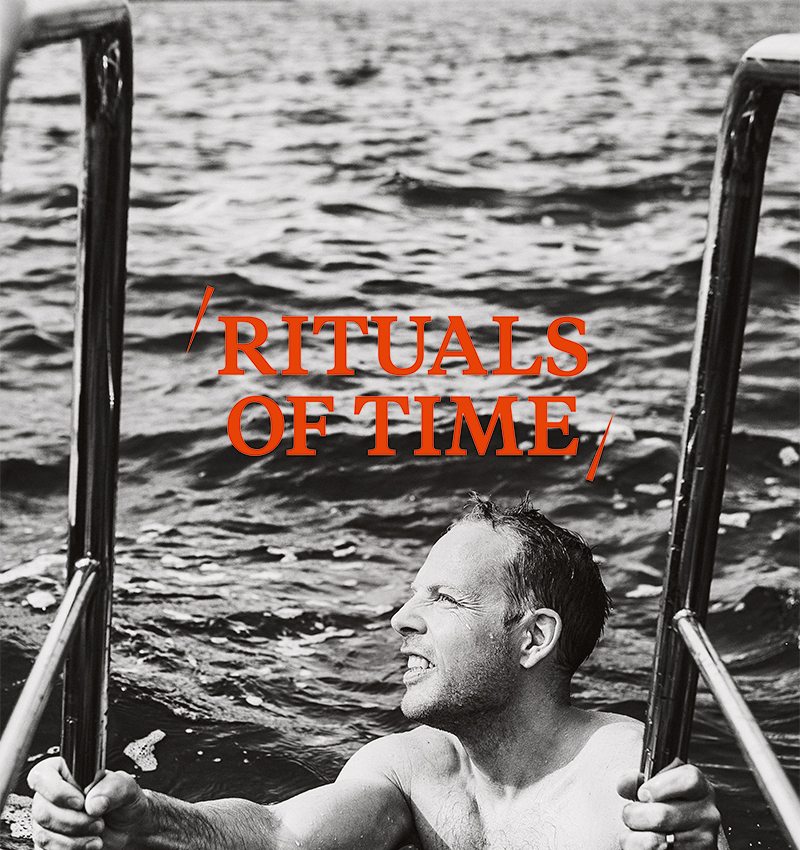 Initial impressions first lie with the deep, rich blue dial and ceramic bezel.. and then with that thick, awesome leather strap. The strap starts off stiff, but quickly molds to the wearer's wrist. The lugs are big and aggressively curved, making this larger-style diving watch feel comfortable on even my relatively smaller wrist. I noticed that the unidirectional divers bezel has 60 clicks – which is a bit chunky for my tastes – I'd prefer 120. Also, I noticed that the small screws retaining the bezel are placed between minute markers, never aligning evenly with a large tick -something that continues to irk me.
Fit and Finish
Fit and finish is as to be expected on a watch of this caliber – almost flawless. The stainless steel case looks great and is nice and bright. The blue color of the face and bezel are perfectly matched, despite their different materials. The one bit of an issue I noticed is the lume on the dial and numerals isn't quite as bright at night as I'd expect it. Compared to my run of the mill and classic Seiko SKX, the lume on the MetaX isn't quite as bright.
The leather strap has a nice diagonal brushing on it, which quickly wears away once true wear and tear starts for the strap – which given the high quality leather, quickly develops a really really nice patina and wear pattern. That leather strap keeps getting better with age and use.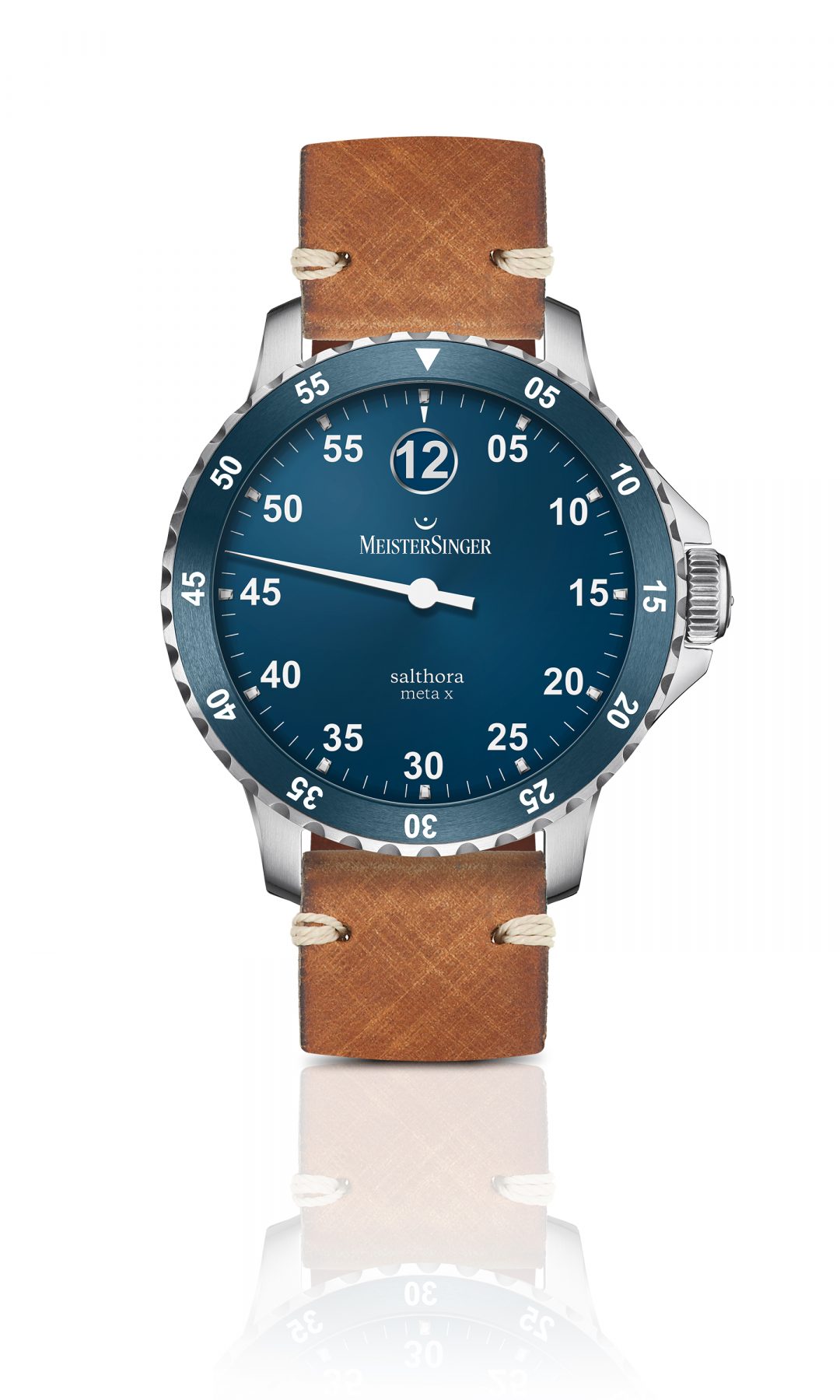 Feel On The Wrist
Stiff at first, but as soon as that vintage leather strap breaks in, this watch easily becomes a part of the routine. It's comfortable, looks better with age, and its handsome good looks can be worn equally well with a suit as it can with a casual weekend outfit. I'm also beginning to love the attention the single hand gets – certainly something fun to talk about. As a divers watch, this thing is larger, but its curved lugs make it fit on my smaller wrist just fine. Only thing I'd like to see is a deployment clasp on the leather strap, and I'd love to get the feel of the metal bracelet.
Feedback
I truly love the single minute hand and jumping hour. There are only a few quick bits of feedback.
Regarding the jumping hour display – first of all, in the unit I received from MeisterSinger, the hour display seems to be very very very slightly misaligned to the left of the window. Maybe 1/16 of a millimeter off – certainly not noticeable unless you're really looking- and it could just be the font used, or I'm crazy.
The hour display is 12 hours – so at noon it resets to 01. Might it be possible to make this a 24 hour display?
120 clicks on the bezel please?
Align those bezel screws with the major ticks?
Add a deployment clasp to the leather strap.
Other than these very minor requests, much love for the Meta X.
Final Thoughts
As an experienced scuba diver, adventurer, and traveler, I'm constantly looking for a go-anywhere watch that can hang with me through adventures, meetings, and travels – and this is my new standard. It looks great, feels great, is durable and resistant, and keeps accurate time for an automatic. If I could pick one and only one watch from my collection to wear day in and day out, this is the one. It's a classic that makes a subtle conversation piece, a classic look that goes with anything, a reliable time instrument, and a unique luxury piece that bucks the norm. Oh and I forgot to mention – that Jumping Hour Display is always an event.
If you're going to spend this kind of money (Around USD$3500) on a luxury watch, you might as well get something interesting – the Meistersinger Salthora Meta X certainly fits the bill. This is an excellent timepiece.
Next..
MeisterSinger continues to impress with their creative, inspired, well made, and unique time pieces. The jumping hour display is a nifty, subtle, and useful in-house complication that's surprisingly neat. Next up, I'm looking forward to exploring more of MeisterSingers subtle complications and additional variations on the single-hander.
Specs
Model: Salthora Meta X
Movement: ETA 2828-2 or Sellita SW200-1 With MeisterSinger module for the "jumping hour"
Automatic
Jewels: ETA 25 / Sellita 26
28800 semioscillations per h – 4 Hz
Incablock antishock system
Case: Stainless steel with screwed caseback
Rotable ceramic bezel
Numbers of bezel, dial and hour disc such as hour indices luminous
Diameter: 43 mm
Height: 14,2 mm
Screwed crown with crown guard
Domed sapphire glass
Water resistance: 20 bar
Power reserve: 38 h