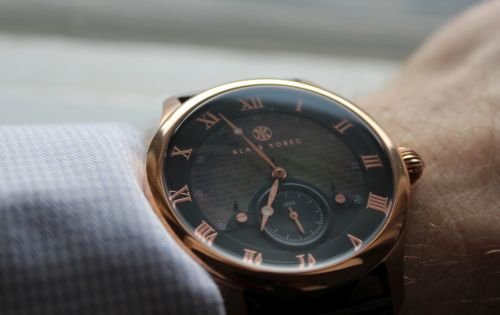 It's a new month, so of course that means it is time for us to cycle in yet another watch for you to have a chance to win. This time around, it's a watch we reviewed a few years back, but that certainly does not diminish the beauty of the mother-of-pearl dial. Read on for how to enter in the giveaway for a Klaus Kobec Taj Mahal.
What really struck me about the Klaus Kobec Taj Mahal was the use of mother-of-pearl, and, in this case, in a rather dark tone. While I have been more recently enamored of a lighter color MOP accent, here, the black MOP gives a rather intriguing effect. As I noted in the review this gives the appearance of a night sky. This, in turn, works rather well with the silhouette skyline of the Taj Majal that appears on the lower portion of the dial.
It also works quite well with the gold tone of the 42mm case. You may not be overly excited about the quartz movement contained in said case, but I think it works just fine for a dress watch you are likely to be pulling out on occasion – just set the time, pop the stem back in, and you're ready to go. Is this the watch for everyone? No, likely not. As our own Victor pointed out, some may have an issue with a watch that depicts what is – basically – a mausoleum on the dial. For those not turned away by that, you have a simple process to enter in this month's giveaway:
Comment below on what your favorite watch with a mother-of-pearl dial is
Go over to the contest page and complete your entry
Be sure to do both parts, as we are matching the email addresses from steps 1 and 2 to completely validate the entry when we are selecting a winner. Also of note, this contest is open to residents of North America (to contain shipping costs).
These giveaways are our way of saying "thank you" for being loyal readers. Good luck!