As always, thank you for taking the time to join us for our weekly feature, Watching the Web, where we point you to interesting posts we find on other sites, as well as highlight our own popular articles.  The week, from across the web, I have reviews of Nomos and Ressence watches, and a short round-up of independent watchmakers.  From our own site, seeing how this is the penultimate weekend of the year, I would highlight our most popular posts for the last 12 months.
I don't think it will come as a surprise to our regular readers that I really like Nomos, I just wish the watches were a little more… modern in their sizing.  Take the Nomos Metro Neomatik that ABTW covered.  Wow that is pretty.  It is also only 35mm.  These days, anything under 40 seems small to me.  But if you can wear a more traditional case size, you should check it out.
When I saw that Ressence came out with the dive watch, the Type 5, I knew I would instantly want one.  Of course, I also instantly knew I could not afford one, but such is reality.  But oh my is it a lovely watch.  Hodenkee has a run down on the watch, and it just looks so darned cool.
There are a lot of large and mid-size watch makers who are putting out interesting ind innovative watches, but let us not forget some of the very independent companies that are prized by collectors and almost unknown to the greater public.  Total Watch Reviews ran a short article highlighting 4 such makers.
Turning inward, we have our most popular articles from the last year.  I am limiting this to articles that were posts in the last 15 months, since we have a lot of older articles that get listed as top posts, but I wanted to highlight the more recent reviews, and include those from late 2014 that remained popular in 2015.  Like our number one post, the Tissot Visodate Milanais.  Patrick had this watch in for a hands on in October of 2014.  It is a sharp looking Swiss automatic that also represents a good value if you want a dressier watch.
Sitting just behind the Tissot was Patrick's look at the watches made for Filson by Shinola.  Given that both of these brands have a large following, it was not surprising that linking the two brands would produce a popular watch.  For me, I think these are the most attractive watches Shinola has made.
Sitting at number 3 was my look at the Tissot Quickster.  I thought it was a well designed and attractive chronograph, from a reputable Swiss watchmaker at an affordable price point.
Our number 4 post is sitting right at that 15 month posting limit, and is probably the most surprising and divisive review.  I took a look at the Michael Kors Jetmaster Automatic in October of 2014.  The chrono look-alike (the subdials are day/date/month and 24 hour GMT) isn't something I would buy, but I thought it was attractive and was appreciative that a fashion designer was putting an automatic watch out on the market.  You can also read what ABTW had to say about it.
Finally, our fifth most popular post is captured by yet another Tissot, this time the T-Touch Expert Solar.  If you want a non-GPS watch for your outdoor activities, this micro-motor driven, solar powered watch could be the ticket.
I also don't want to forget our top posts of the past week, which were the Steinhart Marine Officer Blue, The Sinn 356 Flieger II, and the Deep Blue Diver Pro.  Overall, a pretty diverse group of posts, and one each from myself, Ken, and Patrick
Did you know that John Biggs' latest book, Marie Antionette's Watch, is only 99 cents on the Kindle, or you can buy a paperback from Amazon.  Oh, and even if you don't have a Kindle, you can always read via their free apps or their cloud read (check those out here
).
There is a little under 2 weeks left to get into our current giveaway for a Benrus Sky Chief. The entry process requires two steps, first comment on the Give Way page, and then follow the link there to the contest entry page.
We do also have a bonus giveaway for a Citizen Eco-Drive as well. This another two-parter, with you needing to put your entry in here, and then commenting on the original review.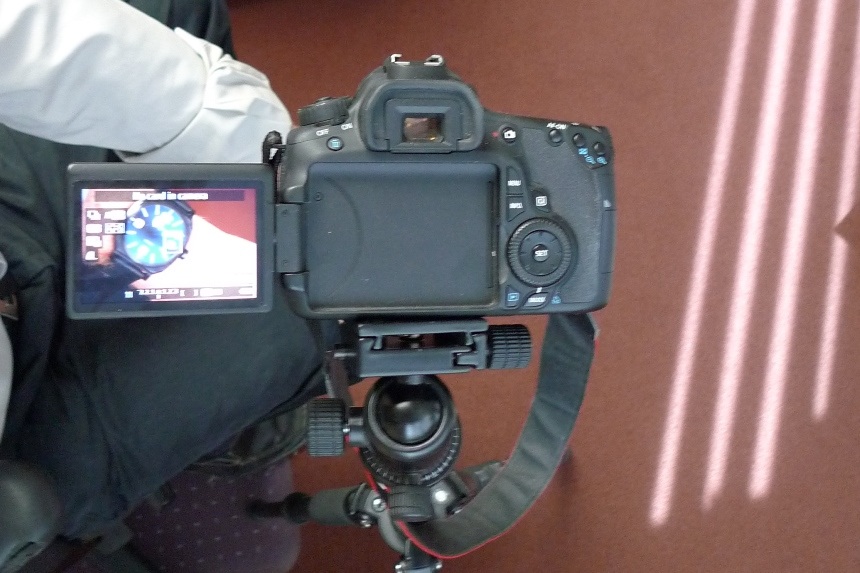 We also want to put the call out for wrist shots of our reader's favorite (or at least favorite of the moment) watches.  Put together an email of your wrist shot and tell us a little about the watch and why you love it.  If you happened to be introduced to it through our site (or won it through a give-away), even better.  Just make sure the image is a JPEG and at least 800 pixels wide.
With that, I will wrap up this edition of Watching the Web. As always, if there's something you think we should be covering, feel free to drop us a line. If you bring something up that we end up writing about, we'll be sure to tip our hats (electronically, if not literally) in your general direction.