Thank you for taking the time out of your day and stopping by to check out our regular Saturday feature, Watching the Web, where we take a little bit of time to highlight interesting watch related articles and watch reviews we find on other sites across the web.  We then take a little time to promote our own popular articles from the last week or so.  Today, I wanted to point you to reviews of the Bovet Sergio Pinanfarina Split Second Chronograph 45, the URWERK EMC Pistol, and the Junghans Meister Pilot Event Edition.  From our site, the most popular posts over the last week or so have been the reviews of the Vejrhøj Nautic, the Manchester Watch Works Tatoskok, the Oris Divers Sixty-Five.
I enjoy longer articles on brands I have rarely seen that encompass the history of the brand, and that is exactly what Hodenkee does with their review of the Bovet Sergio Pinanfina Split Second Chronograph 45.  The watch is certainly beautiful (I makes me think of a Pinanfarina sailboat design I looked at with a friend), but I also like how the article really gets into the history of the brand.
URWERK makes very interesting watches that have, shall we say, a very bold and modern design.  They are the watch that would feel more at home in the Batmobile (from the Dark Knight Trilogy) than in a Rolls Royce.   The UR-106 Lotus softens the look a bit for the ladies, but the EMC Pistol is a radical departure.  Monochrome walks us through the watch whose case was engraved by an artisan who typically works on high end firearms.  Of course, if it is a beautiful high end watch, you know ABTW covered it as well.
I did not get to check out the Junghans Meister Pilot Event Edition watch in person when I went to a recent Watch Buys roadshow, but I did get to check out a number of their other watches, and I liked them quite a bit.  But I sure wish this one was there.  It certainly isn't a minimalist Bauhaus watch, but this chrono covered by A Blog To Watch is clean and tidy, while still looking very masculine.
We are getting a bit pickier about which crowd funded projects we cover, but when we see something we like, we are happy to call it out, which is the case with the Vejrhøj Nautic.  I am not enamoured with the lugless case, but I do really like the way the wood elements are integrated in the dial.  You can check out Patrick's long-form opinion here.
It was no surprise to me that the Manchester Watch Works Tatoskok was another top post, in spite of it only being posted on Monday.    Patrick liked the lines of the watch, whit the knurled bezel no wider than the watch case, and I would have to agree than this is a nice design feature.
Sticking with the tool watch designation, the Oris Divers Sixty-Five also seemed to have struck a chord with our readers.  I love the reserved use of blue, and the font and radium-colored SuperLumiNova paint really hit the proper retro notes.  Of course, since this is an homage to their own 50 year old watch design, that is appropriate.
Did you know that John Biggs' latest book, Marie Antionette's Watch, is only 99 cents on the Kindle, or you can buy a paperback from Amazon.  Oh, and even if you don't have a Kindle, you can always read via their free apps or their cloud read (check those out here
).
Here was are mid way though November, so don't forget to enter our monthly drawing for a watch.  This month, we are giving away the Newark Museum Watch from our friends over at Project Watches.
How is your Movember mustache going?  Send us a shot of your 'stache and watch and we'll see about featureing it on the site.  If you are not directly involved in Movember activities, you can still check out the Movember Foundation and their efforts to promote prostate cancer awareness other men's health issues and raise funds.   Check out the details and get involved.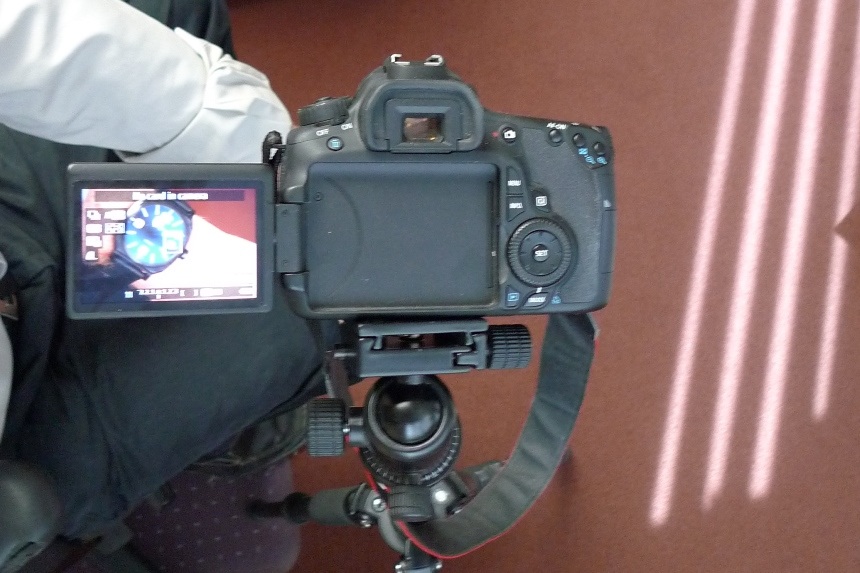 We also want to put the call out for wrist shots of our reader's favorite (or at least favorite of the moment) watches.  Put together an email of your wrist shot and tell us a little about the watch and why you love it.  If you happened to be introduced to it through our site (or won it through a give-away), even better.  Just make sure the image is a JPEG and at least 800 pixels wide.  The last two weeks have had reader wrist shots, so keep it guys (and gals).
With that, I will wrap up this edition of Watching the Web. As always, if there's something you think we should be covering, feel free to drop us a line. If you bring something up that we end up writing about, we'll be sure to tip our hats (electronically, if not literally) in your general direction.