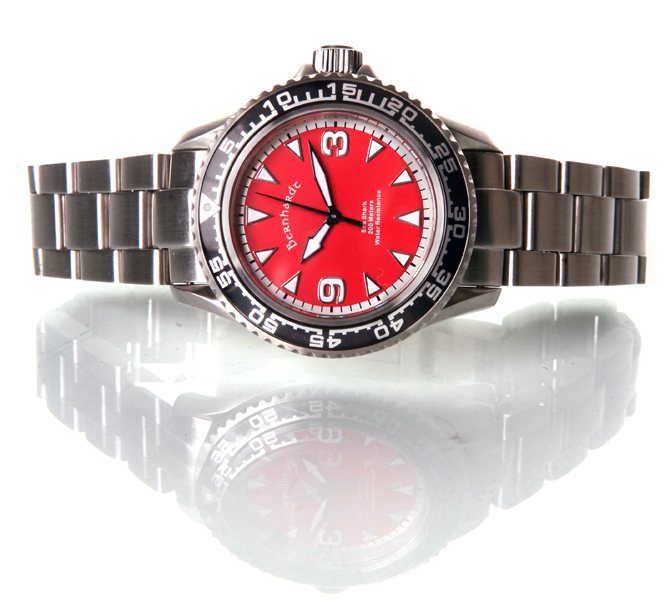 While casting about for some watches to write about, I came across (once again) the folks at Bernhardt Watch, and realized that we've not featured them on our pages in quite a long time (since 2005, to be precise).
Now, if you've spent any time on the web looking at watches, you've certainly come across Bernhardt.  They're a fairly new brand (established in 2005), family-run and located in North Carolina.  Now, the owner, Fred Amos, isn't just some upstart.  He actually got the watch bug back in the early nineties, and began repairing Rolexes, and things have gone on from there (you can read more of their history here).
But, enough on that.  Let's have a look at the flagship of their collection, the Sea Shark.  As you would surmise by the name, this watch is a diver, and the styling certainly follows that mold.  You've got a bezel (not sure if it's lumed and/or unidirectional) surrounding the sapphire crystal, all mounted on a 42mm stainless steel case.
Under that sapphire, you've got a clean layout on the dial, with just two numerals and the rest being indices; all of these have SuperLuminova applied (as do the hands), so readability in the dark (say, under the waves) should be just fine.  Past that, the dial is clean, as this is just a simple three-hander readout.  And frankly, if you're actually going to head into the ocean with the watch, everything that's here will be all you need (including a 200 meter water resistance rating, with the crown screwed in).
For the rest of us non-diver types, the date display might be missed, but it certainly isn't a deal breaker by any means.  So, in the aesthetics department, the Sea Shark checks off all the boxes for what we'd come to expect.  But, we're not just about the beauty here at WWR, are we?  Underneath that dial (one of five colors of your choosing), you've got the reliable (and affordable) Miyota 8215 automatic ticking away.
I like the inclusion of this movement.  For one, it's a very known quantity (always good with a newer watch brand), and it's got a proven track record.  This means it will be reliable, and should it need servicing, it wouldn't be hard to find  a shop to handle it.  Second, it helps keep the price down on the watch.  Sure, everyone would love to have a Swiss movement in their watches.  For me, while Swiss movements are nice, the Japanese and Chinese movements can get the job done just as well, for  a much more reasonable cost.
And what of the cost of this piece?  It comes in at a very affordable $239.  At this price, I can't think of any reason why someone wouldn't consider this watch, unless the watch box was already full of divers.  It's got a classic design, flexibility in the dial color you end up with, and a solid automatic movement under the hood.  Sure, the Orange Monster might be our "go-to" beginner diver recommendation, but the Sea Shark is a great alternative.
Author's note: We've contacted Bernhardt regarding doing some hands-on reviews; let us know in the comments what model(s) you'd like to see featured here.