Sapphire bezels? Yeah, we're a fan of those. They definitely give things a much more polished look than a steel or aluminum insert, and are going to be be just as durable as the sapphire crystal covering the dial. So, if you have that as your bezel, we're paying attention. On a chronograph, that bezel can be used to figure out speeds, right? Well, if you're not so much for timing things on the track, then what about a spiral-cut sapphire bezel? That's what the newest Casio Oceanus is offering.
And really, that's the story here. You can see that watch at the top of this article, and as someone who's not a chronograph person, I'm a fan. The bezel puts some artistry to the front of the watch, and is a tacit acknowledgement that, no, you're not timing quarter mile times. If anything, you're timing longer-running things, and that's what the sub-registers are for.
What you might not expect is that these Oceanus watches (and there are three others with standard sapphire bezels that were released as well) have some smarts built in. By that, we mean they'll connect to the Casio app on your phone, making adjustments to the watch (and keeping the time accurate) a cinch. Pair that with the solar power, and you've got a watch that's about as fuss-free as you can have.
Oh, and in case you're worried that with all that sapphire, the rest of the watch (which is just 9.2mm thick) will not be as tough, worry not. Both the case and the bracelet are made of titanium, which should make for a reasonably tough and light watch.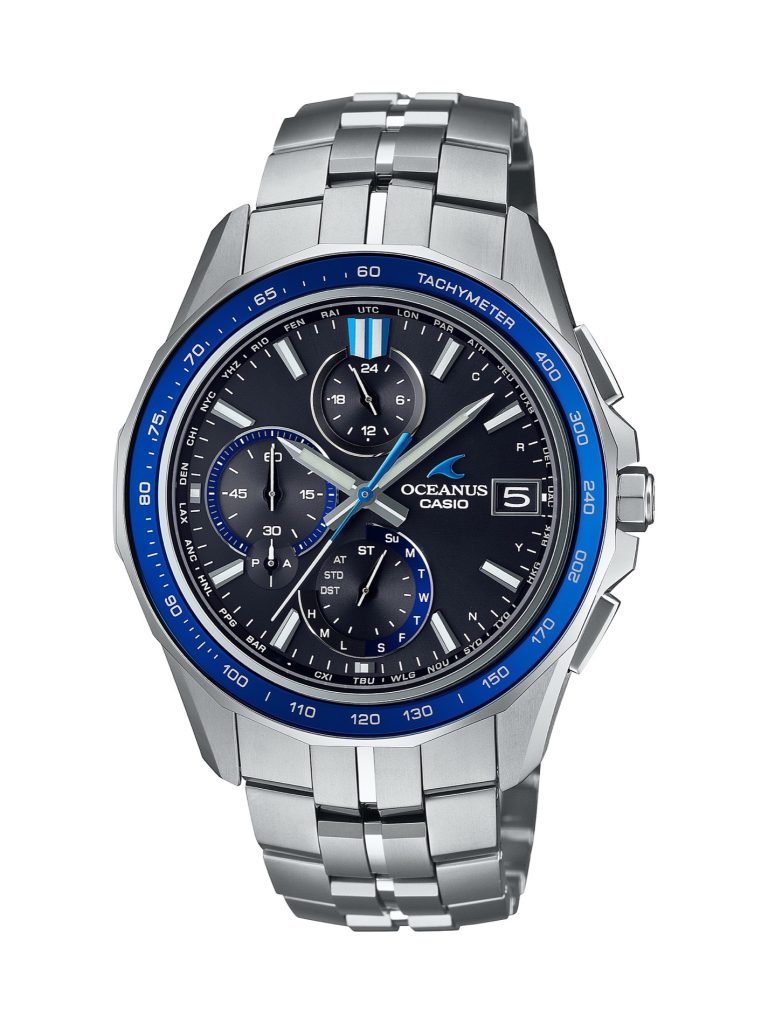 For this release, there are four models being added to the Casio Oceanus lineup. The one with the awesome bezel (OCWS6000SW2A) will retail for $2,400 and is available now. For the other three, which are from the S7000 series, prices range from $1,300 to $1,550. You can check out the full range over at casio.com
Tech Specs from Casio
Case size (L× W× H): 47.1 × 42.5 × 9.2 mm
Weight: 88 g
Case / bezel material: Titanium
Band:

Titanium Band
Solid Band
One-touch, slide-adjustable three-fold clasp

Water resistance: 100-meter water resistance
Tough Solar (Solar powered)
Connects to the Casio app on your smartphone