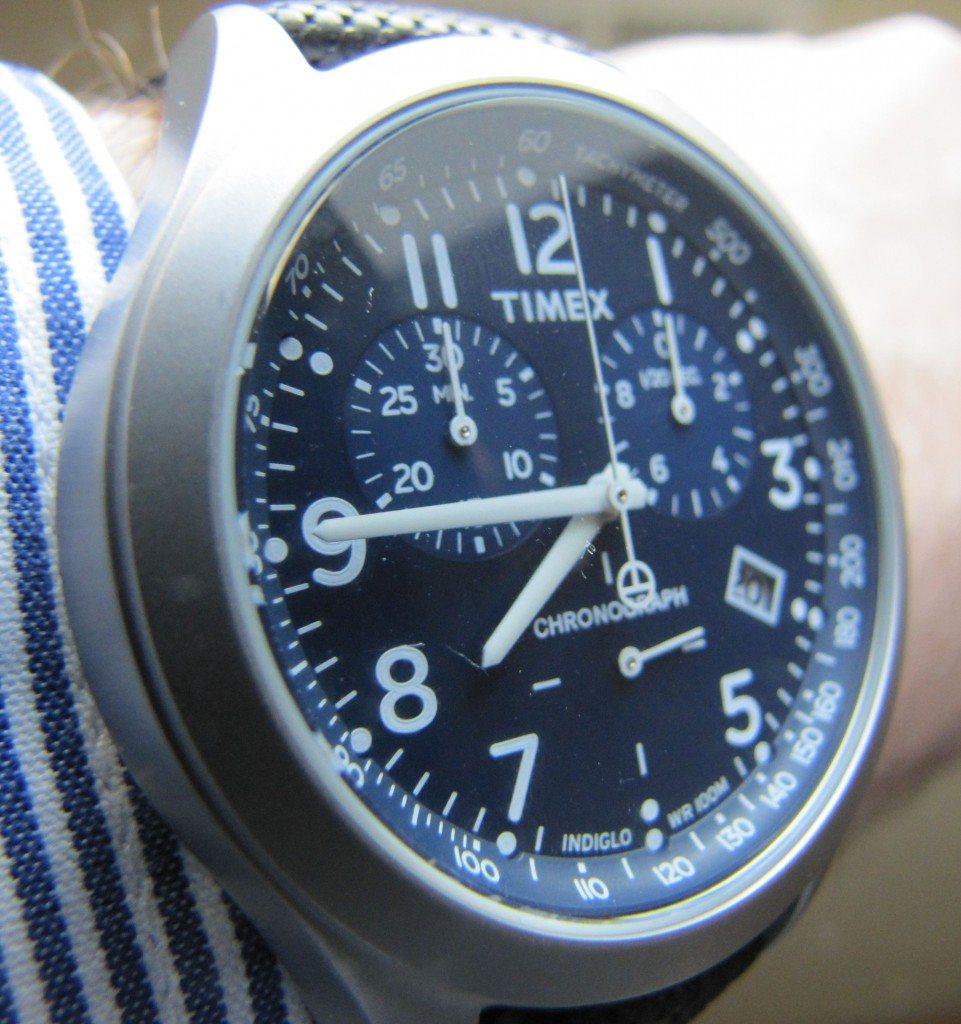 Yesterday, we started to take a look at one of the best look Timex models I've had the pleasure to review – the T Series Racing Chronograph.  Today, we'll finish up the review, and I'll give you my final recommendation.
Rounding out the rest of the dial, we have the date display at 4 o'clock, and sub-seconds at 6 o'clock.  With the sub-seconds, I am a little bit torn.  Without it being encircled, it does help it blend into the dial a bit more, but it also seems to throw off the symmetry that the other sub-dials are establishing.  Again, though, that's a minor issue.
Of course, just like the other Timex models we've reviewed here, nighttime visibility is superbly enabled courtesy of the EL Indiglo backlight.  It always throws me off a bit to not see any lume whatsoever on the hands or dials.  That said, the backlighting is more than adequate, and ensures you can always tell the time, provided you remember to push the crown.
This is a bigger watch, coming in at 42mm by 12mm thick, but it only has 20mm lugs (I feel 22mm might feel a bit more proportionate).  With the mineral crystal and screw-in caseback, you net 100m water resistance; the caseback should only need to opened every 4 or so years, as the battery is rated for 4.5 years.
I should also note that, while the strap is listed as canvas, it's unlike any other canvas strap I've encountered.  It has a textured, almost perforated, texture to it, and the finish seems more like leather.  The underside is actually leather, and has a soft feel.
Back on the color combinations, should you not share my affinity for blue, you could opt for a black dial in a brushed or black case, or a white dial in brushed case on a brown strap.  MSRP on this model is a very affordable $120 over on Amazon (seems that Timex itself is out of stock on the watch).  At that price, this is one of the better quartz chronographs that I'm aware of, in terms of style and functionality.