When I first heard about the Seiko 5 GMT I was pretty enthused. A new mechanical movement by the folks who made my favorite dive watches? Sign me up! Now that I've gotten my hands on one of the $475 timepieces I'm a little less excited but nonetheless impressed at the chutzpah and forward-thinkingness exhibited by Seiko here. In other words, they did good.
What is the Seiko 5 Sports SKX GMT?
The SKX GMT is a new model and movement by Seiko that has a Seiko NH34 movement inside and features a date wheel and GMT hand. The NH34 movement is set by pulling the crown to the second position and turning up to skip hours on the 24-hour dial. You set the date by spinning the crown down.
This style of GMT is a bit wonky – the "good" GMTs allow you to change the main hour hand while maintaining the home time on the main GMT hand – so basically you are setting the GMT hand to away time and leaving the hour and minutes hand at home time.
The case and bracelet are stainless steel and wonderfully built. The crown has a clever little guard that is akin to the old 007 and Willard models and the face, at least in this orange model, is extremely handsome and legible.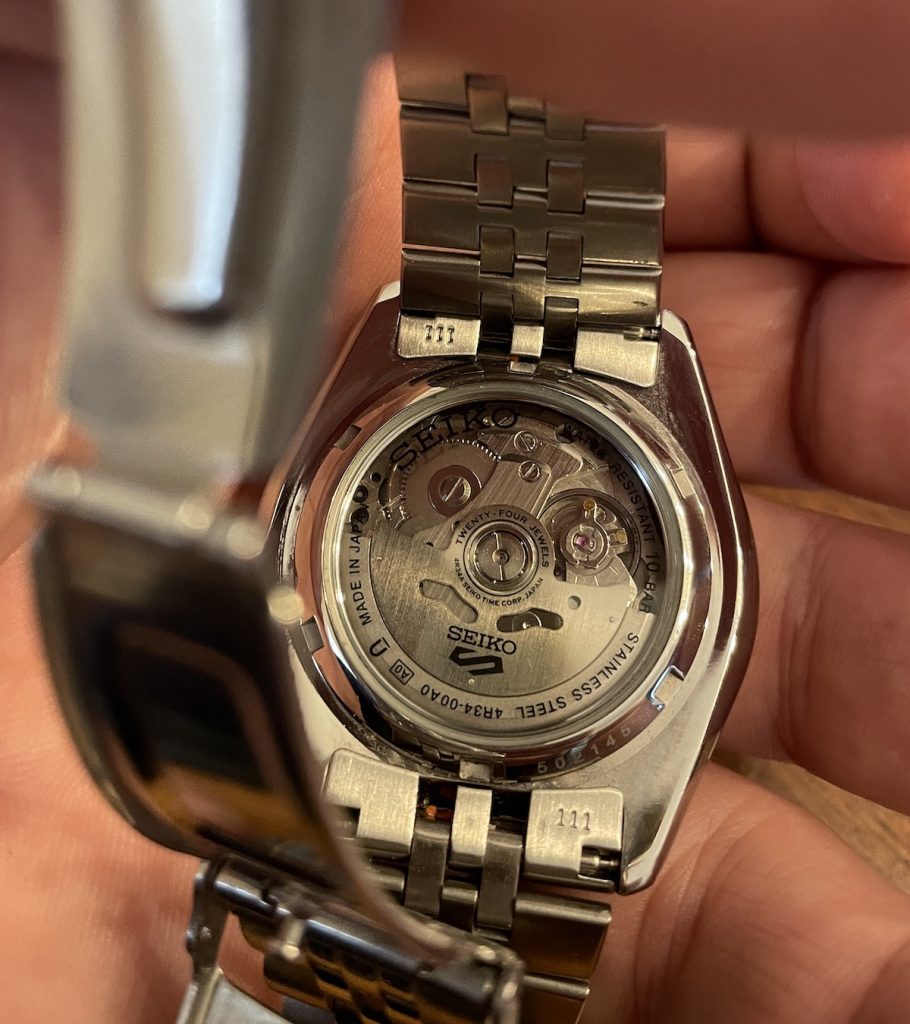 The watch has a very nice exhibition back through which you can see the automatic movement and there is a nice date cyclops at 3 o'clock. It's got solid lume on the hands and pips and even the tip of the GMT hand is brightly lumed. The 24-hour bezel rotates freely without a click, which is not so nice.
The Good
I really like the idea behind this watch. It's a great way for Seiko to expand into more complex movements and I could even see them recreating their classic chronographs before too long. The biggest issue in watchmaking these days is a dearth of even vaguely complicated watches. Building a 3-hander with a date window is fun, but adding a GMT feature turns a bog-standard watch into something more interesting.
Further, the NH34 movement gives hobbyists an entirely new movement on which to build microbrands and homebrew pieces. Seiko's movements are now the ETA replacements when it comes to microbrands and for good reason: they're cheap and they last for decades. A good Seiko movement in a good case will survive anything you throw at it.
The watch itself is nice. I'm not a huge fan of the orange – it's too shiny and chrome – but I'm sure this watch would be better in black or blue. Is it bad enough for me to return it? Not really. It's just not the orange of the famed Orange Monster, which I suppose is fine. Brands have to evolve.
For $475 you can't go wrong with this piece. If you're at all interested in having a GMT this is a great entry-level piece and well worth the investment. If you're into Seiko then this is a key step in the brand's growth and worth picking up.
The Bad
As I noted before, the GMT function is wonky. Usually, you set away time for the main hands and set home time for the GMT hand. In this case, that is reversed. You can, for example, set the main hands independently of the GMT hand and get the same effect but it's just not as intuitive as I'd like.
Here's a little video of the "good" GMT function on a Rolex Explorer II and the "bad" GMT on the Seiko.
I'm also not pleased with the GMT bezel. It doesn't click, it slides which means you can't really get exactly the right position. Further, the bezel and the inner time track are often out of whack, which is annoying at worst. Are these nits? Absolutely. The watch is great, especially for a sub-$500 GMT, so complaining about this is about complaining about the meal on your super cheap flight – it gets you there and the perks aren't what we're really looking at.
The Bottom Line
Ultimately the Seiko 5 Sports SKX GMT is a good watch. It's nicely made, has great build quality, and does something no other modern Seiko watch has done before. We should be lauding Seiko for building a GMT and doing such a good job at it.
You can pick up your own GMT here on Amazon since Seiko isn't yet selling them online. Let me know what you think when you do.