As you are no doubt aware, BaselWorld will be kicking off again here pretty soon, which means we will start seeing a lot more announcements about new models and versions.  A lot of this comes from the luxury brands, and that is not really where we tend to dwell here at WWR.  No, we like our watches affordable and interesting.  Sure, the Junghans Meister Driver Handaufzug is not a sub-$500 indie watch, but this one certainly checks off a lot of boxes for me.
For the Junghans Meister Driver Handaufzug, the brand is claiming a car from the 1930's as its inspiration, the Maybach DS 8 Zeppelin.  You can see this in the dial as it does certainly have the look of a speedometer, and apparently the inner portion of the padded leather strap features perforations as one might see on the seats of a car.  For me, it is also present in the two-tone color schemes.  While the black and tan version seems most in-line with the photo of the car I saw, the one that really sings for me is the grey and tan version.  This is certainly a much lighter look, and would be a rather versatile piece.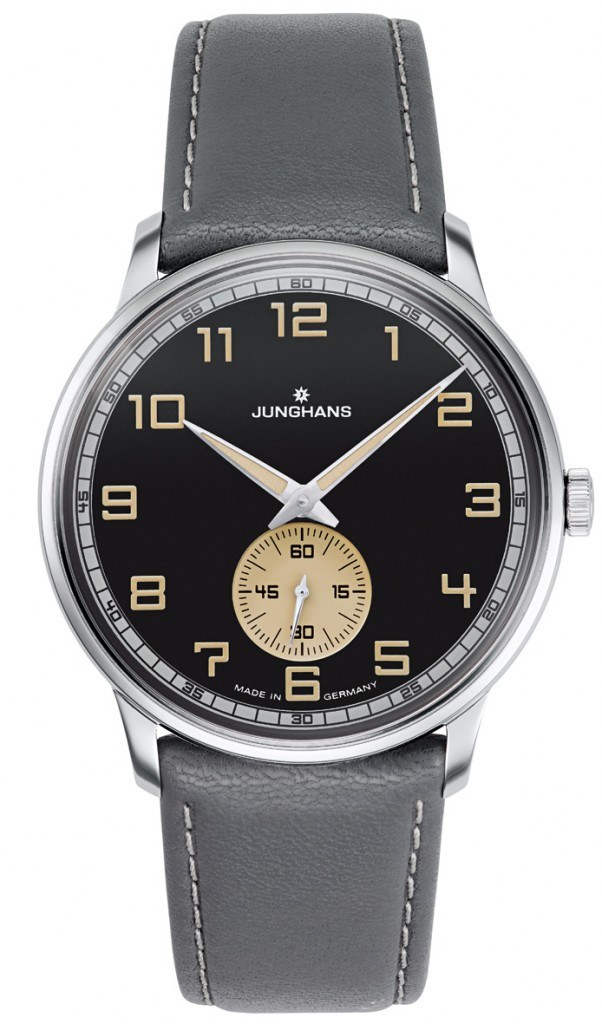 The overall "hard specs" of the Junghans Meister Driver Handaufzug are also in keeping with a more vintage era.  The stainless steel case measures in at just a hair under 38mm, and is only 7.3mm thick.  Topping that you have a domed plexiglass crystal (perfect for the old school look), and around back you have a nod to modern conventions with a mineral crystal.  This shows off the finishing on the J815.1 hand-wound movement, which is based off the ETA 7001.  Again, the hand-winding just makes thematic sense, along with helping to keep the watch thin.

As I mentioned at the outset, we will be seeing word of a lot of new releases, and many of which will be for watches not immediately available.  The Junghans Meister Driver Handaufzug is one of those, with delivery anticipated to occur in September 2016.  When it hits the streets, so to speak, it will run $1,290.  Yeah, a four-figure watch is a bit outside of what we might consider affordable, but I think it can also be viewed as a sort of stretch goal, or an affordable luxury.  You may not fill your watch box with four-figure (or more) watches, but it's nice to think about having one or two some day.  With the Junghans Meister Driver Handaufzug, you get that, along with the ability to have the vintage look without the concerns that come with owning and caring for a vintage watch.  junghans.de
Watch Overview
Brand & Model: Junghans Meister Driver Handaufzug
Price: $1,290
Who we think it might be for: You're into old cars and watches, but appreciate the reliability that comes from modern manufacturing
Would I buy one for myself based on what I've seen?: Price tag aside?  Sure, I could see the grey and tan model taking up residence
What I'd change:  I wouldn't mind seeing an enameled dial make an appearance on this watch
What spoke to me the most about this watch:  The overall look and feel
Tech Specs from Junghans
Movement: J815.1 hand-winding movement with small second at 6 o'clock (Basic calibre ETA 7001 Peseux)
Finishing: Rhodium plating, blued screws, engraved Junghans logo on the wheel train bridge, bridges with stripe finishing
Case: Stainless steel Ø 37.7 mm, height 7.3 mm, domed hard plexi-glass with SICRALAN coating, 5-times screwed back with min-eral crystal
Dial/hands: Polished lacquer dial with "sunburst" effect finish, dial markings and hands with environmentally-friendly Super Luminova luminous substance
Strap: Calfskin strap with stainless steel buckle
Water resistance: Up to 3 bar