Rubbin' is Racin'. Tradin' Paint. American Racin' goes round and round with just left turns. F1. Bonneville Salt Flats. Watches and autos have gone together for as long as people have been pushing motorcars past the limits of good sense.
Marchand is a relatively new brand, just preparing to release their first watch now. The watch itself is a make-no-mistake automotive-inspired affair that hearkens back to the early days of motorsport. The dial has arabic numerals that make passing reference to a speedometer, and the middle of the dial is decorated with an applied steering wheel, like those used on wooden wheeled AC Cobra racecars in the 60s.
The case is a steel pot, with diamond knurling on the sides. The lugs are hidden under the case, ala Xetum. The crown reminds me of the center portion of a constant velocity axle joint. All in all, the whole thing feels ruggedly like it would fit right in with a hot rod, muscle car, or vintage racecar exhibit.
We've seen car-inspired watches before, whether it's just a watch with a marque's logo on the dial, or a dial that attempts to ape a speedometer or tachometer. What's intriguing here is that these are real petrolheads. Without even shipping their first watch, Marchand have sponsored cars and have drivers in their stable: 23 year old Thomas Krebs, in the European GT4 championship, James Runacres in the Thai GT series, Matt Dorling and Chris Gidney. The co-founder, Daniel Brigham, raced karts as a teen. His great-grandfather was a watchmaker for Benrus, and made dashboard clocks for Chrysler, so it seems like a natural choice to make racing inspired watches.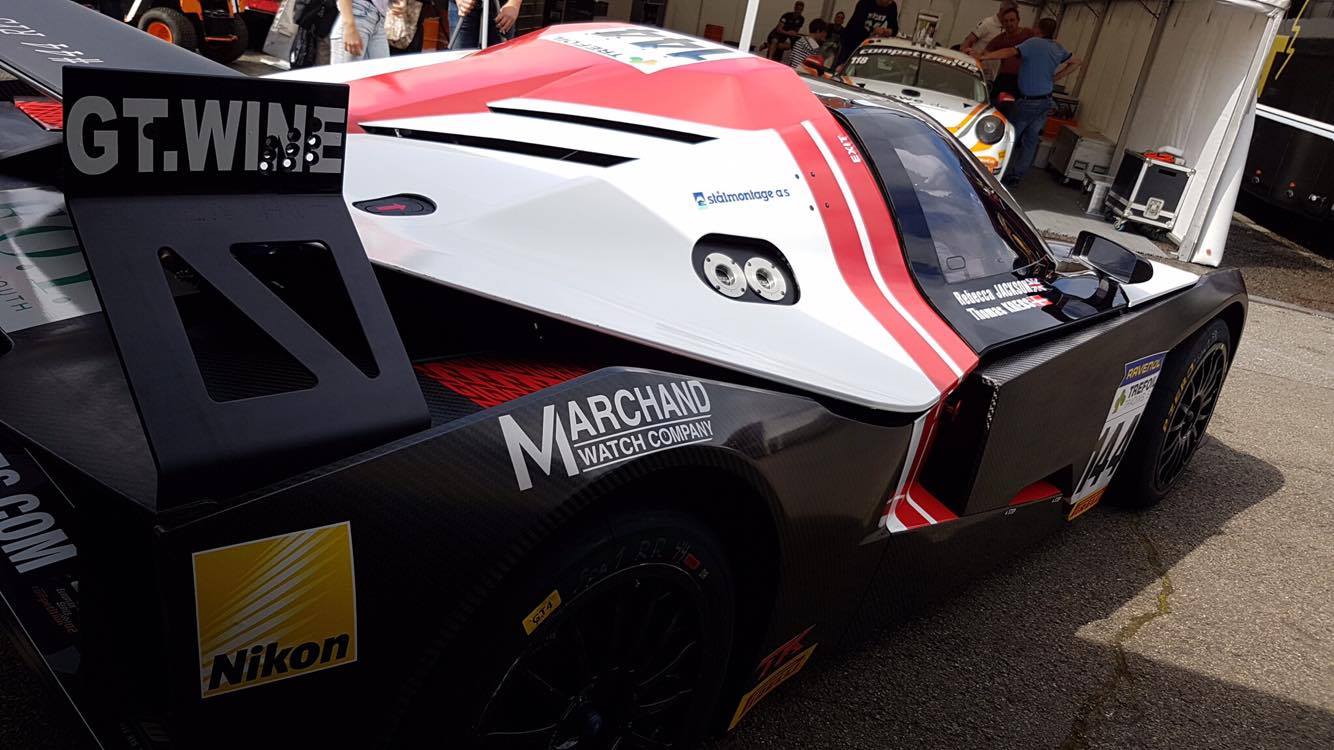 Watch Overview
Brand & Model: Marchand Debonair
Price: Earlybird pricing starts at £325 or 425 USD
Who we think it might be for: You're a fan of motorsport, and like the machined case and crown.
Would I buy one for myself based on what I've seen?: They're very cool – it appeals to the gearhead in me.
If I could make one design suggestion, it would be: I'm looking forward to see what they make next.
What spoke to me the most about this watch: I love this crown.
Tech Specs from Marchand
Case size: 40mm
Height: 10mm
Case material: steel
Crystal: flat, sapphire
Strap: leather rally strap, pin buckle clasp
Movement: Swiss-made Ronda quartz 785