Hello and welcome to our weekly Saturday feature, Watching the Web.  Here, we take a moment to look at some watch reviews and watch related news we find outside our own site, and then we highlight a few of our most popular recent posts.  This week, I wanted to point you to a meeting of watch lovers in New York City, a review of a budget minimalist chrono, and a watch with two second-hand complications.  From our site, the readers found the reviews of the Defacto Kinetic and Chronologia Dive Watches, along with a soldier's EDC interesting enough to make them our top recent posts.  As a bonus, an old post from May of the Carnot Riviera also popped up to the top of the charts.
If you happen to be in New York City this weekend, stop by the Worn & Wound Wind-Up event.  This will be a chance for you to check out a number of smaller and/or independent brands that you may only get to see over the internet otherwise.  I am no where near the city (being a left coaster), but I would definitely be checking out Christopher Ward, Oak & Oscar, Oris, Gavox, and Halios, just to name a few.
Speaking of smaller independent watchmakers, Total Watch Reviews has a look at the very affordable Panzera Breuer Chronograph.  Larger than the German Bauhaus inspired chronos at 47mm, it is still very slim at 9mm and sports a Chinese Sea Gull automatic hand wound movement, all for $700.
Finally, on the opposite end of the affordability spectrum, A Blog to Watch takes a look at the DeWitt Academia Out of Time.  The high end timepiece has a skeletonized dead beat second hand as well as a flying time subdial, where a disk rotating at one revolution per second created a bit of animation on the dial.
Patrick's review of the Defakto Kinetic was a top post this last week.  It is interesting when you can point the exact single feature you like about a watch, and for this one, the nested, skeleton, uniformed line-weight handset really makes this watch pop.
I took a look at a pair of watches from Chronologia, a three-hander and a chrono.  The quartz watches offer tritium tubes and carbon fiber cases, two features that set these divers apart from the crowd.
Our EDC cross post is typically a popular article, and this week's look at the Every Day Carry of a soldier was no exception.  The post features a gateway drug to automatic watches, a sub-$200 Seiko diver.
Finally, an older post in the Carnot Watches Riviera dress watch emerged as one of the top posts of the week.  I looked at it back in May, and thought that the quartz watch was an attractive options, and not too busy in spite of everything that was going on with the dial.
Did you know that John Biggs' latest book, Marie Antionette's Watch, is only 99 cents on the Kindle, or you can buy a paperback from Amazon.  Oh, and even if you don't have a Kindle, you can always read via their free apps or their cloud read (check those out here
).
There is one more week to the month, so you only have a few days left to enter our giveaway.  This month, we are sticking with Mr. Jones, but switching models to the Mr. Jones Chatterbox.  Patrick managed to spend a bit of time with it in hand, and he thought that "as a more art-oriented piece, the $260 watch meets it's goal."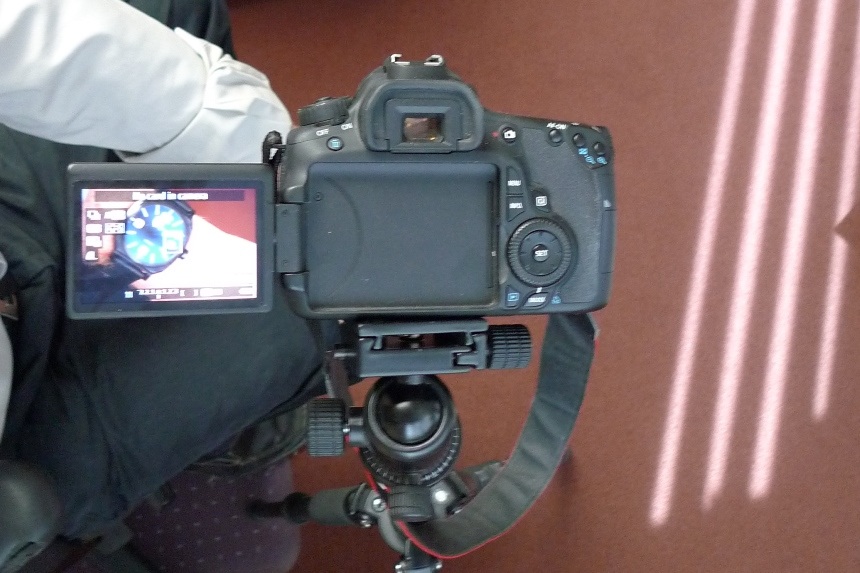 We also want to put the call out for wrist shots of our reader's favorite (or at least favorite of the moment) watches.  Put together an email of your wrist shot and tell us a little about the watch and why you love it.  If you happened to be introduced to it through our site (or won it through a give-away), even better.  Just make sure the image is a JPEG and at least 800 pixels wide.  The last two weeks have had reader wrist shots, so keep it guys (and gals).
With that, I will wrap up this edition of Watching the Web. As always, if there's something you think we should be covering, feel free to drop us a line. If you bring something up that we end up writing about, we'll be sure to tip our hats (electronically, if not literally) in your general direction.