Hello and thanks for stopping by Watching the Web, where I shine a spotlight on interesting watch reviews and news on other blogs, and crow a bit about our most popular recent posts.  This week, I have a look at a cool Hamilton world times, a Autodromo automatic chrono, and a value-priced Fortis, just in time for the holidays.  From our own site, we have the MSTR MEISTER, a look at what is on Doctor Strange's wrist, and an interview with the watchmaker of Hemel watches.
First up is Hamilton's out of this world (literally) ODC X-03, with three independent time zone hands and Jupiter decorating the face.  The more I look at it, the more I like it, but I would be OK with a solid (or skeleton) face instead of Jupiter.  The crowns are also very interesting, in that each dial has its own crown, which levers away from the case when you want to set it.  I think this is an interesting a good-looking solution.  Check out the review at ABTW.
I first looked at Autodromo back in 2014 with the Stradale, which took its cues from a car's speedometer and had a Miyoto automatic under the hood.  Now they have their latest watch available, the Monoposto their, first chrono featuring an automatic movement.  This time, taking cues more from a racing tachometer, it is clean-looking watch that looks like it would pair nicely with the vintage drop top you have in the garage.
Finally, I wanted to point out this lovely Fortis, which Monochrome is reviewing.  The brand has a long history of making aviation watches, so folks who know watches will appreciate the brand.  For those that jsut want the watch to look good and keep the time, Fortis has you covered there as well.
Victor takes the top spot in this week's listing with his review of the MSTR MEISTER.  As he puts it, the watch is "the result of a fever dream where Hublot, an IWC Ingenieur, and a Royal Oak Offshore had a key party."  If you don't know what a key party is, ask anyone between the ages of about 45 and 65.
I am sure that lots of watch lovers were drooling over the Jaeger-LeCoultre Master Ultra Thin Perpetual features in Doctor Strange, busted crystal and all.  Me, I wanted the watch winding drawer.  But Jim has a nice little write up on this rather lovely watch.
Finally, Patrick has an interview with Marvin Menke of Hemel Watches rounding out top 3 recent articles.  The brand strives for a quality product at an affordable price point, a noble goal.
Did you know that John Biggs' book, Marie Antionette's Watch, is free to read with Kindle Unlimited, or you can buy a paperback from Amazon. Oh, and even if you don't have a Kindle, you can always read via their free apps or their cloud reader (check those out here
). The book is also now on Wattpad. You can even check out a snippet of the book.
Want to be more than just a visitor to our little corner of the internet? How about pledging some support for us over on Patreon. There are some compelling funding levels (including site redesigns and removing ads, and getting a copy of the Marie Antoinette book), but really, we just want to ensure we keep this lean ship running and the lights on. You can check out John's latest post right here. This is a fun thing we get to do on the side, and we want to keep bringing you the content that you have come to rely on from us, and work to make it even better.
We are half-way through the month, so there is time to get in on our monthly giveaway, this time a Oblako.  There is a two-part entry process so head to the contest page and get started.  We also have a bonus giveaway for a Hager dive watch, and a nice looking one at that.  Check out Patrick's post to get the details on entering, and getting a bonus entry for helping a family in need.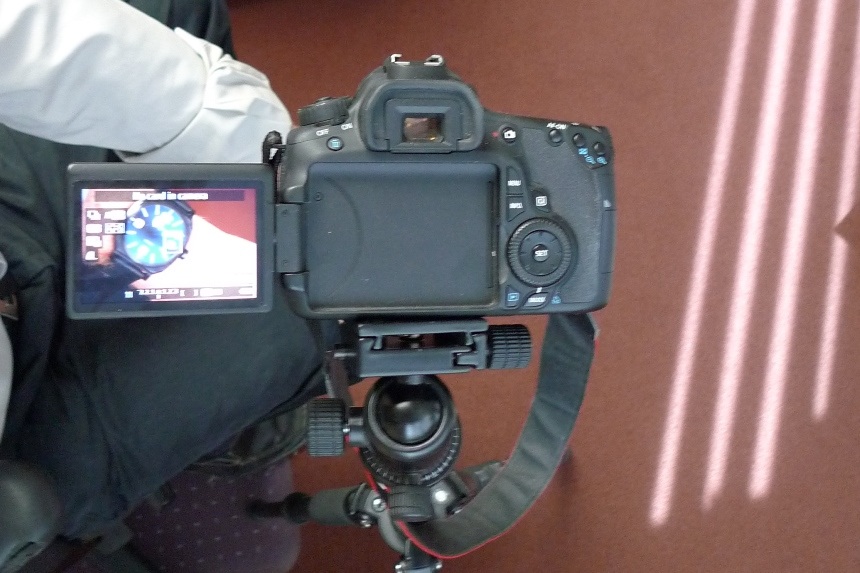 We also want to put the call out for wrist shots of our reader's favorite (or at least favorite of the moment) watches. Put together an email of your wrist shot and tell us a little about the watch and why you love it. If you happened to be introduced to it through our site (or won it through a give-away), even better. Just make sure the image is a JPEG and at least 800 pixels wide. And as always, if there's something you think we should be covering, feel free to drop us a line. If you bring something up that we end up writing about, we'll be sure to tip our hats (electronically, if not literally) in your general direction.