Welcome to November folks.  Where does the year go?  Remember, Daylight Saving Time ends in the wee hours of Sunday morning, so use the time wisely, like sleeping off the hangover after still celebrating the Cubs historic win, right Patrick?  With the Dodgers knocked out in the NLCS, I am perfectly sober (unfortunately), so I have this week's roundup of watches for Watching the Web.  This week, I have the Seiko Presage SPB04IJI, a new American brand with Vero, and a TAG paying tribute to Muhammad Ali.  From our pages, the most popular posts of the last week or so were the Hemel Military Watch Collection, the Gentleman Warfare collection, and the MEW Hydroforce X1.
First up we have a review of a lovely Seiko dress watch courtesy of Monochrome Watches.  The date subdial at 6:00 is actually more useful to me that a tiny date window, and the power reserve at 9:00 is nicely integrated.  What strikes me the most is the alternating chevron patter of the dial, reminiscent of nice tweed.  The blued hands are also a nice add for me, as is the splash of color at 12:00.  It is also nicely priced.
We have covered a number of US brands on our pages, so here is another venture, Vero Watches, via Worn and Wound.  The watch uses US and internationally sourced parts, a Swiss movement, and is assembled in the US, probably fitting into the upper range of "American Made" watches.  As with Shinola, they probably do not have enough American content to really be American Made, but it is a good start.  They are also attractive, at least to me.  For the $3,000 price, I would instead pick up a Weiss, and a really nice vacation weekend somewhere, with some cash to spare, but there is certainly a market for a small US based maker.  I do wish they the best.
The last of our external links is the ABTW review of the TAG Heuer Carrera Calibre 5 Ring Master, a tribute to Muhammad Ali (and right on time).  For me, I don't get the markings on the bezel.  Boxing rings are 3 minutes, so those wide indexes numbered 1-15 should be 3 minutes wide, not 2, with a 1 minute gap.  with 4 x 15 = 60, you get a full hour.  Even if you go to the modern 12 round format, the rounds are still 3 minutes.  Oh well, no one asked me.  It is really pretty though, just like The Greatest.
Victor took a look at the new Hemel Military Watch collection, a series of automatic watches with some dial and case options.  They are nice looking field watches, and I like domed sapphire crystals, so I think I am a little more enamored of them that Victor.  At $400, they are a decent deal, and worth considering, perhaps for the holiday season.
Next up we have Neal's take on the new watches from Gentleman Warfare, a  spin-off from Egard.  To me, they seem steampunk-light, but Egard produces nice looking but unusual watches, so they have a track record being off-center.  The watches are currently on Kickstarter, so there may be good deals to be had on this new and unique brand.
OK, this one I don't get.  Victor in intrigued by the MEW Hydroforce X1, but not me.  The thing is a monster, but it is only rated to 200 meters.  I get than very few divers actually go diving, and close to 0% of he really overbuilt divers go anywhere near the depths to which they are rated, but this takes that craze and turns it on its head.  But you guys at least found it interesting to read, and if you want something to get attention, this might be just the ticket..
Did you know that John Biggs' book, Marie Antionette's Watch, is free to read with Kindle Unlimited, or you can buy a paperback from Amazon. Oh, and even if you don't have a Kindle, you can always read via their free apps or their cloud reader (check those out here
). The book is also now on Wattpad. You can even check out a snippet of the book.
Want to be more than just a visitor to our little corner of the internet? How about pledging some support for us over on Patreon. There are some compelling funding levels (including site redesigns and removing ads, and getting a copy of the Marie Antoinette book), but really, we just want to ensure we keep this lean ship running and the lights on. You can check out John's latest post right here. This is a fun thing we get to do on the side, and we want to keep bringing you the content that you have come to rely on from us, and work to make it even better.
As I mentioned, it is November, so we have our new monthly giveaway, this time a Oblako.  There is a two-part entry process so head to the contest page and get started.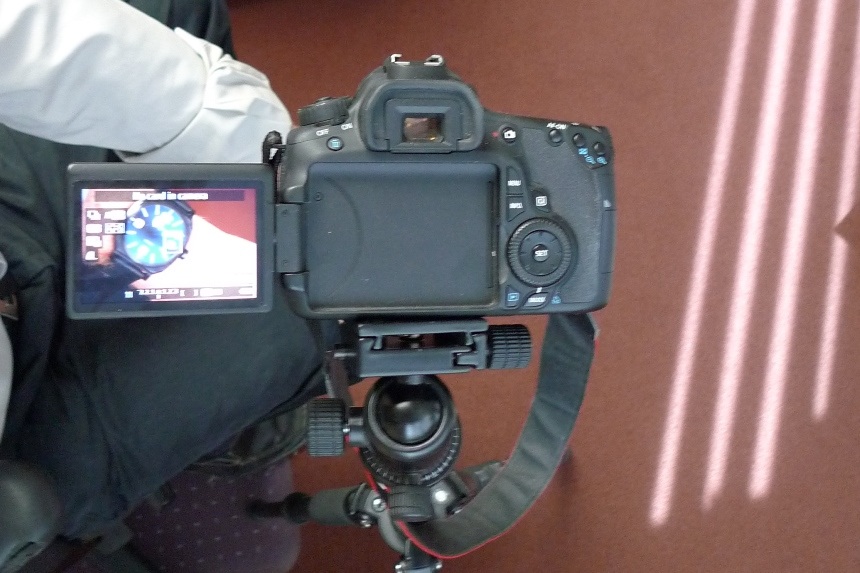 We also want to put the call out for wrist shots of our reader's favorite (or at least favorite of the moment) watches. Put together an email of your wrist shot and tell us a little about the watch and why you love it. If you happened to be introduced to it through our site (or won it through a give-away), even better. Just make sure the image is a JPEG and at least 800 pixels wide. And as always, if there's something you think we should be covering, feel free to drop us a line. If you bring something up that we end up writing about, we'll be sure to tip our hats (electronically, if not literally) in your general direction.