Benarus is a brand I became familiar with early on in my career here at WWR, and we've covered a number of their pieces. I was almost two years ago that I first took a look at their Sea Snake diver (parts one, two) and today, we're going to revisit the watch, as they've recently released a new version of the piece.  As the v1 is one of my personal watches, we're also able to bring you some side-by-side photographs as well.
Now, there's really no naming change, so the v2 you see in the title is really just my own way of keeping track of which model is which (and I'll use that nomenclature throughout this article). When you compare the versions side-by-side, there aren't a lot of noticeable changes between the watches. You've still got a 44mm case topped with a double-domed sapphire crystal, good for a 500m WR rating, and the styling is largely unchanged.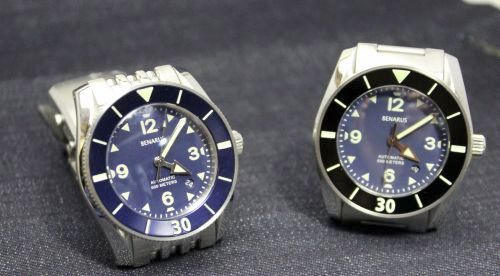 So, what is different? Most importantly for us watch folks, is that there's been a change in the movement. While the v1 used an ETA 2824, the v2 moves to the more economical (but still quite fine in its own right) Miyota 9015. While cost savings may have been a part of this shift, I'm fairly certain that it's more a casualty of the tightening supplies of ETA movements to non-Swatch Group entities. Whatever the reason, though, the 9015 is quite capable, and I've never had an issue with it in any watch that's crossed my desk.
The other significant changes are more of a visual nature. First off, the bezel has been color-matched to the dial. On the v1, the blue dial variant we reviewed had a black bezel. While the blue/black/white color scheme worked for me, personally, and I can understand wanting to have things all in the same palette. To that end, the v2 has a blue that matches the dial, which shifts from light blue to a dark (almost black) shade, depending on the lighting.
Finally, the last major change you'll notice is with the bracelet. We've gone from a solid three-link to a polished "grains of rice" bracelet that houses Benarus' new diving clasp. The new bracelet definitely gives things a dressier feel, as those central grains are polished (the outer edges are brushed), and should provide slightly more comfort, due to the flexibility they bring. While not as flexible (or breathable) as a mesh bracelet would be, this style I think gives a more presentable look for, say, the office, which is likely where many of these watches will reside.
For the clasp, they've moved to a more robust design. The v1 featured a more common flip-lock style deployant, with a divers clasp that unfolds. With the new clasp (at which, the bracelet tapers from 24mm to 22mm) you've got a push-button release, as well as an inbuilt ratcheting extension. While this does increase the overall bulk of the clasp, I actually prefer this new buckle. It fits the overall heft of the watch, and the ratcheting extension is an easy way to get a little more "breathing room" for your wrist throughout the day.
At an asking price of $720, the v2 still offers the same "bang for the buck" that the v1 did (which came in at $730). This is one of the nicer-styled (and solidly built) micro divers I've reviewed over the past few years, and in general, anything I've had on-hand from Benarus has felt like a quality piece. For your money, you'll also get a second strap of your choosing (leather or rubber), choice of dial color (blue or black), and minute hand (orange or polished).
When I reviewed the v1 back in 2012, I was still fairly new in this watch reviewing adventure, and the watch left me impressed. Now that we're here in 2014 with the arrival of the v2, I still think this is a solid watch, and one I'd recommend without hesitation to someone looking for a smaller-make three-hand diver. benaruswatches.com
Review Summary
Brand & Model: Benarus Sea Snake (v2)
Price: $720
Who's it for?: The guy looking for a solid three-hander with the tried-and-true diver styling (and specs)
Would I wear it?: Indeed – the v1 has seen a lot of wrist time, and the v2 continues the styling I liked, with some nice improvements
What I'd change: If new movements are being explored, I wonder if we couldn't see a new version of the Sea Snake with a thinner case. While it would likely reduce the WR rating, I don't think that's of practical concern to the casual wearer of the piece
The best thing about it: For me, on the v2, it's how color-matched everything is: dial, date wheel, and now bezel are all coordinated
* And yes, the denim in the backgrounds is indeed from the team over at Gustin