As you may have noticed, I have been working specifically to focus in on reviewing GMT watches lately.  This has been my favorite complication for some time now, and I am of course aware of some of the "big" models that are out there, the ones everyone thinks of from Switzerland.  That said, there are plenty of implementations of the GMT movements, both Swiss and otherwise.  Today, we'll be having a look at the Oris Big Crown ProPilot GMT.
While I have been aware of Oris, I had not actually handled one in person (let alone wore it) prior to this review.  I was talking with my friend William about various GMT watches out there, and he suggested I take a look at Oris.  When I saw the Oris Big Crown ProPilot GMT on their site, I liked the looks – but I had some trepidation about requesting the loaner, as that stated case size of 45mm just made it seem like this would be a pretty massive watch.
As it turns out, I needn't have worried.  While the spec sheet says 45mm for the stainless steel case, it actually looks and feels more compact than that.  Some of that is the overall dimensions of the case (it's relatively thin for a big automatic), and some of that is due to the thin bezel bezel around the dial.  I've found that the narrower the bezel, it tricks my eye into viewing the watch – as a whole – as a smaller watch.
This also means that you get a great big dial to look at, and this is quite a dial.  When it comes to a more purpose-oriented watch – as an aviator would be – rather than a dress watch, I am fond of a matte finish on the dial.  The Oris Big Crown ProPilot GMT has one, and it uses it to great effect.  Along with allowing the indices to pop out in contrast, it manages to hide the complications until they're needed.  By this, I mean, the GMT and date are subtle.  The date display, for instance, while large, is quite color-matched to the dial, something we should all appreciate, especially when it's done well, as it is here.  Even the sub-seconds register just sort of blends itself in, giving you that quiet visual reminder that the watch is still running.
For the GMT hand, while it is quite long, you could easily miss it if you're not looking for it.  The majority of the hand has that same matte finish, which means it blends into the dial.  At least, until you get to that orange airplane-shaped tip at the end of it.  With that, you're instantly able to pick up the GMT time, as it points out to the chapter ring printed with the 24-hour scale.  While there is some appeal to a fully-bright hand that you sometimes see, I was drawn to this implementation.  In fact, about the only way you could have a subtler GMT indication would be to have the indicator geared to travel around the outer ring.
Speaking of hands, the main handset on the Oris Big Crown ProPilot GMT was also quite a departure from what I have been used to seeing.  Simultaneously slender and bold, the rounded shapes call to mind (at least for me) propeller blades, something appropriate for the ProPilot line, of course.  I also like how they managed to break with the standard hard-edged shapes we commonly see for a handset.  It's unique and bold, and they are well-proportioned to each other.  And that's not easy to do, when you have a minute hand as long as the one on the Oris Big Crown ProPilot GMT.
Flipping things over, you have some simple engraving on the caseback, around an exhibition caseback that gives you a good view of the 748 movement.  Nothing particularly pretty or exceptionally finished there, but for my money, so long as the watch is keeping accurate time, that's the more important part of the thing anyways.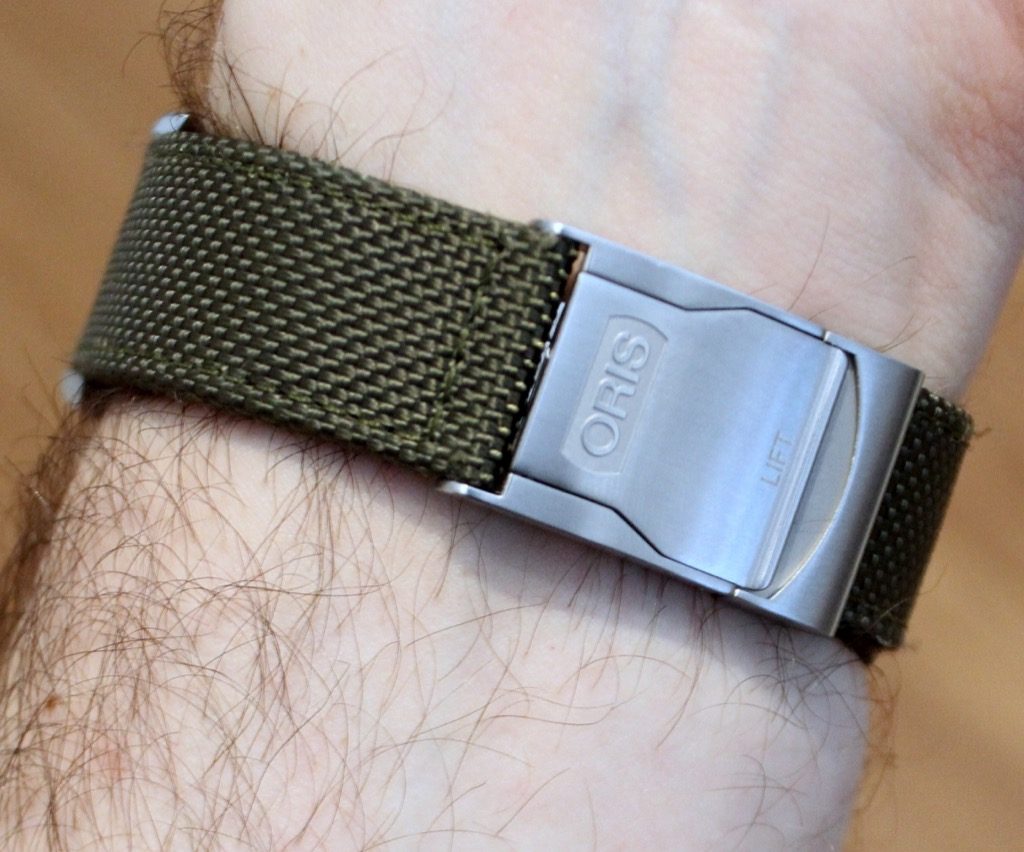 Though, to view the caseback, you would have to take the Oris Big Crown ProPilot GMT off of your wrist, which means interacting with one of the more clever buckles I have seen on a strap.  In some discussions with William (the fellow who recommended I take a look at the watch) after I got the review loaner in, he made an astute comment.  Essentially, that clasp is just like those you would see on the seatbelt of an airplane.  It is a clever design cue, and eminently functional.  I find that I do prefer some sort of positive release mechanism (rather than a flip-lock clasp), and this is so much sleeker than a push button.
This buckle is paired to a heavy-duty textile strap that I was rather keen on as well.  For as visible as the weave of the fabric is, it is very smooth.  It is worth noting that most of the strap is rather thick – and, like with a thick leather strap, there is some stiffness associated.  In other words, expect some period of needing to break in the strap.  On one half of the strap, it does get thinner as it approaches the buckle, as that is where you can adjust the length by sliding it through the clasp and locking the length into place.
Once I had that all set, all that was left was to wear the 120g Oris Big Crown ProPilot GMT andu get some impressions of what it was like to use the watch.  The executive summary is that it is a very wearable watch, coming in with a much smaller look and feel than the 45mm case would suggest.  The same case size does, however, enable that large matte dial, which in turn makes for a watch with a ton of contrast, keeping visibility high.  The case itself is satin finish, even within the knurling around the edge of crystal.
This gives the Oris Big Crown ProPilot GMT a muted look, overall, and it's one I rather liked.  I found it worked quite well at the office, and actually went nicely with a suit as well.  Of course, the bracelet option may up that as well.  Or, if you prefer, there is a version that was just announced that brings a polished case and glossy dial into the mix, thereby making a bit of a dressier watch.
Whichever option of the Oris Big Crown ProPilot GMT you would go with – matte or shiny – pricing remains the same, with it commanding $2,300 on the strap and $2,500 on the bracelet.  For my first foray into the offerings from Oris, this was a watch that left quite a favorable impression on me.  Not just in terms of functionality and wearability, but also in how the aviation design cues are worked into the watch, without beating you over the head that, yeah, this is an aviation watch.  All plusses in my book, for sure.  So, while you might think of the classic Flieger when it comes to a plane-related watch, I think something more like the Oris Big Crown ProPilot GMT is what will stick in my mind.  oris.ch
Review Summary
Brand & Model: Oris Big Crown ProPilot GMT, Small Seconds
Price:
Who's it for?:  You like aviation watches, but want something a bit more subtle than a Flieger for daily wear
Would I wear it?: Indeed I would, though I would probably opt for the bracelet (along with the strap for a change of pace) if I was buying my own
What I'd change: I wouldn't mind the strap being a touch thinner, which would make it more comfortable "out of the box"
The best thing about it: For being a 45mm watch, it is surprising just how wearable the watch it – looks and feels like a more compact watch
Tech Specs from Oris
Reference 01 748 7710 4164-07 5 22 14FC
Case Oris Big Crown ProPilot, 45,00 mm, 1.772 inches, Stainless steel?
Movement 748:  Automatic winding GMT, small second, big date Developed by Oris.?
Dial Black?
Strap/Bracelet Textile?