Fossil Blue GMT Watch: All the way back in 2019, we went hands-on with the Fossil Blue lineup. More recently, they came out with a GMT-equipped version of the design, and you know we raised our hands to take a look at that. So read on to see what we thought of the Fossil Blue GMT.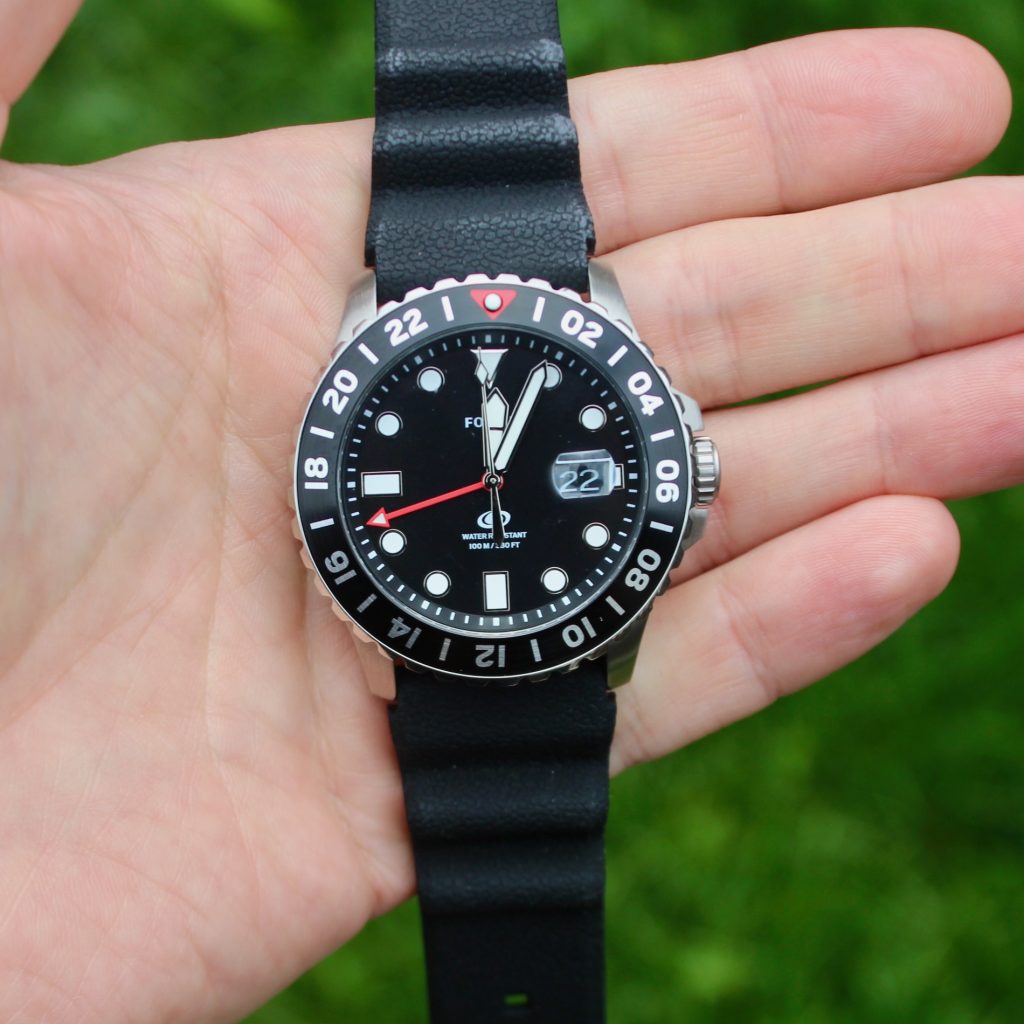 The aesthetic
Most of us have had a Fossil watch on our wrists at some point. They've been a staple of malls and department stores for ages, and they invariably have a design that catches the eye. While many are very fashion-oriented, the Fossil Blue GMT shows what can be done within the label of a "fashion watch". Sure, it's a big watch with a 46mm diameter and 24mm lug width, and that gives it a presence on the wrist, for sure. And even the date disc is color matched to the dial, so everything keeps a clean look. But there is more to it than the looks.
Is it a tool watch?
Purists would probably say no, but let's break it down a little bit. For starters, the dial is large and legible, making at-a-glance time checks simple, as well as checking the 24-hour time. Need the date? There's the cyclops helping you out. Need to track a third time zone? You've got the clicky bi-directional bezel there allowing you to set that up as well. So, the watch gets the job done that it has to do.
The other thing a tool watch needs to be able to do is well, go out and do stuff. It shouldn't be delicate and need to be protected. Between the stainless steel case with it's 100m WR rating (push-in crown), the sturdy mineral crystal, and the thick silicone strap (you can also get it on a bracelet), this is a watch that is more than ready to go banging around with you.
So, who is it for?
Admittedly, the Fossil Blue GMT does sit in sort of an interesting space. It's got tool watch leanings and plenty of fashion watch touches on it (sizing, lots of shiny surfaces) that make for a mix that we feel is really Fossil these days. Which means it's a solid entry-level watch for someone looking for an analog watch on their wrist.
The way more and more companies are spread across countries, being able to track a second (or third) time zone will be handy, quickly knowing what time it is for your co-workers. Past that scenario, I think the Fossil Blue GMT makes for a solid travel watch option that is going to be a watch you're not going to worry about getting mugged for, so you can leave your precious at home while you jet around.
Whatever the case, the Fossil Blue GMT could certainly find a home on a wrist for a wide variety of reasons, even if it's just that you want some dive watch looks with something that's a bit more than a simple three-hander. If you want to pick one up, they're going for $180 (the two versions with a bracelet go for $195) directly from fossil.com
Tech Specs
Case Size: 46MM
Movement: GMT
Platform: FOSSIL BLUE GMT
Strap Material: Silicone
Strap Color: Black
Case Water Resistance: 10 ATM
Case Material: 316 Stainless Steel
Case Color: Silver
Dial Color: Black
Strap Fashion Color: Black
Interchangeable Compatibility: 24MM
Strap Width: 24MM
Closure: Single Prong Strap Buckle
Strap Inner Circumference: 200+/- 5MM
Crystal Type: Mineral
Battery Type: 371
Watch the video version of this post here:
Author Expertise / Author Experience
Patrick Kansa
A big data developer and leader with a penchant for gadgets, books, watches and beverages. You can find my work on WristWatchReview. If you're on Twitter and/or Instagram, you'll find me there as @PatrickWatches.
"