Earlier this summer, John wrote about the new G-Shock Mudman lineup (seen here), taking that rugged and robust design into a slightly more modern aesthetic. I've been spending time with one for the last few weeks, and now we're ready to give our take on the G-Shock Mudman GW9500-1.
What is it?
In short, it's a modernization update to the Mudman. It makes for a more compact watch (though, if you want a very slim G-Shock, we might point you at this one), but one that is immediately recognizable as a G-Shock. Of course, it's not just looks for looks sake. No, the construction of the G-Shock Mudman GW9500-1 is all about making a watch that can stand up to whatever is thrown at it, including mud- and water-resistance. Hence, it being called the Mudman.
What all can it do?
It might be easier to think about it in terms of what the watch can't do. In short, it won't talk to your phone, and it won't collect your steps or heart rate. Past that, it can do just about whatever you'd need a watch to do. A lot of that is enabled by the triple-sensor technology, which packs a barometer, compass, and thermometer into the watch. Add in the fact that it charges via solar, and you've got quite the outdoors-oriented watch. On top of all of that, you've got a comprehensive suite of digital watch functions, including alarms, chronograph functions, world time, and the like. Take a look down below, and you'll see all the great things this watch can do for you.
What's it like wearing it?
Even though the G-Shock Mudman GW9500-1 is a bit slimmer than the Mudman models that came before, there's no denying that this is a large watch. At 52.7mm from side-to-side, you will notice this watch on your wrist. Thankfully, with the bio-based resin used for the case and strap, the overall weight is just 81g, which means it won't weigh you down. And as you can see from the photos, it wears very well on the wrist for it's size. This is due in part to how they've designed the lug drop-off from the case, allowing the watch to hug in closely to your wrist.
Past that, all of the pushers are clearly labelled, and it does not take long to get a hang of where all the functions are, making the use of the watch pretty straight-forward. We wouldn't mind being able to have a second time zone displayed (rather than the day/date) on the main time display, but that's a relatively minor quibble in the grand scheme of things.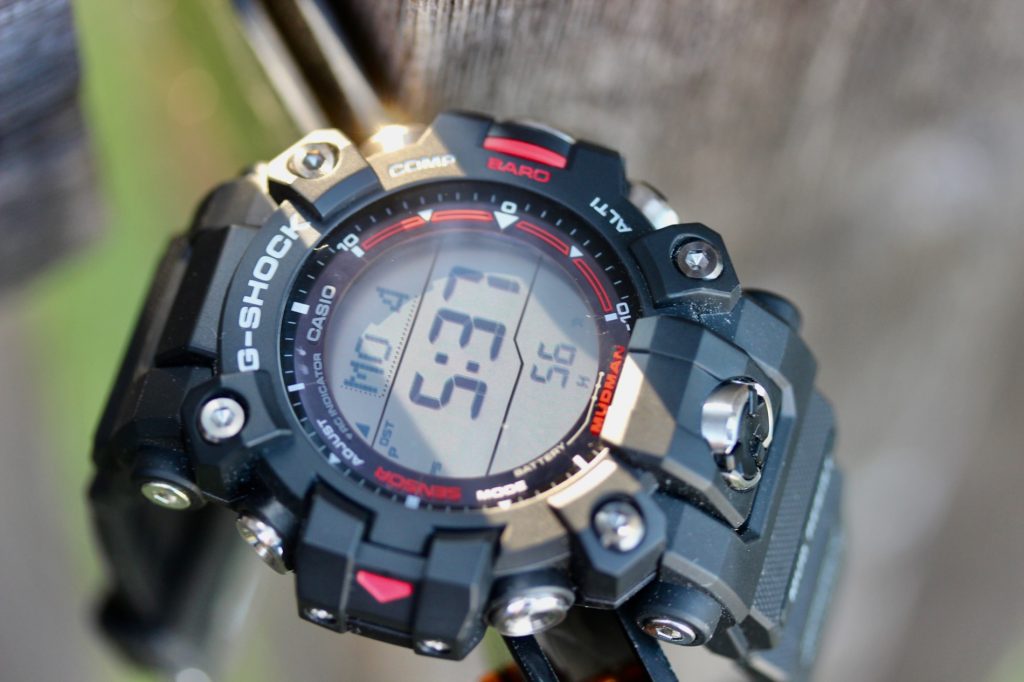 Would we recommend it?
In our book, a fully digital watch that also is solar-powered and radio-signal syncing is always a good option to have in the watchbox. Add in the basic toughness of the G-Shock Mudman GW9500-1, and this is a great watch for anyone who spends a lot of time outdoors. In the past, we would normally point someone in the direction of the Protrek lineup. Now, with this latest Mudman out there, the decision gets a bit trickier. With the triple sensor appearing here, that blurs the line between the two sub-brands a bit. However, if you're a bit rougher on your gear – or you just want the more rugged appearance – then the $380 G-Shock Mudman GW9500-1 is a solid option that will last you for years and years. casio.com
Tech Specs from G-Shock
Case size (L× W× H): 56.7 × 52.7 × 14.8 mm
Weight: 81 g
Case / bezel material: Bio-based resin
Band: Bio-based resin band
Construction

Shock Resistant
Mud Resistant
Carbon Core Guard structure

Water resistance: 200-meter water resistance
Power supply and battery life: Tough Solar (Solar powered)
Crystal: Mineral Glass
Sensors

Digital compass

Measures and displays direction as one of 16 points
Measuring range: 0 to 359°
Measuring unit: 1°
60 seconds continuous measurement
Graphic direction pointer
Bidirectional calibration
Magnetic declination correction
Bearing memory

Altimeter

Measuring range: -700 to 10,000 m (-2,300 to 32,800 ft.)
Measuring unit: 1 m (5 ft.)
Manual memory measurements (up to 30 records, each including altitude, date, time)
Auto log data (High/low altitudes, auto cumulative ascent and descent)
Trek log data (up to 14 records of high/low altitudes, auto cumulative ascent and descent of particular treks)
Others: Relative altitude readings (-3,000 to 3,000 m)
Selectable measurement interval: 5 seconds or 2 minutes

1 second for first 3 minutes only
Changeover between meters (m) and feet (ft)

Barometer

Display range: 260 to 1,100 hPa (7.65 to 32.45 inHg)
Display unit: 1 hPa (0.05 inHg)
Atmospheric pressure tendency graph (Past 42 hours of readings)
Atmospheric pressure differential graphic
Barometric pressure tendency information alarm (beep and arrow indicate significant changes in pressure)

Changeover between hPa and inHg

Thermometer

Display range: -10 to 60? (14 to 140?)
Display unit: 0.1? (0.2?)
Changeover between Celsius (?) and Fahrenheit (?)

Features

World time: 31 time zones (48 cities + coordinated universal time), daylight saving on/off
Sunrise/sunset display

Sunrise, sunset time display
Sunrise time and sunset time for specific date

Stopwatch

1/10-second stopwatch
Measuring capacity: 999:59'59.9"
Measuring modes: Elapsed time, split time, 1st-2nd place times

Timer:

Countdown timer
Measuring unit: 1 second
Countdown start time setting range: 24 hours
Countdown start time setting range: 1 minute to 24 hours (1- minute increments and 1-hour increments)

Alarm/hourly time signal:

5 daily alarms (with 1 snooze alarm)
Hourly time signal

Light:

LED backlight (Super Illuminator)
Full auto LED light, selectable illumination duration (1.5 seconds or 3 seconds), afterglow
Light color: White

Calendar: Full auto-calendar (to year 2099)
Mute feature: Button operation tone on/off
Energy saving feature: Power Saving (Turns off the display when the watch is left in the dark)
Battery display/alert: Battery level indicator
Run time: Approx. battery operating time: 6 months on rechargeable battery (operation period with normal use without exposure to light after full charge) 26 months on rechargeable battery (operation period when stored in total darkness with the power save function on after full charge)
Accuracy: ±15 seconds per month (with no signal calibration)
Other features:

12/24-hour format
Regular timekeeping: Hour, minute, second, pm, month, date, day
Duplex LC display

Time adjustment details

Time calibration signal reception
Auto receive up to six* times a day (remaining auto receives canceled as soon as one is successful)

*5 times a day for the Chinese calibration signal

Manual receive The latest signal reception results
Time Calibration Signals Station name: DCF77 (Mainflingen, Germany) Frequency: 77.5 kHz Station name: MSF (Anthorn, England) Frequency: 60.0 kHz Station name: WWVB (Fort Collins, United States) Frequency: 60.0 kHz Station name: JJY (Fukushima, Fukuoka/Saga, Japan) Frequency: 40.0 kHz (Fukushima) / 60.0 kHz (Fukuoka/Saga) Station name: BPC (Shangqiu City, Henan Province, China) Frequency: 68.5 kHz
Watch the video version of this piece here:
Author Expertise
Patrick Kansa
A big data developer and leader with a penchant for gadgets, books, watches and beverages. You can find my work on WristWatchReview. If you're on Twitter and/or Instagram, you'll find me there as @PatrickWatches.