As we've been saying over the past few years, Timex really seems to have found their groove with coming up with some pretty sharp designs, the sort of watches that appeal to both casual folks, as well as those super into watches. Some of those highlights have come from their partnership with Todd Snyder, and we recently spent some time with their latest collaboration – the Timex + Todd Snyder MK1 Bootcamp.
At first blush, the Timex + Todd Snyder MK1 Bootcamp has very much a military watch feel to it. This is imparted by the dial design itself (with it's inset 24-hour scale), but also by the olive drab showing up on the dial and the NATO-style strap it comes with. It's got some solid military history inspiration as well – specifically, a Timex that was issued to the Marines back in the Vietnam era.
That specific military reference most likely shows up (as I'm making a SWAG here) with the arrow at 6 o'clock (usually used to designate military watches) as well as the highly domed acrylic crystal that stands up a good bit from the case (no bezel here, friend). The fonts also feel right for the era, and the handset seems reasonable as well. So, yeah, some rather nice vintage vibes here for sure.
That said, the Timex + Todd Snyder MK1 Bootcamp is very much a modern watch. For one, the case comes in at 40mm, which would have been gargantuan 50+ years ago. Though, with no bezel and only seeing a thin lip of the case when view from up front, this is a watch that wears much smaller than the 40mm would suggest. You've also got modern fit and finish here (though, only 50m WR). Last, but not least, you've got the awesome Indiglo backlighting along with the lume on the hands. This is something I never ceased to be amazed by, and if you've not experienced it, you need to find a Timex at the store just to see it in action.
At the end of the day, while the Timex + Todd Snyder MK1 Bootcamp has military inspiration (and color palette) I think it's done in a way that's not smacking you about the face that it's a military watch. Even the patch that's sewn on to the strap – it sort of looks like a government labelling sort of exercise, but it's a branding exercise more than anything. Still, I like it, and it elevates the strap from being just another woven textile strap.
In my book, if you're looking for a watch that's your "banging around watch" as we head into fall, you could certainly do way worse than the Timex + Todd Snyder MK1 Bootcamp. I was pleasantly surprised by just how much I liked this $138 watch. And that's another great selling point – you can get into this military casual (that's what I'm calling it, you heard it here first) look for not that much coin. The colors have you setup for fall, easily, and the quartz movement inside is just going to keep you on time as you hit those fall color tours, or go off looking to fill your deer tag. Whatever you're doing, this'll look good on your wrist. You can pick it up, of course, directly from toddsnyder.com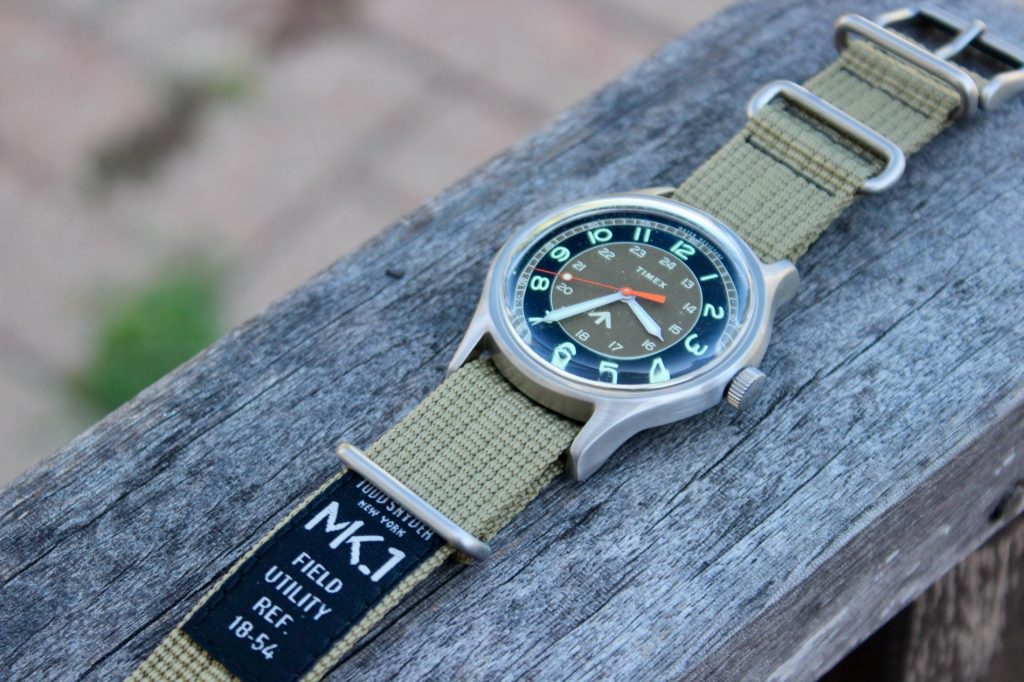 Tech Specs from Timex
Forged in aircraft-quality steel
Domed Acrylic Crystal 
INDIGLO® Backlight
40mm case, 20mmlug. 
Water resistant to 50 meters.
Quartz movement