I am not a fan of the direction of most smart watches.  I don't need another screen on my wrist to give me my texts and emails.  If the notification is so important, then I will look at my phone or computer.  But I do see the utility in getting some notifications, especially if it is in a fairly unobtrusive manner.  And this is where connected analog watches enter the field.  Devices like the Nevo Watch connect to your smart phone and display limited information in the background, while the primary look of the watch is an analog watch.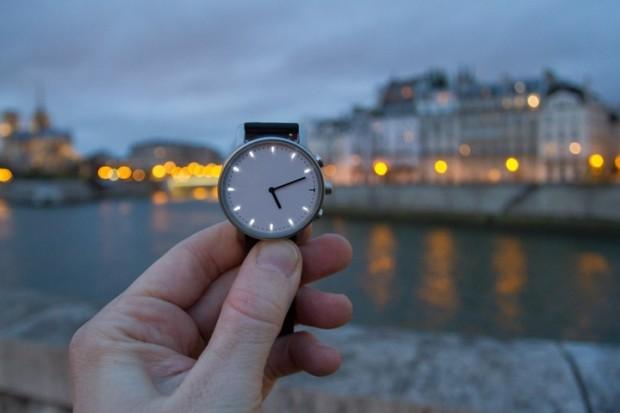 There are two elements to the Nevo watch, one is as a notification device, and the other is as a fitness tracker.  Now, I don't really need a fitness tracker, when I get into weekend warrior mode, I get plenty of exercise, and there are no apps (so far) that I find useful for tracking rock climbing activities at the gym.  But there is a market for activity trackers, and with smart phones capable of doing the tracking part, a watch is a good way of letting you know how close you are to your goal.  With the Nevo watch, the indexes light up and let you know how much of a preset goal you have accomplished.  The watch works with the Apple Health Kit and Google Fit, so iOS and Android users have options to track activities.
Health goal notifications aside, the watch is a modern looking, minimalist, Bauhaus inspired design (I never would have guessed how often I would use that phrase in my life).  The two hander is uncluttered and clean, and the brushed stainless case and pushers would feel right at home in most work environments or a casual outfit.  The 40mm case is a good size for a unisex design, the sapphire crystal is a nice feature, and the package is water resistant to 5 ATM, which is the minimum recommendation for swimming.  The watch is shipped with a leather strap and a nylon strap, and leather strap uses quick release pins, another nice feature.
The watch also connects to your phone to notify you of important emails, and will vibrate for alarms.  The project funding period ended in January on Indiegogo, but they are in bonus time, so to speak, where additional backers can still get in on the product at the ground floor.  Now, I would be remiss if I did not mention that this is a crowdfunded start-up, and there is no guarantee that you will get a product that matches the look of the marketing images, or even a product at all.  But, having seen other obvious vaporware products, this looks like it can be brought to market for this price.  Watch rewards are $250 for the basic unit, or $300 for the solar unit.  The watch runs off two batteries, a 5 year battery powering the quartz movement, and a 6 month battery for the notifications.  with the solar, the batteries recharge with light, keeping then topped off.  nevocollection.com
Watch Overview
Brand & Model: Nevo Watch
Price: $250, $300 for the solar option
Who we think it might be for: Folks who track fitness goals on their phone
Would I buy one for myself based on what I've seen?: It does not fill a need for me, but it is intriguing.
If I could make one design suggestion, it would be: Offer a second, larger case (maybe 44mm).
What spoke to me the most about this watch: It offers connectivity to your phone without screaming that it is a smartwatch.
Tech Specs from Nevo
Movement: Swiss ETA quartz
Functions: Connected to a smartphone, percentage of daily health goal, phone notifications, camera control
Case: 316L stainless steel
Glass: Sapphire with AR
Water resistance: 5 ATM
Lug width: 20mm
Straps: Italian leather and nylon
Diameter : 40mm
Length: Not specified
Case height: 12.6mm
Weight of watch head: Not specified